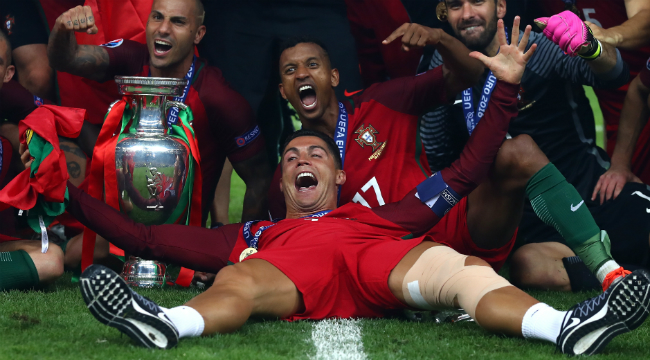 As much as Euro 2016 was a disappointing affair filled with defensive strategy and not enough goals, at least the final match pitted the home side, young stud-filled France, against arguably the biggest soccer star in the world, Cristiano Ronaldo. He may have gotten injured early in the game, but he drew eyeballs to the event, and the drama of a major tournament's final made sure they stayed there.
Sure, it's pretty intuitive that the biggest soccer game outside of a World Cup drew good ratings, but to get a real sense of the urgency of a TV event, you really have to measure it by how many people are willing to turn off pornography to watch it. In the Euro's case, it was quite a lot: Pornhub traffic dropped by 22 percent all across Europe, and a staggering 66 percent in Portugal during the match.
That might be pretty intuitive, but what's way better is what happened after Eder scored the winning goal in the 109th minute: France's Pornhub traffic immediately spiked back up to above normal levels, meaning a whole lot of French fans saw their team lose and thought, "Screw it, back to the porn I was watching near-constantly until the game came on." We respect that.
(Via Pornhub)