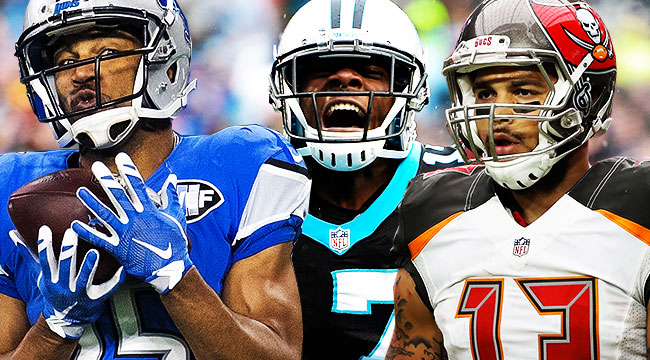 Week 4 saw redemption, heroics, new stars emerge, and many go down with injuries. There was drama across the league, and it'll shape the rest of the season. Derek Carr is out for at least two weeks, leaving Oakland in limbo, down a Crabtree, and with a banged-up Amari Cooper. The Packers are constantly losing receivers, and rookie stud running back Dalvin Cook is done for the year. What about Julio? As some fall, others rise up, however. This is football, and Wendell Smallwood has become viable, Will Fuller is back and looking to develop a nasty rapport with DeShaun Watson, and Bilal Powell finally came through for fantasy owners. There was some positivity surrounding a load of negativity. But now Week 5 is going to be tricky to navigate with a stacked waiver wire.
And we have byes this week: Atlanta, Denver, New Orleans, and Washington.
Start of the Week
Stefon Diggs is proving to be matchup-proof and elite. In a Week 4 game in which nothing was going right for the offense, he still racked up 5 catches for 98 yards. In Week 5, he's going against a Bears defense that's surprisingly stiff, but without Danny Trevathan after his helmet-to-helmet hit on DaVante Adams. As a Bears fan, I feel confident in the fact that they will give up some huge plays to the Vikings in this divisional showdown. It'll likely be Diggs who burns them. The man is the football equivalent of a fire emoji.
Start/Sit
QUARTERBACK STARTS
Carson Palmer: The Eagles are giving up 285 passing yards per game. That's third-worst in the league, and the Cardinals aren't good enough to not be losing, so they will pass. Especially because of their terrible offensive line. Palmer will be a worthy waiver wire add or bye week replacement if you can snag him. It may not be pretty, but he'll get you some points.
You'll also see him get sacked. But you'll also get this! Playing Palmer is its own little metagame.
Matthew Stafford: He's an obvious play in seasonal leagues, but consider him in your Daily Fantasy. The Panthers have one interception on the year, and they've wilted when not playing against Hoyer or Tyrod Taylor.
Russell Wilson: It's Week 5, the Seahawks have no running game, and Wilson is coming into his own. Paul Richardson is becoming a thing, Doug Baldwin continues to be the most disrespected WR in the league, and Jimmy Graham's demise was greatly exaggerated. The Rams have a solid D (216 YPG allowed through the air), but this divisional matchup could turn into a shootout.
QUARTERBACK SITS
Andy Dalton: Bill Lazor has reinvigorated Dalton and the Bengals by speeding up Dalton's release and finally giving Joe Mixon the ball, but now he's facing the Bills who have only given up one passing touchdown all season. Matt Ryan, Kirk Cousins and Drew Brees are on bye. Be wary of playing Dalton. It's rough out there this week!
Jared Goff: He's a sexy, sneaky play for some, but what if this high-octane Rams offense comes crashing down. They are the Rams, after all, and Gurley could soak up all the touchdowns. I'd rather play Eli Manning or Carson Wentz than second-year QB Jared Goff against Seattle. He's looked good, but it seems risky.
Cam Newton: His shoulder looked great against the worst defense in the league, but now he has to travel to Detroit, who has given up the 5th fewest points to quarterbacks. It's nice to see him run again, but how much running will he really be doing?
WIDE RECEIVER STARTS
Mike Evans: The Patriots are handing out massive amounts of yards to opposing wide receivers as if they can be redeemed at Bill Belichick's favorite store: The New England Hoodie Emporium. Evans is going to eat. A lot. So much. It's scary, actually.
Chris Hogan: And on the opposite end of the field, you have Chris Hogan, who might be the guy who has benefited most from Edelman's injury. He saw 9 targets and turned them into 5 catches for 60 yards and a touchdown. He can do that again easily, and that's top 20 production in PPR leagues.
Cooper Kupp: Someone is going to get points against Seattle, and it could be the safety valve of Jared Goff, who could be in trouble throughout the night against Seattle. He's a flex, and a decent DFS play.
WIDE RECEIVER SITS
T.Y. Hilton: Again, as a reminder, sometimes (not often) it's okay to sit your studs. The Colts are an absolute mess without Andrew Luck, and were held to 30 yards in the second half of the game against Seattle. San Francisco's D isn't the Seattle D, obviously, but the Colts, on the road, against any living, breathing thing right now should be be a concerning start across the board. You can probably do better than Hilton, who managed 3 catches for 30 yards, and really only one good game this year, on the waiver wire.
Tyler Lockett: He had a good game this week, catching 4 of 5 targets for 64 yards. This means you should probably bench him, as he rarely has two good games in a row. Be encouraged by his usage, but if Doug Baldwin is back to full health, there's a chance he doesn't do much. If you need to flex him with the bye weeks hitting you hard, go for it, but it's boom or bust.
Amari Cooper: Never sit your studs, yadda yadda. This could be really bad. If there's no Michael Crabtree next week with EJ Manuel under center, Cooper could have a rough time against Baltimore, who is in the better half of passing defense in the league. You have to love his 8 targets, but he has just 12 receptions on the year. Things are not going as planned in Oakland.
RUNNING BACK STARTS
Andre Ellington: A weird thing about this Eagles defense — they're one of the best in the league at stopping the run. Chris Johnson and Kerwynn Williams should continue to be ineffective, and game flow will likely lead to Palmer needing to get rid of the ball quickly. Ellington should get a bunch of dump offs after seeing 14 (!!!) targets Sunday.
Wayne Gallman: This is for DFS only, or if you're in a super-deep league, but it looks like Gallman might have the job in the Giants backfield. Now he'll play against the Chargers, who are giving the second-most rush yards in the league on the ground.
Duke Johnson: Again! Third week in a row we're recommending Johnson as a start, and he should continue to rack up points as one of the lone bright spots on the Browns. He caught 9 passes for 47 yards, then rushed the ball 4 times for a Browns-esque 13 yards (and a touchdown). He's getting work.
RUNNING BACK SITS
Latavius Murray: Maybe Jerick McKinnon will split work with Murray, maybe Cook put a lot of this offense on his shoulders and the reverberations will be felt throughout the offense. It's hard to say. Cook rushed 13 times for 66 yards and a touchdown, in his stead, Murray went 7 times for 21 yards and McKinnon twice for zero yards. Cook is good. Do not depend on this situation in a rough week. Pick him up if you must, but see how things shake out. Fun fact: The Bears currently have a top 7 rush D.
Jordan Howard: Minnesota is a top 3 rush defense and the Bears are starting a rookie QB on prime time. This could get ugly, and gameflow could ruin Howard's night. He might catch some passes, but, what if he doesn't?
Christian McCaffrey: Bye weeks will make you play who you have, but if you're in a situation where you can avoid McCaffrey or Stewart, maybe this is the way to go. McCaffrey is getting less opportunities through the air, and Stewart still has the main rushing role. The Lions are a top 5 rushing defense, and friggin' Fozzy Whittaker is catching screens for Cam Newton. If you must play him, do it. But don't like it. It's a shame, as he was one of the most-hyped rookies coming into the year. There's still time for him to get better.
TIGHT END STARTS

Charles Clay: The Clay drum will be beaten until until Buffalo's offense inevitably collapses towards the end of the year, because the only thing you can truly depend on in this world is the Bills breaking the hearts of their fans. For now, we should get a few more weeks of heavy use out of Clay, who you've hopefully picked up as a sweet bye week replacement and top ten guy. He had 5 catches for 115 yards this week, and is good at scoring touchdowns.
Evan Engram: The Giants rookie TE is a guy who you can pick up on the waiver wire and play immediately, especially in PPR leagues. He's seen 30 targets in 4 games (OBJ's been hurt), and has caught 19 of them. Eli likes him, and he seems to have a clear role in the offense that's working for everyone involved. The Giants haven't been good, and Engram's been the best part of a bad year. Get him, play him.
Jason Witten: He has been terrible after a blazing-hot start over the first two weeks of the season, but he nearly caught a touchdown this week, and could be heavily involved in a high-octane game against the Packers.
TIGHT END SITS
Martellus Bennett: With Adams hurt, one would think Bennett, one of the better offensive players on a team stacked with them, would get an increased look. That doesn't seem to be the case. Bennett is locked into his role as a short-yardage pass catcher. If Dallas gets back Sean Lee, his work might be done in the blocking game.
Cameron Brate: He's starting to emerge as a darling of sorts since fantasy football managers are desperate for TE consistency, but he should be ignored. There are a ton of mouths to feed in Tampa, OJ Howard is still there, and Doug Martin is coming back. TB will probably feed him.
Eric Ebron: The most consistent thing in fantasy football is being hyped about Eric Ebron then dropping him two weeks later. This trend continues in 2017. His snaps are down, he's dropping passes, and you can drop him. Sad.
Waiver Wire

HOU WR Will Fuller: He's known for being a drop-heavy speedster, but it seems like breaking his collarbone allowed him to develop better hands and a nice little relationship with DeShaun Watson. Being two months removed from the injury is sketchy, but prioritize him. Houston needs a third offensive option and he'll usually be in coverage he can take advantage of.
GB WR Geronimo Allison: When Randall Cobb was out, Allison stepped up and caught 6 passes for 122 yards. He could put up more solid production if DaVante Adams remains out, which is looking likely.
BAL RB Alex Collins: There's a third RB in Baltimore that is playing, and it's a situation that needs to be monitored. Buck Allen is still the passing downs back, Terrance West is going to get work, but Collins looks like he could steal the job.
NO RB Alvin Kamara: Adrian Peterson is done, Kamara is the future. The Saints have run a backfield that can sustain to RBs a week, and it's clearly Mark Inram and Kamara, who caught 10 passes for 71 yards and a teddy. He threw in 5 rushes for 25 yards too. He has a great floor in PPR leagues, and is on bye this week so you might be able to steal him.
GB RBs Aaron Jones/Jamaal Williams: The Green Bay RBs might not even need to be used if Ty Montgomery doesn't miss time, and Williams himself might be hurt, but it may be wise to scoop up Jones who looked like he had some burst. Just in case.