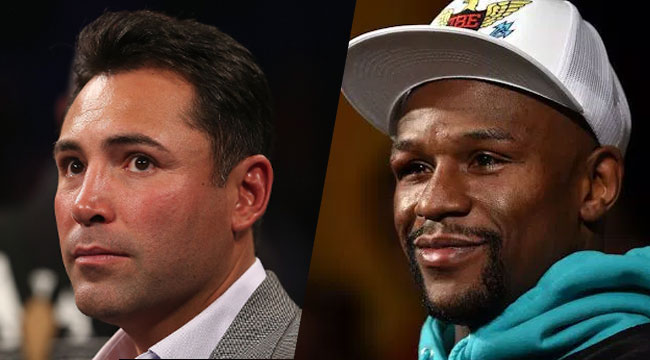 Floyd Mayweather is one of the all time pound for pound boxing greats. He's also one of the best at feuding with anyone that dares mention his name. Over the past couple months he's tangled with Ronda Rousey and Conor McGregor, and now he's going back to an old sparring partner, Oscar De La Hoya.
Back in November of last year, Oscar De La Hoya took offense to Floyd's comments on Ronda Rousey gracing the cover of Ring Magazine, and penned an open letter to Floyd in Playboy. I guess Floyd was too busy frying bigger fish, but now he's checking Oscar off his list of people to burn. Via FightHype:
"It's good to work with guys like Richard Schaefer and Al Haymon, guys that's drug free, guys that wear suits, guys that dress like men. Of course, you know I'm sending shots at Oscar De La Hoya. I'm always sending shots at him because I don't respect a man that dresses in drag. And I think he likes to send shots at me and say I'm a boring fighter and I like to run. Yeah, I like to run right to the bank. And they say Oscar De La Hoya, they say he accomplished more than me and got more than me. I could take him to one account and show him 450 million. What can he show me? That's just one account. I could show him 450 million just in one account."
That's a reference to those famous Oscar De La Hoya drag photos taken at a bender … the ones just before he headed off to rehab. But money wise, I'm sure Oscar's doing just fine. At a certain point the pissing match over being rich loses its meaning … usually somewhere around the nine figure mark. Oscar's worth is estimated at around 200 million. Floyd Mayweather made that much on the Pacquiao fight alone. That being said, his last fight bombed on PPV, leading people to say Mayweather only draws as a foil when there are opponents that might beat him.
Not like Mayweather cares. He'll cry all the way to the bank, depositing money into one of his nine figure bank accounts, and then make another video talking smack. That's how he rolls. He may not be fighting in the ring any more, but that won't stop him from being him.