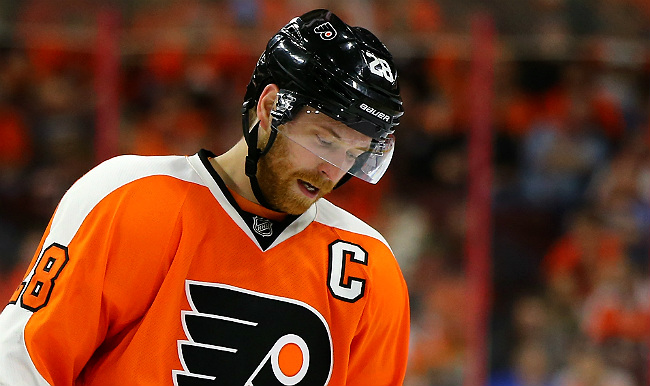 Flyers fans in Philadelphia had a worse showing than their team on Monday night, which is saying a lot considering Philly got blown out by the Capitals 6-1.
Worse than the box score was the lack of class or human decency from the crowd at Wells Fargo Center, who embarrassed themselves all night long. First, they booed Capitals defenseman Brooks Orpik after he suffered what appeared to be a concussion during the second period.
Orpik was hit along the boards by Ryan White and looked to bang his head on the glass a result. He immediately fell to the ice and looked extremely out of it. He had trouble getting to his feet and leaving the ice, needing the assistance of trainers and teammates.
Despite his obvious issues, a large collection Flyers fans booed the hell out of him.
Then, towards the end of the game, Flyers forward Pierre-Édouard Bellemare delivered an atrocious hit on the Caps' Dmitry Orlov. The hit from behind was as dangerous and unnecessary as they get, and Orlov was extremely lucky that he wasn't seriously injured as a result.
Luckily, the Washington defenseman seemed to be okay after going head-first into the boards. His face was slightly banged up but he managed to stay on the bench throughout the remainder of the game. As he was receiving repairs from a trainer immediately following the incident, a fan in the crowd pelted him with one of the bracelets the team gave away to honor late owner Ed Snider prior to the game.
That fan wasn't the only one to throw his/her bracelet towards ice level. After Washington's sixth and final goal, the bracelets came raining down onto the ice, leaving referees with no choice but to penalize the Flyers for delay of game thanks to the misconduct of their fans. The arena's PA announcers pleaded with fans to "have some class."
Both Alex Ovechkin and Wayne Simmonds also begged fans to stop.
Simmonds also called the display "f**king embarrassing" on the bench following the penalty being assessed.
Although teammate Ryan White, who knocked Orpik out, sided with the fans.
Monday's loss put the Flyers down 3-0 in the series and they've been utterly dominated by the Capitals thus far. There's a good chance the series may not go much longer, but there's at least one more game left to play in Philly, so it's up to Game 4's crowd to redeem themselves.