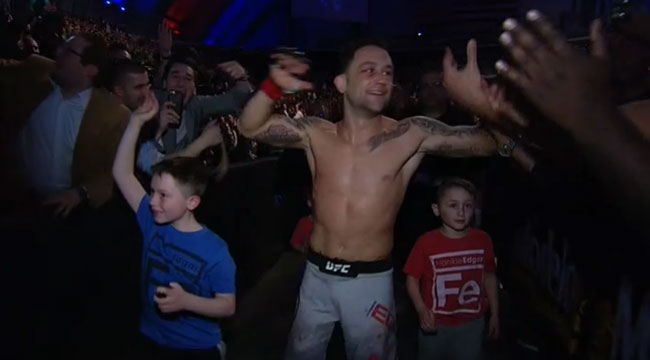 No one can accuse Frankie Edgar of not being game. The former lightweight champ and featherweight contender was set to fight Max Holloway for the 145 pound belt at UFC 222, but that fight got scratched due to a injury to Holloway. Edgar decided to stay on the card rather than wait for his shot, and ended up getting knocked out for the first time in his career by a surging Brian Ortega.
That KO came on March 3rd, so it was a bit surprising when Edgar vs. Cub Swanson added to UFC Atlantic City on April 21st, a mere seven weeks later. Frankie had beaten Cub soundly back in 2014 so maybe he thought it'd be an opportunity to quickly wash the taste of defeat out of his mouth. But considering Edgar's father and grandfather passed away leading up to the fight, no one would have been shocked if he showed up a bit off.
What we witnessed instead was classic Frankie Edgar, the same guy who rode his slick boxing and footwork to the lightweight title back in 2010. Edgar stayed busy with endless jabs and hooks, switching to his wrestling whenever Swanson attempted his own offense. Cub struggled to get anything other than an occasional counter off and the fight cruised along largely under Edgar's control through three rounds.

In the end the judges called it 30-27 for Edgar, keeping him right at the top of the featherweight division.
The win is Frankie's 17th in the UFC and while it wasn't the most thrilling performance of his career it did send a message that he's still a force to be reckoned with at featherweight. Considering he did the UFC a solid accepting that fight against Brian Ortega at UFC 222, you'd think they might do one for him and give him the winner of the Ortega vs. Holloway fight at UFC 226. But hey, knowing Frankie, he'll probably want to fight again before that. What a beast!