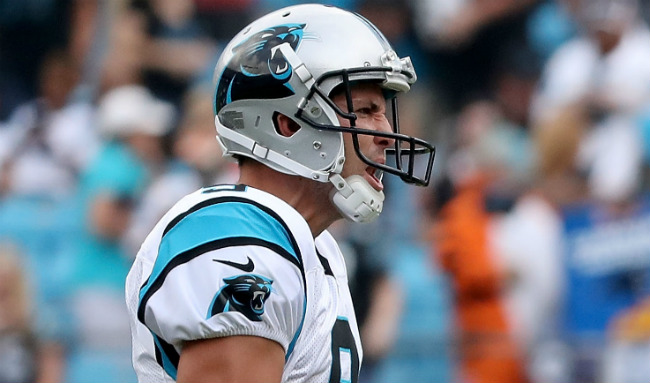 Watching a kicker absolutely mash a ball is one of life's simplest pleasures. Graham Gano did just that on Sunday afternoon, and as a result, the Carolina Panthers took down the New York Giants to move to 3-1 on the year.
The Giants had just scored on its prior possession to take a 31-30 lead, as Saquon Barkley took a pass from Eli Manning and scampered for six. It was quite the play by the rookie, who jumped into the end zone from about four yards out.
https://twitter.com/NFL/status/1049031306925862912/video/1
There was just one problem: Barkley scored with 1:08 left on the clock, which gave Cam Newton time to get the Panthers into position to kick a game-winning field goal. Newton got Carolina down to the Giants' 45, and with six seconds left, the team decided to turn down letting Newton fire a rocket into the end zone.

Instead, the Panthers turned to Gano to try and send it through the uprights from 63 yards out. Despite the fact that his previous record was a 54 yarder, Gano stepped up and destroyed the ball, sending it through the uprights and giving Carolina an absolutely thrilling win.
Gano hit four field goals on the afternoon, but of course, none were bigger (or quite as impressive) as this one with the game on the line.