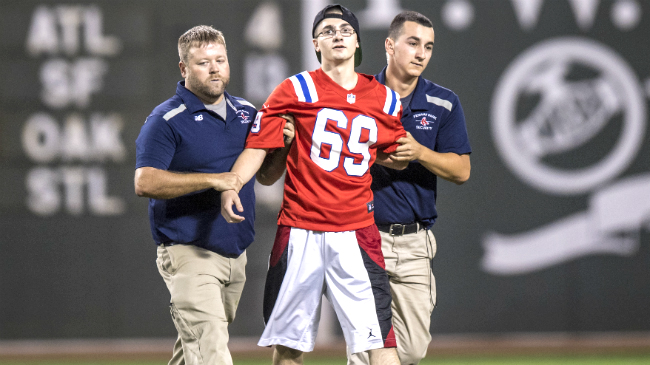 Monday marks the three-month anniversary of Harambe's murder, when a bullet fired by a Cincinnati Zoo staff member ended the life of our sweet, gentle gorilla. We will never be able to bring back our beloved Harambe, but we can choose to honor his life through any means at our disposal.
On Sunday night, a fan at Fenway Park during a Royals-Red Sox game chose the path of irony; he slipped away from security and ran onto the field while wearing a New England Patriots jersey with "Harambe" and "69" on the back. No, a sniper did not pick off anyone involved in the dramatic chase — Harambe would have appreciated that — but he was eventually handcuffed and detained in a jail, or enclosure, if you will.
It's also ironic to think that Harambe, a noble ape that was assassinated for following the laws of the jungle and protecting a child, had his name evoked by a man wearing a jersey of the Patriots, a team that cares not for the laws of the NFL.
This fan's friend was nice to take video of him jumping over the short wall in right field and running free, like Harambe once did.
He begins to fade, much like Harambe did as the blood drained from his body and his eyes flickered, but another fan captured the moment when the man was snuffed out, also much like Harambe.
And finally, unlike Harambe, the fan was allowed to live despite his unruly behavior and led away by police.
As the world continues to mourn and honor the powerful gorilla in its own way, this probably won't be the last time something like this happens. But think about this before you decide to run on the field during a sporting event — Harambe does not want you to feel pain or spend time in jail for him. He died so we humans can live and carry on good work in his name. He died protecting one of us. It's important we don't forget that.
Clicks out for Harambe.
(Via Sports Illustrated)