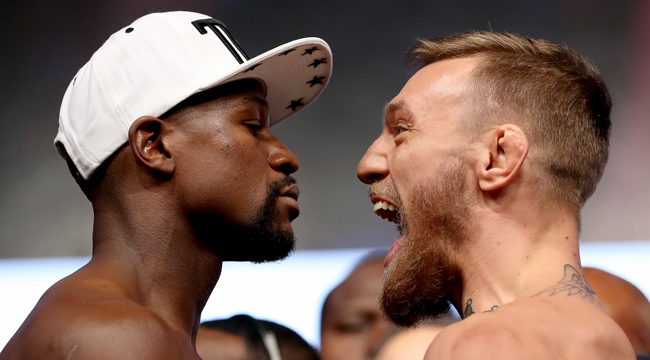 How much are Floyd Mayweather and Conor McGregor making for their big money boxing match this Saturday in Las Vegas? We now have an answer thanks to a Nevada State Athletic Commission law that demands a promoter discloses all fighter purses for any contest in the state. According to recently released figures, Floyd Mayweather will make $100 million and Conor McGregor will make $30 million.
That's not the complete picture, though. Not by a long shot. Both Floyd and Conor are undoubtedly getting a percentage of pay-per-view sales, which could double or even triple the final amount getting paid out. PPV is by far the most lucrative piece of the combat sports pie, and UFC fighters need to be at the very top of the sport to eke out a couple bucks per buy. In boxing, the money flows much more freely if you're one of the dozen or so fighters that can move the needle. With estimates having Mayweather vs. McGregor selling over 4 million PPVs, McGregor is literally adding a zero to his paycheck here.
Beyond the purse, it's Mayweather Promotions and McGregor Entertainment putting on this fight with Shotwime and the UFC, which means all sorts of other money normally reserved for the promoter will also be going (at least partially) to the fighters. That includes the gate (estimated at over $75 million), worldwide TV licensing and distribution fees, merchandise, and sponsorship.
Oh yeah, don't forget the sweet, sweet sponsor money.
It's unclear how much Corona paid to be the official beer of Mayweather vs. McGregor, but the original asking price was $10 million. And there's a surprising number of other big money sponsorship opportunities similar to that. The ring cushion behind Floyd Mayweather's head went for $3.1 million to a betting company. His shorts have $15 million worth of logo real estate alone. His Instagram has him enjoying Hublot watches and Tequila Avion. McGregor's probably doing just as well with companies like Beats By Dre.
When Conor McGregor deigns to share a number figure for how much he expects to make off this fight, he says over $100 million. Mayweather has estimated he'll make over $300 million. Based on what we're seeing coming into this massive fight, there's no reason to doubt those numbers at all.
(Via Bloody Elbow)