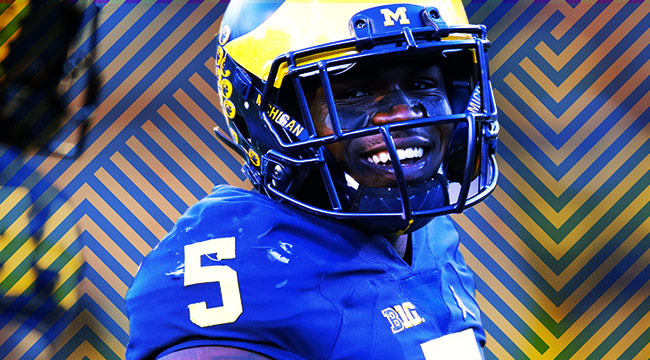 Michigan star Jabrill Peppers is the most well-rounded player in college football, a blue-chip athlete who's equally comfortable returning kicks, timing up blitzes, running stride for stride with slot receivers, and operating out of the Wildcat. That much has never been in doubt. But is he a serious candidate to win the Heisman Trophy?
Based on everything we know about Heisman politics, the answer should be no: In every year since the turn of the century the trophy has gone to a full-time quarterback or running back, and the further Charles Woodson's 1997 victory recedes into history, the less likely it seems that another primarily defensive player will ever pull it off again. Two-thirds of the way through the regular season, though, Peppers' name has become a mainstay on the short list of viable contenders, and this week oddsmakers put his chances of winning nearly on par with some of the nation's most recognizable quarterbacks. For the time being, at least, no running back or wide receiver has anywhere near the same odds.
Is the hype for real? Would-be Heisman candidates come and go; it's entirely possible that within a few weeks the momentum behind Peppers' campaign will fade as quickly as it arose, vindicating the old assumptions about who counts as a serious candidate and who doesn't. On the other hand, with Michigan 7-0 and rolling toward a potential playoff bid, there's no end in sight to the Wolverines' winning streak or the intrigue surrounding their most dynamic player.
Here are five reasons Peppers will have more staying power than Heisman history suggests.
1. It's a (Relatively) Wide-Open Field. Not to suggest that the Heisman race at this point is still anyone's to win — in fact, with each passing week it's looking more and more like Lamar Jackson's to lose — but it is fair to say that Jackson's massive, sustained lead over the rest of the rest of the pack says less about the front runner than it does about the failure of anyone else to emerge. There are a dozen guys or more behind Jackson in realistic position to close the gap, but none who seem especially likely to be the one who's actually going to do it.
If you had to put money on a late riser, the safe bet remains the preseason favorite, Clemson quarterback Deshaun Watson, whose team beat Jackson's head-to-head in the game of the year to date and is right on track for its second consecutive playoff bid. This is roughly the point on the schedule that Watson really began to assert himself as a contender in 2015 en route to finishing third in final voting. So far this year, however, he feels more like a default option than a real candidate; if not for last year, he probably wouldn't be on the radar at all, much less in the center.