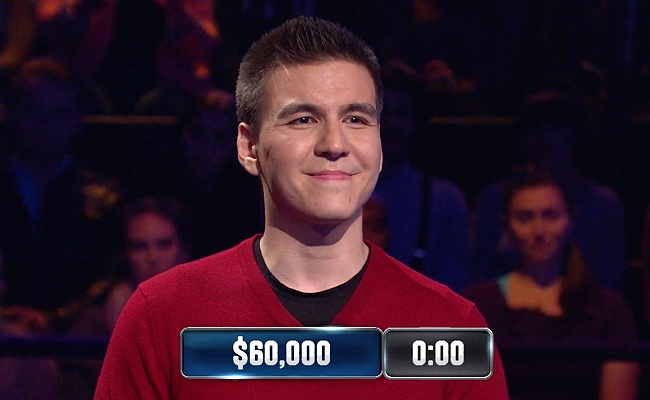 James Holzhauer has become something of a household name thanks to his work on Jeopardy! The pro sports bettor from Las Vegas is still on hiatus as the show finishes its Teacher's Tournament this week, but his impressive run on Jeopardy! has changed the way many people think about the game show.
Much has been made of his strategy and how he prepared for his time on the show, and some wonder if the way he plays — aggressively chasing Daily Doubles and betting big when he finds them — can be replicated. But his run on Jeopardy! isn't the first time that he's excelled on a game show. He's used his trivia knowledge on a show called The Chase.
The Chase is a US adaptation of a British game show that aired on Game Show Network from 2013 to 2015. And as it turns out, Holzhauer appeared on the show during that time. In a clip that Game Show Network shared last week, you can see that he's just as good at trivia on The Chase as he currently is on Jeopardy!

On the show, four strangers compete together to beat a trivia master called The Beast. The show works in two parts, with players trying to build up money amounts individually and then getting "chased" by The Beast as they try to bank that money, which they split at the end. In the "cash builder" portion of the game, contestants are asked questions rapid-fire, earning money for each correct response. It's this 60-second period that gives them a bankroll to use for the rest of the game. The Beast, as he's called, gives contestants a choice of chase targets based on how well they do in the Cash Builder.
And Holzhauer, well, absolutely crushes it to the tune of $60,000 in 60 seconds. That's 12 correct answers, oftentimes cutting off the host early to answer the question correctly so he saves time.
"That is the highest amount I've ever seen," host Brooke Burns said, looking shocked. Watching it in hindsight does seem pretty ordinary from Holzhauer, but as someone who has watched more than a few episodes of this while absentmindedly watching Game Show Network in the afternoon I can tell you that this is an extraordinary appearance on the show.
It's no surprise that Holzhauer's group does very well on the show, splitting a pot of $175,000 team prize — $58,333.33 each for the three contestants left according to the New York Post. GSN still airs The Chase in the afternoon, so you might be able to catch Holzhauer in action. But just know that if you do, just like Jeopardy!, you'll be watching something special.