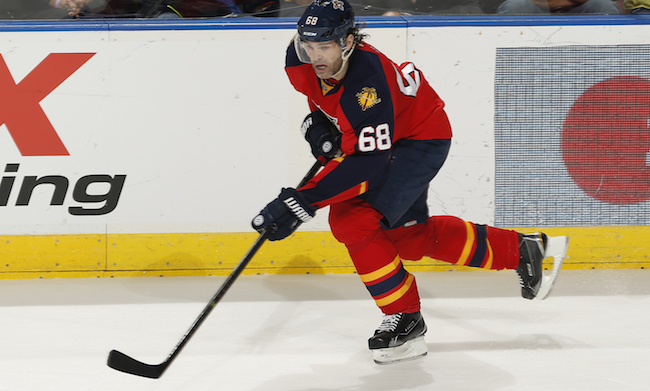 Jaromir Jagr is a freak of nature. This we already knew. The Florida Panthers winger is 44 years old and still going strong in the NHL, a league in which he plays against many players who weren't even born when he made his debut in 1990.
But some of the details about how Jagr manages to keep himself in such good condition to play well into his 40s may surprise. Say, for instance, the fact that he's highly-fueled by a borderline frightening caffeine addiction that began with soda and has progressed into coffee.
The ridiculous details of his caffeine habits are detailed in a new piece from the Wall Street Journal, which explains that the veteran winger has gone cold turkey for Lent.
When Jagr gave up Diet Coke last year—"I drank it every day, I would have five a day at least," he said—he tried it again after Easter. He hated the taste so much that he had to mix the soda with water, and then he gave it up altogether. This year he has quit coffee.

"I was drinking 10 a day," he said. "I felt awful the first few days, I felt like I had no energy at all. I was playing games I didn't even know I played, the first few games. But then the body got used to it."
Ten cups of coffee a day?! I have to be honest: One of my first reactions upon hearing that was wondering how many times you'd poop if you drank 10 cups of coffee daily. Based on a smaller sample size, I would have to imagine it's a lot.
Anyway, that kind of caffeine intake definitely doesn't seem healthy or conducive to an athletic career. If I have more than couple cups in the morning, my entire body will shake for the majority of the day.
Then again, I'm also a 24-year-old blogger who rarely leaves the house, while the 44-year-old Jagr is currently the Panthers' leading scorer (and just one point away from third all-time) with a professional playing career close to encompassing three decades, so maybe I'm not in the position to be handing out health and lifestyle tips.
(Via Deadspin)