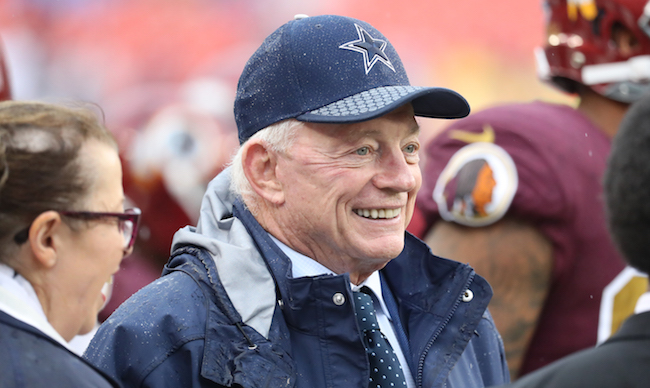 Jerry Jones has been the driving force behind stalling NFL commissioner Roger Goodell's contract extension, as the Cowboys owner continues to impede an extension as part of an ever-escalating feud. It stems from the handling of Dallas star running back Ezekiel Elliott's suspension over allegations of domestic violence, as well as the league's response to players kneeling for the national anthem.
The extension, which most assumed would be a mere formality, is now apparently in real jeopardy. That is because Jones, who is not on the league's compensation committee, has forced his way into those conversations and has called Goodell's leadership into question.
On Wednesday, the New York Times reported Jones has taken a new step towards stopping extension talks by hiring David Boies, the lawyer for Harvey Weinstein. Boies has come under great scrutiny for the handling of Weinstein's demise after numerous women came forward with accusations of sexual harassment and assault. The reason Jones has hired Boies is to sue the NFL and the compensation committee if they proceed with Goodell's extension.

According to the Times, Jones told the compensation committee he had hired Boies on a conference call last Thursday, and if plans to extend Goodell went through, they would be served with lawsuit papers this Friday.
Jones said in a conference call last Thursday with the six owners — those of the Chiefs, Falcons, Giants, Patriots, Steelers and Texans — that legal papers were drawn up and would be served this Friday if the committee did not scrap its current plans to extend Goodell's contract.
After that conference call, the other owners reportedly removed Jones from his status as a non-voting member of the committee and alerted the other owners around the league of what he said. Jones wouldn't be the first owner to sue the league, but his threat to sue other owners as well will undoubtedly ruffle feathers.
If Goodell is extended later this week and Jones follows through on his threat to sue the league, it will be very interesting to see what legal standing he has in the matter and how owners around the league respond.