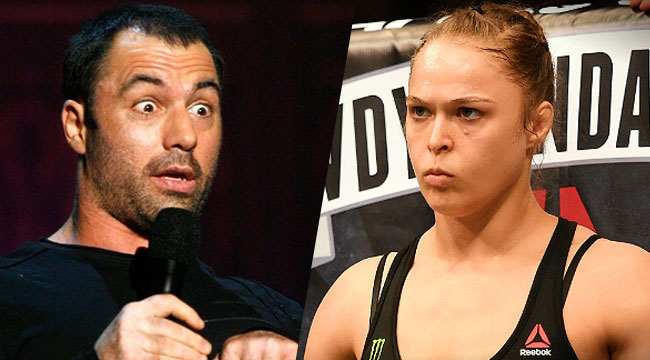 If you've been watching any of the UFC's programming over the past few weeks, you'll have noticed the heavy push for the return of Ronda Rousey,_ scheduled for UFC 207 on December 30th. But one person who barely gets a mention in edgewise is current 135-pound women's champion Amanda Nunes, who seems little more than a placeholder in nearly all the UFC's ads.
We're not the only ones who think its a bit odd for the champion in a championship bout to be overlooked. Joe Rogan was watching UFC on FOX 22 last night from his home (he only commentates UFC pay-per-view events these days) and brought up the same thing on Twitter:
It's not like the UFC doesn't have anything to work with when it comes to Amanda Nunes. She may be fresh as the UFC women's bantamweight champion after taking the belt off Miesha Tate back in July at UFC 200, but she's got a pretty impressive reel of brutal knockouts that could have been used. Nine of her thirteen wins come via knockout, and she often beats people bloody when she wins by submission (as she did with Miesha Tate). _
The UFC isn't just doing a disservice to Nunes here by ignoring her in all the promo. If Ronda Rousey loses on December 30th (a real possibility given the betting site oddsmakers have the fight a pick'em), casual viewers will think she was taken out by some random nobody and not one of the most vicious strikers in the division. That doesn't help Rousey or the champion the UFC is then 'stuck' within her place.
Obviously, Ronda is the star attraction and the big draw coming into this fight. But promotion 101 is using these opportunities to build up the people fighting your stars, especially when they're charismatic killers with interesting backstories_like Amanda Nunes is. Laying out just how difficult the Friday night fight is for Rousey to win would only make the whole affair more exciting. We know what's up, and we're hyped to the hilt. Get yourself ready too by watching this video of Amanda Nunes doing what Amanda Nunes does: knock women out.