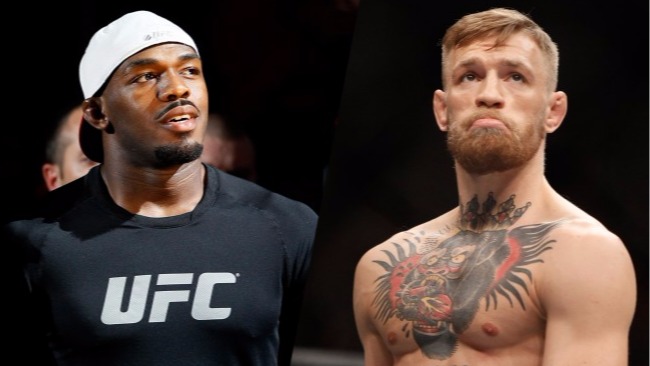 Jon Jones will be one half of UFC 200's main event when he and Daniel Cormier have their long-awaited rematch. The two last fought at UFC 182 in 2015, when Jones defended his Light Heavyweight title belt with a unanimous decision over Cormier.
The rematch is overdue, but the inability to get Jones/Cormier back in the Octagon hasn't been for lack of effort or willingness from the UFC and the fighters. Jones had to take some time off to deal with drug and legal issues, while Cormier's recent injury postponed their previously scheduled fight.
But the two caught a break when Conor McGregor's "retirement" opened up the main event at UFC 200 in Las Vegas in July. McGregor surrendered the card when he refused to commit to the fight's promotional requirements, including a day of filming a commercial in Vegas.
Jones happily took those commitments and, on Friday, he uploaded video of his 10-hour shoot with some interesting hashtags in the caption that reference McGregor.

#ThankYouConor is the obvious and appropriate one, but #Redpantynight also references comments that McGregor made prior to his fight against Jose Aldo at UFC 194.
"I can make you rich," McGregor shouted last September. "I'll change your bum life. When you sign to fight me, it's a celebration. You ring back home, you ring your wife — baby, we've done it. We're rich, baby. Conor McGregor made us rich. Break out the red panties."
Is Jones just joking around, or it a legitimate subtle jab at McGregor? That's still unclear, but Jones has some probable cause for the trash talk. McGregor did take a swipe at him on Twitter earlier this week when he compared the number of buys on his last fight to UFC 197, which was headlined by Jones.
Either way, Jones seems more than happy to live up to the commitments and take the card that McGregor passed on, and UFC fans (hopefully) will finally get the rematch they've been clamoring for for over a year.
(Via Fox Sports)