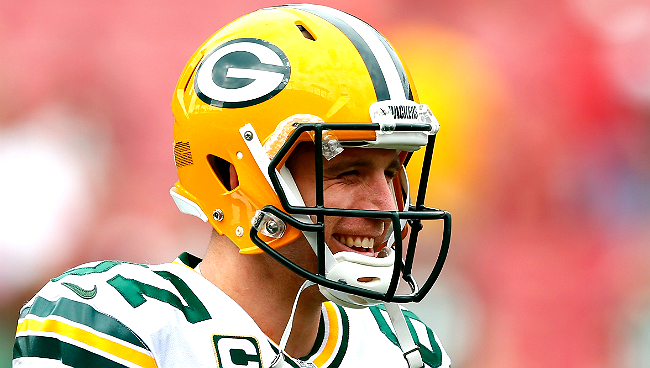 The NFL preseason can be too cruel. And nobody knows that better than Green Bay's Jordy Nelson, who was lost for the season with an ACL tear on a play that could've happened to anyone. One of the premier wide receivers in the league, Nelson will be spending the next few months rehabbing and watching as the Packers try to go on another deep playoff run.
That hasn't stopped the star from making an impact off the field. Nelson recently stopped by an unsuspecting group's fantasy draft in Wisconsin as part of a Buffalo Wild Wings stunt, and he made a huge donation to his alma mater, Kansas State. The Wildcats even named their locker room after him.
Uproxx Sports had the chance to catch up with Nelson late last week, and talked everything from Lambeau Leaps to shortening the preseason.
Martin Rickman: I saw you surprised some fans drafting at a Buffalo Wild Wings in Wisconsin, and it seemed like they had no idea what was coming, but they looked like they had a lot of fun – and you had a lot of fun, too. What was that experience like for you?
Jordy Nelson: It was a great experience. It was cool having it set up where I was on the radio acting like I wasn't going to be there, and I'd still be helping out, but then I surprised the whole league and the crew they had there. I helped out for an hour or so, gave them some insider information, and got them set up in the first couple rounds. It was just fun to be a part of it, and I think they enjoyed it.
You mentioned some insider information. Was there anything in particular that you really felt like stood out for them that you helped them out with?
I think some of it was just understanding the game a little bit more and understanding what guys might be getting double-teamed. A receiver who only has him and not a good secondary guy, or a third guy on his team, a lot of defenses will be trying to take him away, so it might be a rough year for him. Or they don't have a run game to match it. Or vice versa, where all they have is a run game, and no passing game, people will load the box and it might be more difficult for that running back to be productive. Like a fantasy coach or GM would want for his team. That's all I did, and we'll find out if it worked or not, but we'll see.
I've talked to other receivers about this, and people tend to fall into two camps – guys like being double-teamed because it means another guy is more likely to be open, and there is another big play that could come somewhere else, or other guys hate it because they're not the ones who will probably be making that play. What side do you take?
I don't know if I like it or hate it. It can go both ways. Obviously, I'm a guy who can make a big play, and being double-teamed can make the game a lot harder, especially if the team does a really good job at it. But it is fun to be on the other side, and that's when it's fun to watch your teammate make the play, and make big plays, and you take appreciation from that. You're still affecting the game even if you're not getting the ball, and you like seeing your teammates make big plays for you. It goes back and forth. When you're double-teamed and you still make the play, that's so much fun to accept the challenge and do it.
How does it feel to have the K-State locker room named after you? Did they surprise you with that?
The name of the locker room was all K-State. It had nothing to do with why I made a donation or anything like that. They approached us about making the donation, and what they were doing there, and how they were building the facilities. We grew up five minutes away, so we knew all about it, and we've been back and forth seeing the facilities and whatnot and what's going on at K-State, not only in football, but in all sports. We wanted to be a part of it, and naming the locker room after our family is something they decided to do.
I know that Kansas-Kansas State rivalry is a big one, and it's obviously not slowing down after what the Wildcats band did. What was the craziest thing you saw in that rivalry?
A lot of it is a football and basketball thing. In football, K-State usually wins. In basketball, Kansas usually wins. It's something that's never, very rarely has it been an extremely competitive game. Especially in football, and in basketball, we've been able to get some at home. It's such a big rivalry, especially when you go east. In-state rivalries will always be good. Nobody in the state wants to do anything else. It's one of the best things about college football as a whole.
Do you have any memories of playing under Bill Snyder that really stick out or are a testament to the type of coach he is?
Bill Snyder keeps it very simple. It's about playing football right and understanding the opportunity to play the game. He really breaks it down to the three aspects of the game – offense, defense and special teams – and gets you to focus on those every single day.
What's your most memorable Lambeau Leap?
Man, I have no idea. I guess I'd have to go with the first one. It's something that you only can do the first time once. The first one will always be one of the better ones.
Was your injury one of those ACL injuries where you just know, or was it one that you didn't know the severity of it at the time?
I didn't know at the time. The doc went through the normal procedure of checking the knee out before they told me anything about it. I thought I had just done something minor to my knee until they told me what really happened.
What's the rehab process going to be like for you? Where are you at in that right now, and what will the next few months look like?
Just continue to work back at it. Strengthening the knee, getting the range and full movement back and forth. Flexing, and extension. I have plenty of time, but I'm not in any hurry to get back. You want to get back to normal as soon as possible because it makes life a lot easier, so we hopefully will get back in time for training camp next year, and I'm looking forward to the challenge of taking on the rehab process.
What can you do for your teammates from the sidelines? Some guys are more active around the team, and other guys like to focus on themselves and their own rehab.
It'll be a combination. I think, first and foremost, I have to make sure I get my rehab done right and get healthy. I'll spend time in Green Bay, and once I'm able to be more mobile and feel comfortable where we're at, I'll get back more into the meeting room, and watch film with the guys. We have a pretty young room, and I think I'll be able to help them out, and I'm looking forward to the opportunity.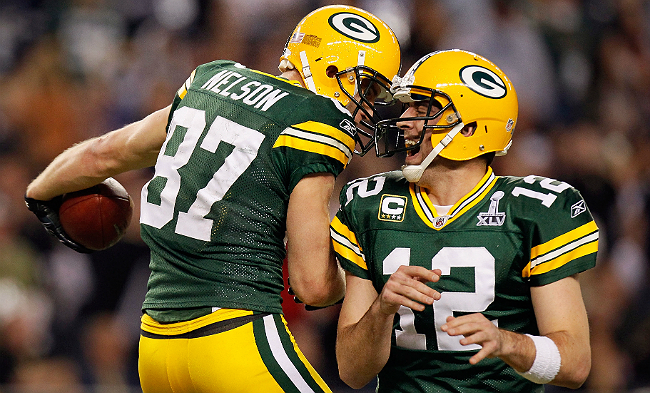 What's something about Aaron Rodgers that people don't necessarily know about him that they should know?
I think the main thing to me is just how competitive he is. No matter what he's doing, whether he's playing football, playing cards, playing wiffle ball, ping pong, whatever he's doing, he has that drive. He has to do that to be as good as he is on a week in and week out basis.
Is the NFL preseason too long? Are too many guys getting hurt, and is there too much wear and tear on guys in the preseason?
I don't know. Guys need the preseason. Especially teams like us who have a lot of undrafted guys who need time to show what their skills are. Guys getting hurt in preseason, it is what it is. Guys are going to get hurt, if they're lucky enough to get by it, it could happen in the first preseason game or on the first play of the regular season. It's never going to be better. I think maybe if they shorten it by one game or so, but teams still need to develop, teams with new coaches, guys who are trying to make the team or another team.
There's been a lot of talk about this recently, and I think it's probably going to pick up more and more – with all the sacrifices that players put in, the punishment they put their bodies through, do you feel as though NFL contracts should be guaranteed?
The players always want their contracts guaranteed. But you see it both ways. As a player, you want the guarantee because you want that security, but as an owner, like we said with all the injuries, you don't want that risk. Basketball and football guys are more likely to finish out their contracts. There's a medium – a middle ground – there, and it's something that we'll continue to have a conversation about.
Do you plan on letting your son play football?
(Laughs) If he wants to.