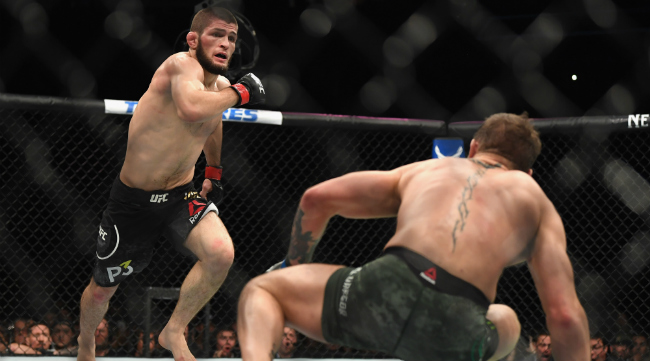 Khabib Nurmagomedov tapping out Conor McGregor in the main event of UFC 229 wasn't at the top of the headlines Sunday morning. The UFC Lightweight champion leapt into the crowd, causing an all-out brawl following the end of the bout.
Nurmagomedov bested McGregor with a rear-naked choke, then continued to berate the former double champion as he was restrained by referee Herb Dean. Nurmagomedov eventually targeted McGregor's camp before he jumped out of the Octagon to attack McGregor's jiu-jitsu coach, leading to both camps fighting inside and outside of the cage.
Three members of Nurmagomedov's camp were arrested and later released, and more could be coming in the aftermath of the altercation.
According to UFC president Dana White, Nurmagomedov could be stripped of his UFC title depending on if he is suspended and how long the suspension lasts, per ESPN.
"It's bad," White said, per the report. "There's gonna be an investigation by the Nevada State Athletic Commission, and … there's gonna be big-money fines, and these guys are in big trouble.

"Again, we need to see how this plays out. Nobody has ever done that; nobody should ever do that."
Nurmagomedov and McGregor engaged in a war of words over the last few years leading up to Saturday's highly-anticipated fight. The situation escalated past simply building up a fight when McGregor attacked a bus in Brooklyn, injuring several fighters, and called Nurmagomedov's father a "quivering coward."
After the fight, in his post-match press conference, Nurmagomedov apologized for the incident…sort of.
"First of all, I want to say sorry to the athletic commission, Nevada and sorry to Vegas," Nurmagomedov said, via ESPN. "This is not my best side. I'm a human being, but I don't understand how people can talk about jumping on the cage when he talks about my religion, he talks about my country, he talks about my father and he comes to Brooklyn and he broke the bus and almost killed a couple of people. What about this? Why are people talking about my jumping over the cage? I don't understand. … You cannot talk about religion, you cannot talk about nations, you cannot talk about this stuff. This is for me very important."
As for a rematch, White hasn't acknowledged if McGregor will get the opportunity for retribution against Nurmagomedov. But if that day comes, there will be plenty of hype surrounding what is turning into one of the UFC's premier rivalries.