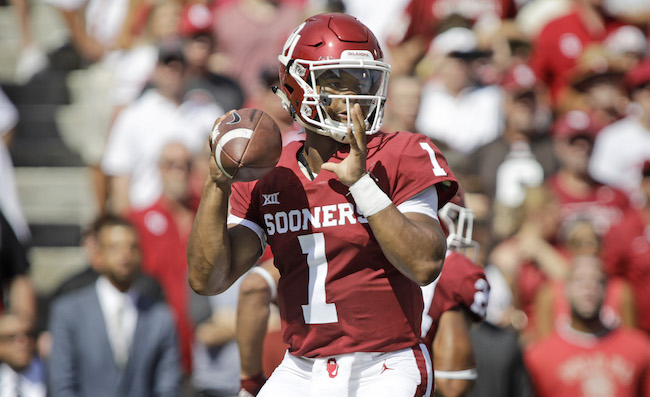 Kyler Murray faces a very interesting decision this week. The Heisman Trophy winning Oklahoma quarterback has to choose whether he wants to enter the 2019 NFL Draft or report to spring training with the Oakland Athletics and begin his baseball career.
Murray was the ninth overall pick in the 2018 MLB Draft of the A's and, as such, has a $4.88 million contract waiting for him if he chooses to play baseball. However, having just won the Heisman at Oklahoma and with the idea of what a starting quarterback in the NFL can be and look like, the 5'10 (listed) Murray may have more of a shot at being a high NFL Draft pick than he would've been five years ago.
That shift in the NFL, undoubtedly helped by the success of Lamar Jackson with the Ravens as a speedster dual threat with a smaller frame, has apparently made Murray, once a lock to play baseball, suddenly unsure. According to Henry Schulman and Susan Slusser of the San Francisco Chronicle, the A's expect that indecision to result in Murray declaring for the Draft on Sunday when the deadline arrives.

As Schulman and Slusser note, Murray declaring doesn't mean foregoing his deal with the A's, but it does make it possible that Oakland won't be getting its first rounder into the organization. As for where Murray will go in the Draft, once considered a fringe Day 2 selection, there is now growing expectation that he could be a first rounder, as noted in the Chronicle story and by Pro Football Talk on Wednesday evening.
Murray's draft stock is debatable, but he is without a doubt assisted by the fact that this is a tremendously weak quarterback class. There also are not enough clear elite QB prospects for all of the teams with needs at the position this year. With Justin Herbert returning to Eugene to play another season with Oregon, Dwayne Haskins from Ohio State figures to be the first quarterback off the board, followed by Mizzou's Drew Lock. From there it gets murky with Duke's Daniel Jones now being considered a first-round prospect.
We'll know Murray's true intentions come late February, when he will have to decide whether to skip out on a portion of A's spring training in order to go to Indianapolis for the NFL Combine. There, Murray will have a chance to wow the scouts with his speed and arm talent — if he chooses to throw — but the most important part might be how he measures in. Listed at 5'10, many are skeptical that's actually Murray's height. If he is indeed that, it'll be huge. If he's closer to 5'8 as some have posited, he'd be extremely unique at that height as a quarterback prospect and as silly as it may seem, that two inch difference could be the difference in a first-round grade or a third.
For baseball, it'd be a huge loss for Murray, a young star that is a household name already, to choose football over the A's. For Murray, it may simply be a matter of really loving playing football and, maybe as importantly, enjoying being the quarterback. Baseball stars are, for the most part, anonymous to the general American public. Murray is a Heisman winner so he's already got that clout, but if he disappears into the minors for a few years no one will pay attention. If he's an NFL quarterback, even if serving as a backup for a year or two, he'll remain a story because people will be fascinated to see if he can translate to the pros.