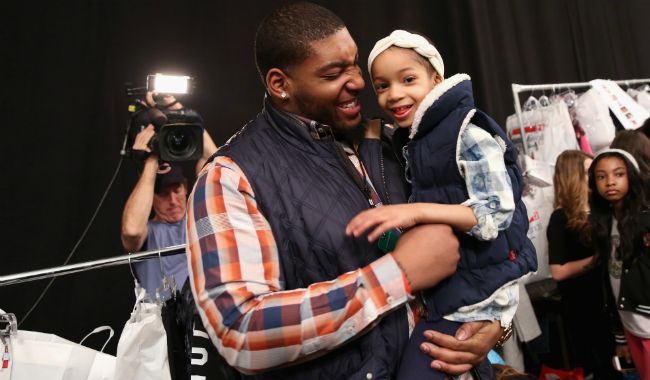 The continuing saga of Cincinnati Bengal Devon Still and his daughter Leah has been one of the more inspiring stories in the football world for nearly a year now. When last we heard from them, Leah was disease-free and flexing, though they knew the fight wasn't over. It's been a couple of months, and Leah is facing a new fight.
She had been receiving a stem cell transplant, and serious complications have apparently arisen. It's the first bad news Devon and Leah have received in a while, and our hearts go out to them. This came right around the one-year mark of Leah's diagnosis, which Devon commemorated with this beautiful tattoo:
And now, in recognition of Devon and Leah's courage, ESPN has announced that the two will receive the Jimmy V Perseverance Award at the ESPYs this July. The award was inspired by late NC State coach and ESPN analyst Jimmy Valvano's tear-jerking speech at the 1993 ESPYs, the fame of which arguably kept the award show alive despite its pointlessness as a "Sports Oscars." Last year, Stuart Scott received the award for his own fight with cancer, a fight that claimed his life this past January.
Devon acknowledged the honor on his medium of choice Monday morning:
Like Devon, we hope Leah is healthy enough to make it to the ceremony. If she does, it will no doubt be as memorable a moment as any the ESPYs have seen.