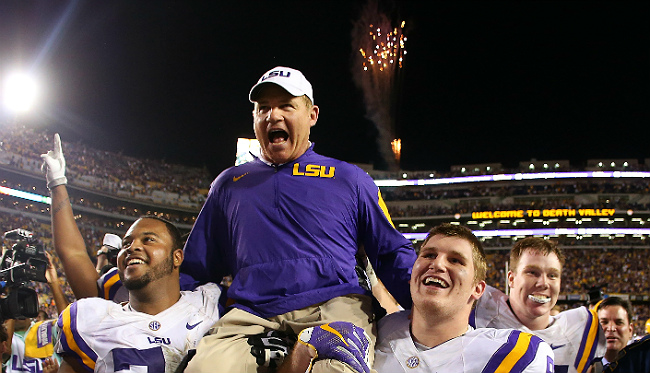 As you may have heard, LSU is not firing Les Miles after all. I, an LSU fan, have some thoughts on this I'd like to share. Please allow me to indulge you.
1. It had to end this way, with Miles winning. It just had to. Anyone who's casually followed college football in the past few years knows this. Further, don't be surprised to see Miles get a raise and a contract extension in the coming weeks. Hell, the noted grass-lover might even end up appointed to head up Louisiana's Department of Agriculture & Forestry when it's all said and done. Surviving this is the ultimate Les Miles rabbit-pull out of the hat. The man basically knows now what it feels like to attend his own funeral and be brought back to life. I mean, did you hear the roar of the Tiger Stadium crowd as his team carried him off the field on their shoulders last Saturday night? Miles is a damn witch.
2. Let me just state for the record that I was not one of the people who wanted Miles to be fired, but I get why some (powerful) people in Louisiana wanted him to be fired. Pulling for a Les Miles-coached team is an exercise in extreme frustration. The things people who enjoy watching LSU football under Miles, but who aren't emotionally invested in the team find cute and funny — the clock mismanagement, the trick plays he randomly pulls out of his ass in tension-filled moments, the inability to develop a decent quarterback, the at-times indecipherable gibberish that flows from his mouth when a microphone is placed in front of him, the stubborn inability to make in-game adjustments (especially on the offensive side of the ball) when things aren't working or going according to plan, the lack of more than one championship despite sending more talent to the NFL than any other college — are not so cute and funny to people who are emotionally invested in the team.
Then there's the whole Nick Saban/Alabama thing at play. That's something very real. LSU fans are absolutely sick of losing to Saban and Alabama. When Saban left LSU to coach in the NFL, that was one thing. But returning to coach an SEC West rival and compete for championships every year? Oh, that stings. That stings hard. If Nick Saban isn't coaching at Alabama, none of this would have happened. I can say that with almost absolute certainty. So much of this is about Saban. And with Miles losing five-straight to Alabama and Saban, some long-simmering discontent began bubbling to the surface.
I'll admit, there have been times in the past, usually while watching an LSU game or immediately after the team loses a game it should have won, where I have yearned for someone else to coach at LSU. The 2012 national championship loss to Alabama — or, I should say, the way the game was lost — really pushed me to the edge. The whole thing was a debacle, a clinic in how not to coach a team to a win in a championship game. It left such a bad taste in my mouth that it essentially negated the fact that the team went 12-0, including a thrilling overtime win at Alabama, to get to that point.
I'd continue feeling that "Fire Les Miles" urge every now and then after that. It wasn't until I had a conversation with an Alabama fan friend after another LSU loss to Saban and the Crimson Tide that I began to see things differently and stopped cursing the day Saban left LSU for the NFL.
"With Saban as your coach, winning sometimes isn't even fun," he said. "The goal of Saban is not to have fun; it's just to win. With Les, it's always kind of fun and lighthearted, even if you lose. When you go to a football game, you're paying money to watch people play with a ball. It's entertainment. You get your money's worth with Les."
Finally, my friend added that pulling for Saban "is kind of like pulling for Hitler. It's like pulling for the Nazis." It was a reminder that football, ultimately, is entertainment, and Les Miles makes things entertaining. Not long after having this conversation, the following press conference happened, and it was at this point where I think I crossed over to the other side and embraced Les for being a source of entertainment more than I did a football coach.
3. I don't see how LSU athletic director Joe Alleva keeps his job for very long after this debacle. a) The whole thing was so ineptly managed, and b) it feels like a failed coup. Alleva made a power play and lost. If this were Game of Thrones, he'd lose his head to a big, sharp blade. Instead, he might lose his job.
4. I can't help but think that social media saved Miles from getting fired. LSU had lost three-straight in convincing fashion, including one to Saban and Alabama. Prominent people in local media were calling for Miles to be fired. The momentum for Miles' termination was cresting. In another era, there'd have been little to no way to fight it back. But Facebook, Twitter, Instagram, etc. gave voice to people who didn't want to see Miles go, and those who thought firing Miles was an insane thing to do. It gave people a platform to express their love for Miles and also to make the case for how ridiculous it would be to fire arguably the most successful coach in the school's history. And it culminated in the stadium on Saturday night with what was one of the most emotionally charged games in Tiger Stadium history playing out on the field, according to people who were at the game, with countless people showing up at the stadium with pro-Miles signs, with the crowd breaking out into pro-Miles chants before, during and after the game.
According to ESPN's Joe Schad, the decision to retain Miles was made during the game, and the outpouring by the fans played a huge part of that decision.
This whole thing felt a lot to me like a relationship, a long relationship, where one party began to think that maybe the grass might be greener on the other side, but then after taking some time to confront the realities of life without the other person, high-tailed it back into the arms of the person they were considering casting aside and moving on from.
5. The bright side to all of this for LSU fans is that maybe it will serve as a wake-up call of sorts for Miles, and he'll come to realize that he needs to make some changes to keep the program going where it needs to go. Schad also indicated that this may have been a factor in the decision to keep Miles.
You can't keep trying to head-butt a bull and think you're eventually going to knock it out. The bull will win every time. You've got to figure out a way to get around it. And that's how Miles has coached against Alabama in recent match-ups.
6. I've been traveling overseas for the past couple of weeks and was in France on Saturday night. As much as I wanted to stay up to watch the game online, it didn't kickoff until 2 a.m. or so Paris time and I was exhausted, so I went to bed. Around 6 a.m. or so, I was woken up by a blitz of text message notifications from my phone. Rather than look at them and get myself woken up by whatever LSU-related drama I suspected was going down, I turned my phone off and went to sleep. When I woke up on Sunday morning, I went through my Twitter feed from the night before and essentially saw how the whole Miles saga unfolded. To do so in that way from the bed of a tiny hotel room in Paris felt kind of surreal.
7. Finally, I've never known anyone who's met Les Miles who's come away from the encounter anything less than completely delighted. Even ardent Miles critics I know; upon meeting him, they are usually charmed senseless. He's truly a special type of person, one who makes people feel happy to be in his presence. It's probably a big reason he's such a great recruiter — I imagine recruits feeling completely at ease with him, while their parents probably feel like he's someone they can entrust their children with.
A couple of years ago, I did a piece on Alabama football and LSU football for the New York Times. In the course of doing that piece, I got to watch Miles and Saban both interact with fans at each school's "Fan Day" events. Here's what I mentioned about this in the piece.
The way the two coaches approached the events could not have been more different, and played perfectly to type. Saban was workmanlike and methodical, efficiently signing autographs with a serious manner that called to mind a veteran assembly line worker. Miles was much more freewheeling and playful, more prone to engage fans in conversation and pose for photographs. I saw Saban stop to pose for only one photograph, with a child in a wheelchair.
I can still vividly recall watching Miles at LSU's fan day. He seemed to be completely in his element, like it was his favorite day of the year, a child on Christmas morning. Or, better yet, like he was Santa at Christmas, doling out smiles, hugs, handshakes and autographs until the school's sports information director essentially had to drag him out.
I should add that Miles charmed the hell out of me, too, during the time I spent with him for another piece I wrote a year or so later, a Times profile of sorts on him. On the day I was to shadow him at a practice, I got hit by a car on my bike when I went to pick up a rental car that morning. Luckily, I came away from it with only a few scratches, a sprained wrist, and a mild concussion, but I was still in kind of bad shape and in a mild state of shock throughout that day. Les caught wind of what had happened and couldn't have been more genuinely concerned for my well-being, offering up the team's medical staff to evaluate me and get me anything I needed. We then sat in his office and talked for a while about accidents and near-death experiences. He shared some off-the-record moments from his own life, things he did during his wild younger days that could have led to him becoming seriously injured. It's a conversation I'll probably always cherish. Every now and then, I go back and re-listen to the tape recordings I have of it.
Before I left Miles that day, he said there was something he wanted me to see. He disappeared into his closet for a brief moment and eventually emerged holding an LSU cap. He said that it was the "dress hat" that he'd be wearing on the sidelines during the upcoming season. He beamed a bit as he posed for a photo I took, looking proud as hell to be the head football coach at LSU.
My point in telling you all of this is this: Les Miles is a good coach and a good human being and he loves LSU. The treatment he received from the powers that be at LSU over the past few weeks was shoddy at best, arguably downright disgraceful. Hopefully some lessons will be learned and a page will be turned. But Les Miles deserved better. Much better.