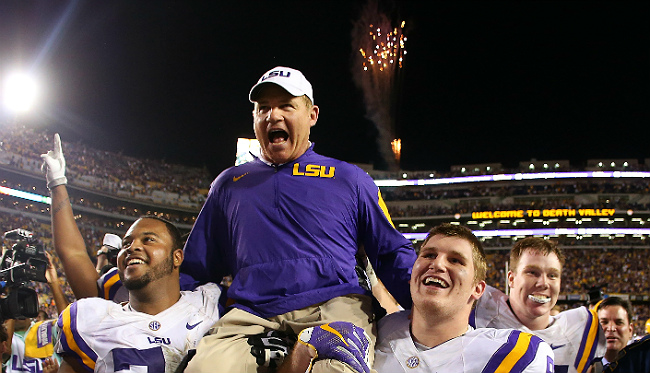 As you may have heard, LSU is not firing Les Miles after all. I, an LSU fan, have some thoughts on this I'd like to share. Please allow me to indulge you.
1. It had to end this way, with Miles winning. It just had to. Anyone who's casually followed college football in the past few years knows this. Further, don't be surprised to see Miles get a raise and a contract extension in the coming weeks. Hell, the noted grass-lover might even end up appointed to head up Louisiana's Department of Agriculture & Forestry when it's all said and done. Surviving this is the ultimate Les Miles rabbit-pull out of the hat. The man basically knows now what it feels like to attend his own funeral and be brought back to life. I mean, did you hear the roar of the Tiger Stadium crowd as his team carried him off the field on their shoulders last Saturday night? Miles is a damn witch.
2. Let me just state for the record that I was not one of the people who wanted Miles to be fired, but I get why some (powerful) people in Louisiana wanted him to be fired. Pulling for a Les Miles-coached team is an exercise in extreme frustration. The things people who enjoy watching LSU football under Miles, but who aren't emotionally invested in the team find cute and funny — the clock mismanagement, the trick plays he randomly pulls out of his ass in tension-filled moments, the inability to develop a decent quarterback, the at-times indecipherable gibberish that flows from his mouth when a microphone is placed in front of him, the stubborn inability to make in-game adjustments (especially on the offensive side of the ball) when things aren't working or going according to plan, the lack of more than one championship despite sending more talent to the NFL than any other college — are not so cute and funny to people who are emotionally invested in the team.
Then there's the whole Nick Saban/Alabama thing at play. That's something very real. LSU fans are absolutely sick of losing to Saban and Alabama. When Saban left LSU to coach in the NFL, that was one thing. But returning to coach an SEC West rival and compete for championships every year? Oh, that stings. That stings hard. If Nick Saban isn't coaching at Alabama, none of this would have happened. I can say that with almost absolute certainty. So much of this is about Saban. And with Miles losing five-straight to Alabama and Saban, some long-simmering discontent began bubbling to the surface.
I'll admit, there have been times in the past, usually while watching an LSU game or immediately after the team loses a game it should have won, where I have yearned for someone else to coach at LSU. The 2012 national championship loss to Alabama — or, I should say, the way the game was lost — really pushed me to the edge. The whole thing was a debacle, a clinic in how not to coach a team to a win in a championship game. It left such a bad taste in my mouth that it essentially negated the fact that the team went 12-0, including a thrilling overtime win at Alabama, to get to that point.
I'd continue feeling that "Fire Les Miles" urge every now and then after that. It wasn't until I had a conversation with an Alabama fan friend after another LSU loss to Saban and the Crimson Tide that I began to see things differently and stopped cursing the day Saban left LSU for the NFL.