With Madden 18 being less than three weeks away from release, EA Sports released the ratings for the backbone of every Madden player's defense: the secondary. With Madden having multiple QBs that are able to shred you from the air, the best defense one could have is one with solid corners to make things a little difficult for the digital QB you're facing. So let's start with a look at the top five cornerbacks in Madden 18.
Top 5 Cornerbacks
1) Chris Harris
As EA Sports says, "it's in the game." The Denver Broncos Chris Harris Jr sports the best coverage stats of anyone in Madden with a 97 in Man Coverage and a 93 in Zone Coverage. His main drawback might be that his hit power is only at 60, meaning there may be a broken tackle or two should the receiver actually get the ball. But with Harris' ability to cover, actually getting the ball to the man he's assigned to, might be a bit more difficult than the opposing player may think.
94 Overall
93 AWR
91 SPD
90 ACC
96 AGI
57 STR
2) Aqib Talib
As it turns out in the initial ratings of the secondary, there are very few weak links in the Denver Broncos secondary, as the guy opposite Harris is number two on this list. Where Talib differs from Harris however, is that he's a threat with the ball in turnover situations. If a player has Talib on his team and the ball is in his hands, there's a good chance you'll see that player with Talib in the end zone.
94 Overall
93 AWR
88 SPD
92 ACC
91 AGI
69 STR

3) Malcolm Butler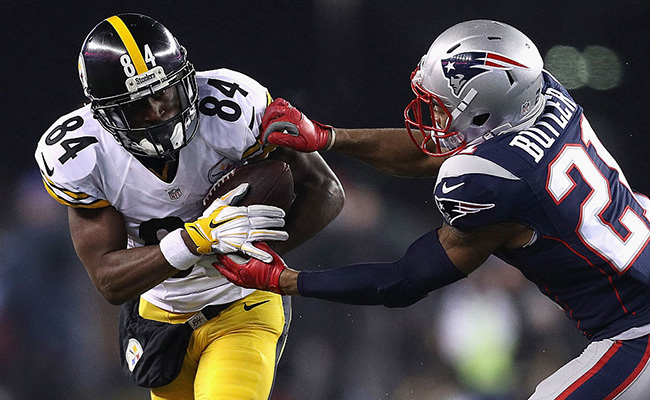 The rags-to-riches hero of Super Bowl 49 comes in at number three according to EA Sports, and art reflects life once again with Butler being the ultimate Belichickian player in that he has versatility all over the field. Butler, seems like the ideal player to build a secondary around because of his ability to come down and stop the run with his 70 tackle rating, highest amongst the top five.
92 Overall
92 AWR
89 SPD
88 ACC
92 AGI
63 STR
4) Patrick Peterson
The Arizona Cardinals standout defender comes in fourth, and while his coverage ratings aren't where you'd like them to be compared to to the three above him. One area he more than makes up for it: speed. As the fastest cornerback in the game, there may not be such a thing as wide open if Peterson is assigned to cover a guy. Plus, with the best juke move for a corner, if a player is down late and you need one guy to either tie the game or win it for you, Peterson might be your guy.
91 Overall
88 AWR
92 SPD
92 ACC
97 AGI
70 STR
5) Josh Norman
The second-year man for Washington rounds out the top five. While he may not have the raw attributes that the other four may have, where he makes up for it is his play recognition statistics and awareness, with a score of 95. He'll allow the player to leave him on an island and worry about the 10 other guys on defense.
90 Overall
95 AWR
88 SPD
89 ACC
92 AGI
66 STR
Honorable mentions:
Richard Sherman is the only other cornerback in
Madden
that hits the 90 rating, but if you feel the need to have balanced cornerback play on both sides, look no further than the New York Giants, who with the Denver Broncos are the only teams with two cornerbacks in the top 10 for the position.
Now as we shift gears to the safeties of the list, these are generally your last line of defense when it comes to playing Madden, they support you on the run, and can cause many a dropped pass for 4th down in the passing game. So with no further ado, let's present …
Top 5 Safeties
1) Kam Chancellor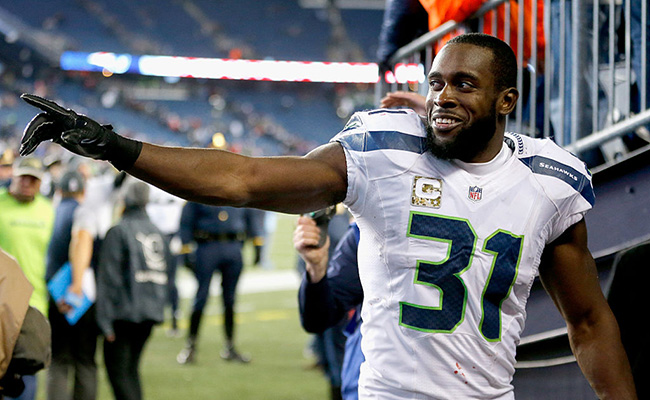 The Legion of Boom enforcer leads all defensive backs in hit power with a punishing 97 rating. Chancellor's speed allows him to help in blitzing situations as well and support in the run as well as play centerfield in certain situations and help separate the ball from the receiver, making him one of the most lethal weapons for a defensive Madden player to use.
95 Overall
91 AWR
87 SPD
87 ACC
83 AGI
82 STR
2) Eric Berry
The Kansas City Chief came in at number 2, and while he may lack the hit power of Chancellor, he doesn't want for coverage rating in this year's Madden. He is in the mold of guys like Peterson and Talib, where if they get a hold of the ball on a turnover, it may be six points for the defense.
94 Overall
93 AWR
91 SPD
90 ACC
89 AGI
66 STR

3) Earl Thomas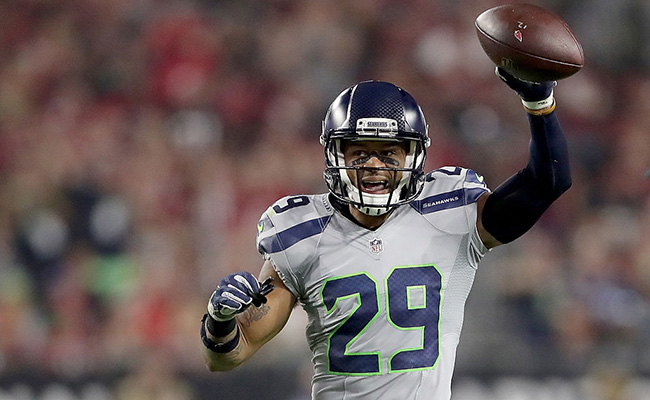 Here's the other member of the Legion of Boom. Now while some in the Pacific Northwest may bristle at the fact that he's rated lower than Berry this year. While Berry has the better return skills when a turnover happens, where Thomas stands out is in zone coverage, which will make the Seahawks one of the scariest teams to throw against in Madden this year.
94 Overall
91 AWR
91 SPD
92 ACC
93 AGI
65 STR
4) Harrison Smith
The Viking defender makes it to number 4 on this list, and while Smith is listed as a Free Safety, his strenth and hit power from the secondary is bested only by Chancellor. Allowing players a tad bit more versatility when it comes to defending the run or the pass.
93 Overall
92 AWR
87 SPD
91 ACC
87 AGI
73 STR
5) Eric Weddle
Where the former Charger lacks in raw physical attributes compared to the other safeties and some corners in this list, he's similar to Josh Norman as his awareness is the highest amongst the safety group.
93 Overall
93 AWR
85 SPD
91 ACC
89 AGI
68 STR
In looking at the Madden ratings for the secondary, some teams stand out more than others, namely Seattle's and Denver's. Whether players gravitate towards these two teams when it comes to defending the pass, the world will find out on August 25th when Madden 18 releases worldwide.