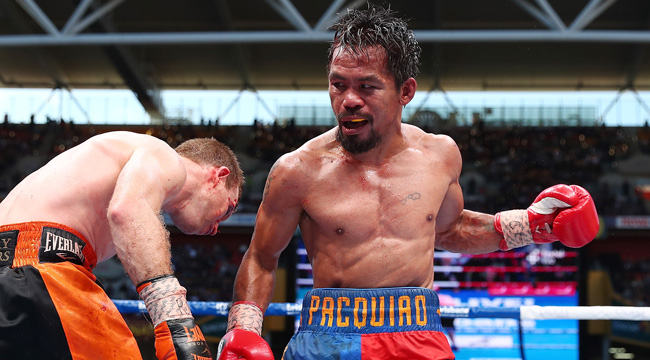 The list of boxers vying for a fight with Conor McGregor continues to grow. Recently, retired great Oscar De La Hoya of all people revealed he was secretly training in the hopes of landing a fight against McGregor. Now it's Manny Pacquiao's turn to call out the UFC lightweight champ.
"Happy Thanksgiving!" Pacquiao wrote on Instagram with a picture of Conor. "Stay fit my friend. #realboxingmatch #2018"
This isn't the first time the two have dropped eachothers' names in the press. Back when the Mayweather fight was a seeming figment of Conor McGregor's imagination, Conor referred to Pacquiao as a possible backup opponent if Mayweather wouldn't sign on the dotted line.
"Maybe f**k Floyd," he said in February. "Maybe I'll fight Manny Pacquiao!"
And while UFC president Dana White hates Manny promoter Bob Arum with the passion of a million suns, Arum has gone on the record saying he'd loan his fighter out and not be involved.
"If the only impediment to Manny Pacquiao fighting Conor McGregor is because Dana doesn't like me, then I won't be around," Arum told TMZ Sports. "I would give Manny the right and the permission to fight Conor McGregor any time the money is right for Manny."
The fight makes sense for Pacquiao, who hasn't been able to generate very much interest in his recent matches. But it's less clear if its a fight that McGregor would really want. Mayweather was a tactical genius, but Pacquiao is a bruiser. A fight between the two would be hard and ugly and could take years off Conor's career.
But it would make hundreds of millions of dollars, so there is that.
Still, as MMA fans it's our hope that McGregor returns to doing what he does best: fighting in the Octagon with his full range of weapons.