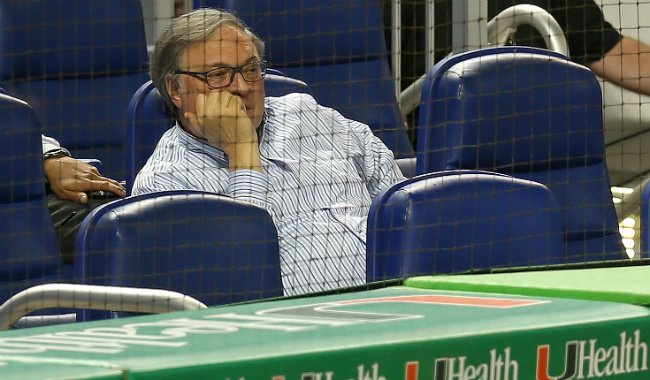 It was supposed to be different for the Marlins this year. Notoriously stingy owner Jeffrey Loria finally shelled out the big bucks and made financial commitments to sustained success to match the verbal promises. The Marlins have seemingly endless reserves of young talent, but no roster can be 100 percent home-grown, and the moves Miami made this offseason had many calling them a postseason contender. And yet, with the revamped team struggling — though still so early in the process — Loria has lost patience and is making sweeping moves that remind everyone that he's the same guy, and these are the same Marlins.
Sure, there were promising differences this offseason; the biggest move was signing their own young baseball-smasher Giancarlo Stanton to the richest contract ever, and they also locked down Christian Yelich, another talented young outfielder. They traded for veteran players (including MLB batting average leader Dee Gordon), and seemed to have a deep roster all around, rather than the top-heavy one that spectacularly tanked four years ago.
But they still have Loria, who fired manager Mike Redmond immediately after the Marlins were swept by the Atlanta Braves and almost no-hit on Sunday. The Marlins are 16-22, a disappointing record to be sure considering the talent on the roster, but they're only six games out of first place in their division and 5.5 out of the wild card. It's mid-May! That's plenty of time to turn it around.
Still, Redmond hasn't proven himself to be a genius manager, and if he's lost the team, or if an obvious choice to take a good roster to the next level presents itself, it's not the craziest move to cut bait when there's still time to contend this year. But then CBS' Jon Heyman leaked the news on Twitter that Loria was doing something insane again:
Dan Jennings, until he was hired as the Marlins' manager on Monday, was their general manager. The two positions are not nearly as related as the similarity in titles would imply. Ken Rosenthal, in an article blasting the hire, says that Jennings hasn't been any sort of coach since the 1980's, when he managed a high school baseball team. Since then, he's been a scout and an executive. This is what Loria said at the press conference announcing Jennings' new job:
Mike Redmond was a dedicated and passionate member of the Marlins organization, and we thank him for his service. 'Red' helped us during a transition period for our ballclub. That said, looking forward, we need a different set of skills to harness the potent combination of talent we've put together. We can't think of anyone better suited for the job than Dan Jennings — one of the people responsible for putting these players together, who can now play a more active role in getting the most out of them. D.J. is a passionate baseball man with decades of experience in multiple Major League roles.
This is flat-out lunacy. It's indefensible on multiple levels, not the least of which is that it flouts MLB's "Selig Rule," put in place to ensure that teams at the very least consider minority candidates for any vacant managerial position (this was also pointed out by Rosenthal). Beyond that, imagine being one of the veterans the Marlins brought in this year, like Mat Latos, Martin Prado or even Ichiro (yeah, he's still around). All of them have years and years more experience in a dugout, and are probably better qualified to make lineup decisions, to say nothing of the defensive shifts that are now common practice around the league. How would you feel today, facing the proposition of being managed by a complete novice whose only qualification is that he is loyal to the owner? Even with all of his piles of money, how does Stanton feel?
So far, no mention has been made of a fire sale, the classic Loria move when he gets buyer's remorse and decides he'd rather pocket some more money rather than pay all these decent players who aren't winning right now anyway. But at this point, no one should be surprised if it happens soon, especially if Jennings isn't miraculously competent at his job. It's already obvious that any thoughts that Jeffrey Loria had turned over a new leaf were misguided, like they always are. The only thing that the Marlins can be trusted to do as long as Loria is their owner is to disappoint.
(Via Jon Heyman and FOX Sports)