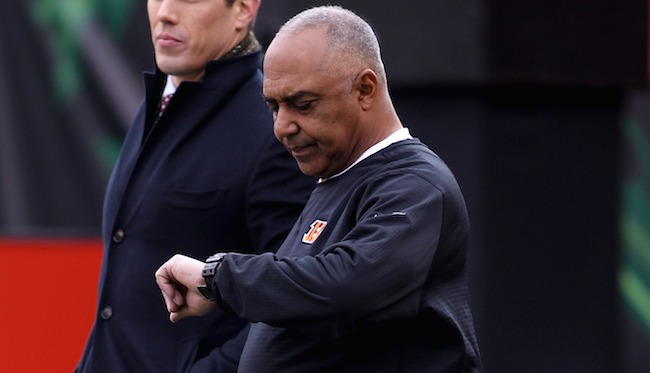 Monday is one the few days in the NFL calendar where fans angry at their teams for having bad coaches may actually get what they want. The conclusion of the NFL season always means someone no longer has a job in football, and the final day of 2018 was no exception.
Some big name coaching positions are now vacant after a string of firings and teams looking to move in new directions after disappointing seasons. Many of these openings are now in an AFC undergoing some significant changes this upcoming offseason. But word of firings started on Sunday night when Tampa Bay relieved Dirk Koetter of his duties on the fledgling pirate ship that is the Buccaneers.
By Monday, ESPN's Adam Schefter was in high gear, reporting a number of teams had fired their head coach and would be looking for new leadership on the field in 2019. One of the least surprising firings was Todd Bowles, who led the Jets to four 10-loss seasons under his run in New Jersey.

Another coach out of work on New Year's Eve? Vance Joseph, formerly of the Denver Broncos, who led the team to back-to-back losing seasons for the first time in 46 years.
Joseph was one of the least-tenured coaches to see his name get called on Monday, but the biggest news was that Cincinnati's Marvin Lewis. It may be surprising, however, to know that Lewis reportedly has his pick of jobs in various front offices — and maybe television studios — around the league.
Perhaps most amazingly is that Lewis — who coached the Bengals for 15 seasons — went 0-7 in the playoffs with Cincinnati. It's a remarkable stat that frustrated many Bengals fans to no end, and despite the success in the regular season the team had with Lewis running the show, many felt that it was time for a chance.

The listless Miami Dolphins also fired Adam Gase on Monday, too.
In news that has been rumored for a few days, the Arizona Cardinals appear ready to hop onto the coaching carousel for the second year in a row, as Steve Wilks appears set to leave his post.
These teams will join the Cleveland Browns and Green Bay Packers, which made coaching changes earlier in the season when they parted ways with Hue Jackson and Mike McCarthy, respectively. Perhaps more changes will come in the weeks that follow Black Monday in the NFL, but right now, a lot of leaders will just have to look at the tape and see where things went wrong this year.