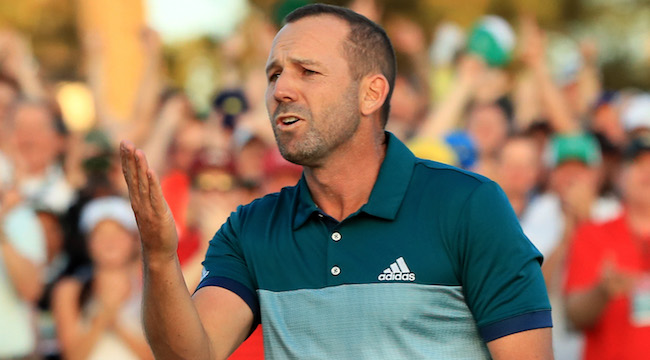 After more than 70 appearances in major championships, Sergio Garcia finally broke through with a victory over the weekend at The Masters. For his trouble, Garcia took home more than $1.9 million and that is a very nice way to spend a weekend at Augusta National. With that said, Garcia was not the only one that profited handsomely from his spectacular performance on the course, as one enterprising golf handicapper turned a $60 parlay ticket into $41,773.
Because of the odd wager amount ($60.02), one is left to think that the bettor did not exactly plan on this ticket winning but it ended up very nicely for him. In the Honda Classic, Rickie Fowler ran away with a comfortable, four-shot victory, leaving the wager in a very nice position. After all, Sergio Garcia was certainly not 696-to-1 to claim the green jacket and those are very nice odds if you can get them.
However, it wasn't exactly a breezy ride for Garcia, who wasn't seen as the betting favorite before Sunday's final round. In fact, Garcia seemingly gave away a chance to claim victory with a botched six-foot putt on the 72nd hole of the tournament but, after a terrifying playoff (if you were a Garcia backer), victory occurred and the celebration was undoubtedly on for this gentleman.
This isn't the first time that a (very) long shot has come to fruition in a high-profile manner but correctly predicting two non-favorites in a row to win golf tournaments is fairly crazy. Congratulations to this man on what had to be a wild weekend of golf viewing and, even though he was victorious. a hedge (or two) on Sunday probably would not have been the worst idea.
(Via Bleacher Report)