Megan Rapinoe has a lot going on right now. On the pitch, the ultra-talented midfielder for Seattle Reign FC is preparing for the start of the 2018 National Women's Soccer League season, with her first match taking place on March 24. She also has her sights set on the 2019 Women's World Cup, which featured something of a tune up earlier this month, as the United States took down England, France, and Germany to win the She Believes Cup.
Off the pitch, Rapinoe is one of the women spearheading the fight for equal pay among members of the United States Women's National Team. It's an ongoing process — especially in the wake of the U.S. Soccer Federation electing its new president, former vice president Carlos Cordeiro.
We spoke with Rapinoe about the She Believes Cup, how the recently-held elections within the U.S. Soccer Federation impact the work her and others have done to achieve equality for the women's team, and how she is approaching the World Cup defense on the horizon.

UPROXX Sports: I want to start off with a question about that. I mean, you ended up winning the cup. How did you think the team looked?
Megan Rapinoe: The team looked pretty good. We're getting there. We have quite a few players out with injury right now and then we actually had quite a few players get injured during the tournament so were a little thin, but I think we started quite a few new people. Everyone just stepped in and stepped up really big, so I think we grew throughout the tournament. I still would like to see a lot more. I think I'm critical of the team and critical of myself and always want us to keep pushing this sport forward and keep pushing our game forward. Overall, two wins and a tie against, basically, three of the top five teams or top six teams in the world is pretty impressive and something that we're very proud of.
What are some things that you see some room for improvement between now and next summer?
I think in our build up, I would definitely like to see a little bit more free-flowing style and I think getting more into the midfield, as far as keeping possession higher up the field and getting more quality chances. I think the times when we're patient, we're breaking down and switch it a few times and get our most dangerous players in the most dangerous positions, e can be pretty scary and that's sort of the most fun to play, when we play like that as well. Hopefully we can keep pushing forward and keep refining our game and play very free-flowing attacking style.
With a World Cup that has the expectations of defending a title one year away, how important is having an event like this to build up chemistry on the pitch and test yourself against teams that, in all likelihood, you're going to have to beat if you want to defend next summer?
I think it's huge and invaluable for us, especially with the squad we have now. There's a lot of players that don't have Olympic experience, don't have a ton of international experience, or World Cup experience. Don't know what it's like to play in a must-win, knockout round game. These kinds of experiences are invaluable to those players in gaining that collective experience, but kind of that know how and that kind of intangible sort of thing.
When you get into a tournament, you have to deal with the travel and the performances and maybe you're not happy with the performance before, but you have to put it together for the next game. Being able to play, and obviously playing three of the best teams in the world, back-to-back-to-back, is sort of a nice little simulation of a quarterfinal, semifinal, final in a World Cup or an Olympics, so it's a huge stepping stone for a lot of these players and just gaining that experience and gaining that confidence. You can't replicate a World Cup or an Olympics, but hopefully it will feel a little bit familiar when we get there next time.
You never want to make the assumption, but I think we can say with some certainty, you are going to make it next summer. This would be your third World Cup, correct?
Yes.
As a player, would your approach to your third World Cup be different to numbers one and two, or is it the same mindset, same mentality, basically the same everything?
I've been trying to keep a lot of it the same. It's sort of a blessing and a curse, as you get older, you know more and you've been there more. The first one is, it's exciting and nerve racking, but it's almost easy in a way because you just don't know what the heck you're getting and you're just going with it.
It's kind of flying by the seat of your pants and you have all older players who were there to make sure that you're not falling off the rails. I think as you get to be an older player you kind of have to be one of those ones to, sort of, bring everyone along, but in the same sense that's very rewarding as well. Being able to solidify the team and bring everyone together. I'll kind of be one of those players now that I'm getting into my mid-30's. All of a sudden I'm one of the older players on the team, it's weird, it just sort of happened very quickly. But yeah, I'm sort of looking for the same preparation and trying to use all the experience I have to put us in the best position to win.
One of those, if it ain't broke, don't fix it kind of things.
Yes, exactly.

I want to talk about some of the activism that you've been a part of, especially regarding women's soccer. You told the New York Times in 2016 that you're hand had been forced, regarding equal pay, and we're coming up on one year since the new Collective Bargaining Agreement has been signed with U.S. Soccer. In your eyes, what is next in the fight for equal pay?
I guess equal pay would be next because we still don't have that. [laughs]
Just continuing to push it forward is one of those things that I didn't really realize that, when we started this, it's not one of those things where all the dominoes fall at one time. It's a painstaking process that is a constant, change takes time. Change is a difficult thing, especially when you're working with a sort of robust federation and bureaucracy like we have at U.S. Soccer, it takes time. Unfortunately, I mean, I wish we could have it all exactly equal and exactly equitable and fair right away, but that's just not the way it is.
Continuing to hold people's feet to the fire, continuing to do our part in growing the game and being as successful as we can be. That's really something that's been our foundation in pushing all this forward, is being as successful on and off the field as we've been able to be. The next thing is just the next step in all of this in continuing to try put the game at a better place than we found it in.
I know they're just getting in, but has your union gotten a chance to work with the new USSF leadership on the subject, or is it still they're still getting settled in and that's one of the things they're going to tackle down the road?
Oh no, we had knock knock knocks on the door right away, of course. Obviously we know Carlos from his time in the Federation. Our Objective Director in our Player's Association has a good relationship with them and with him, specifically, and we've definitely been in talks about things. For us, we have a lot of balls in the air at this point in things that we're trying to do and push the game forward, you have to get up to speed on everything very quickly. I don't envy his job at the moment, it's probably very difficult, but we're definitely in talks with him and so we have a good relationship with him and are looking forward to keep his feet to the fire.
You know the election for a new President got a lot of publicity, got a little contentious at times. What were your discussions like with Carlos leading up to the election?
I think for us, as we're with a lot of the candidates, we chatted to almost all of them. Just wanting to see their vision, wanting to hear what they have to say, telling them what was important to us and I think it's pretty clear what's important to us. But just seeing where they were at, hearing what their vision was, not only for our team but for the youth teams and for the youth development on the women's side and for the Federation as a whole. Then going forward now that Carlos has won, sort of keeping those promises and seeing where we can make progress and hopefully have a working relationship and a good relationship where we can work together to create the best environment for the senior team to be successful and for us to continue to grow the game.
Were there any specific areas where you or representatives for the National team spoke with him and, either before or after the election, that made you feel very optimistic about his tenure and how women's soccer will be a priority?
I think in general that was part of his message. We definitely feel optimistic about that. We'll feel all the confidence in the world when we see the things happening. We do have confidence in him and we do like the things that he has said and believe that the women's side of things will be a priority for him. All the confidence will come when we see the results, I guess.
You mentioned progress, it's something that takes time, it takes a lot of hard work, things like that, but is there one things that you believe the current version of the U.S. Soccer Federation could do right away that would show a commitment to the growth of women's soccer in the United States?
I'm sure that there's a lot of things. We talk about … I think equal pay was obviously a talking point, or "the" talking point, but there's a lot of things that go into that. Sort of equitable treatment and equal treatment, as well. It's the hotels we're staying in, the way that we travel, the investment into marketing before the game, the investment into the girl's [Development Academy] program on the club level and the youth level, the investment into our coaching staff and how much they're being paid and into the staff in general.
It's kind of — there's obviously our salaries as players, but there's a lot of other things that go into running the national team then being a successful national team that are extremely important. I think all of those peripheral things are things that we fight for very much and fight for very hard knowing that it's not just about the dollars in player's pockets, but also the investment being made into the program and where they see the program going and the vision that they have for the program and how much they believe in the program and how much the program can give back to the Federation.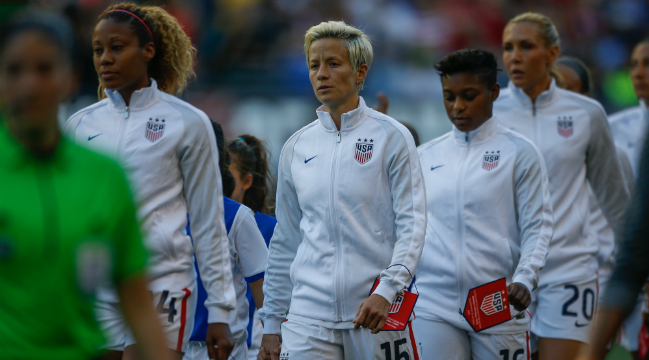 One thing that I think is really cool is how a number of other women's teams, whether it be national soccer teams or, more locally, the U.S. hockey team, it almost seemed like they followed in your footsteps with regards to organizing and taking on their governing body and the name of equality. What goes through your mind when you see stuff like that?
It's awesome. I mean, it's so awesome. There's such a special energy and momentum and being able to leverage the same message across many different forums. Whether that be just women's empowerment in general with equality or equal pay, whether that be across sports or different occupations that people have. I think it's really cool, especially with how popular social media and how influential social media is and the media and being able to leverage accessibility of the message for everyone in being able to blend the platform that we have, which has been, say, bigger that the women's hockey platform, but they can leverage our platform to stand on and really create a considerable amount of change in such a small time for them. It's just really cool to see that, to see women supporting women and having that really be a driver of change in our landscape.
My last question, something I read the other day, you and Meghan Klingenberg are taking on roles to pursue other streams of revenue. What are some avenues that you've been looking at and can brands like BODYARMOR help play a role in helping you achieve the goals that you are setting out to achieve?
Yeah, definitely. I think as a Players Association, we're really excited about the opportunity to take advantage of this expanding pie. When I first came on the team, there wasn't a lot of marketing dollars or commercial monies to go around. A company like BODYARMOR wanting to get more into the soccer stage, making it a point to sign Giovani dos Santos, but also sign a women's player as well. It's really important and something that you're seeing a lot more with brands and them being able to [do], and for putting a focus into supporting women in that way and leveraging the popularity that we have. But also it's an investment for them because they see that there's potential and they see that there's a big upside to investing in women that way.