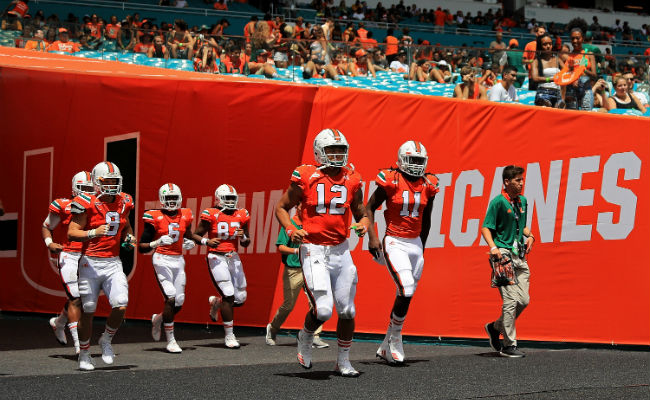 The Miami Hurricanes won't be playing in a hurricane this weekend. The Canes football team had their game at Arkansas State cancelled on Wednesday, days ahead of Hurricane Irma's arrival to the continental United States as what is expected to be a massive, dangerous storm.
As of Wednesday morning the Hurricanes' official Twitter account was full of tweets about sports teams not making certain trips or hosting games this week, but nothing official was said about the football team. But Tim Reynolds of the Associated Press tweeted about the cancelation, an soon had a statement from those in the Miami. Soon, the official word was clear: no Turnover Chain would be handed out this weekend.
Miami's matchup with Arkansas State was to be played in Jonesboro, Arkansas, on Saturday, far from where the storm is expected to hit landfall. But concerns with traveling back to Miami after this storm seem to have impacted the school's decision to play.
https://twitter.com/bytimreynolds/status/905401829877526528
It's not completely out of the ordinary for a game to be cancelled outright due to weather and scheduling issues. But this could be big for both teams. Not being able to reschedule the game this season could hurt both teams' standing when it comes to bowl games as the season wears on, but UM officials stressed the importance of safety for their students in the wake of the massive storm.
"We simply cannot put our student-athletes, coaches and staff in danger travelling to and from contests," Miami athletic director James Blake said. UM isn't the first Miami sports team to cancel a game this weekend. The Dolphins won't play their home opener on Sunday, moving it to a later date this season.