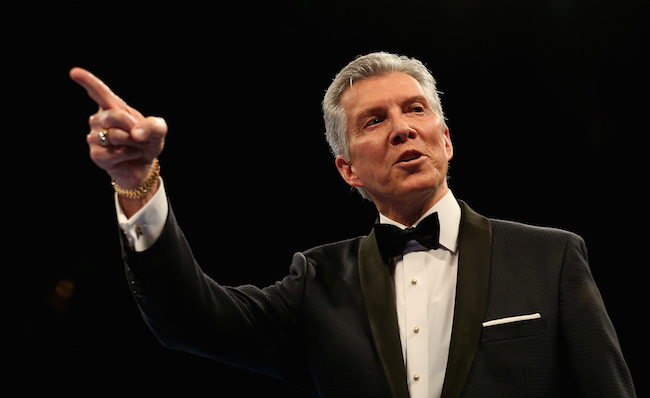 Outside of the fighters themselves, no one is more synonymous with boxing than legendary ring announcer Michael Buffer. Over four decades, Buffer has graced the microphone in the ring for some of the most iconic fights in boxing history, and on Saturday night, he'll be in Madison Square Garden for Canelo Alvarez's debut in the World's Most Famous Arena as he takes on WBA super middleweight champ Rocky Fielding, live on DAZN.
Buffer's trademarked "Let's get ready to rumble" is as famous a phrase as there is in sport, and once the judges are ready, the fighters are ready, and the thousands in attendance and millions watching around the world are ready on Saturday night, he'll deliver those most famous words in boxing.
However, there were two years between the start of Buffer's illustrious career as a ring announcer and the development of his "Let's get ready to rumble" tag line, which he trademarked in 1992. Earlier this week, we spoke with Buffer ahead of Canelo-Rocky about what he expects from the fight, his favorite venues, favorite fights and moments he's been ringside for, and what failed catchphrases he tried before coming up with "Let's get ready to rumble."
You've got Canelo-Rocky coming up this weekend. Obviously, many of us have seen Canelo. Not a lot of us have seen a lot Rocky Fielding, even though he is the WBA Super Middleweight Champ. What are you expecting out of Saturday night's fight?
Well, first off, it's another big fight night at Madison Square Garden, that becomes an event all to itself. The tagline of the Mecca of boxing has this century-old history, so, it's the place where all fighters dream of fighting on a sold out Madison Square Garden type of atmosphere.
As far as I know, I think it's Canelo's first time in Madison Square Garden, and that's pretty exiting. Let's see how he does as a superstar in the sport right now, fighting at this venue. Fielding is a super middleweight, and you've got the middleweight champion taking on a guy that's almost ten pounds heavier, and, it looks like he is four inches taller, he's a tall guy and this would be his third fight this year. So, he has been active, and he's a live fighter, there's no doubt about that. I think he's going to be the underdog. But I'm looking forward to a good fight and potentially, there is no reason in the world why I would Fielding can't win. That makes it an even better fight, when you know it's a good matchup.

Speaking of good matchups, you've on the call in the ring for both Canelo-GGG fights, which were fantastic fights. You mention evenly-matched fights, the first was a draw and the second was a close decision for Canelo. Where do those rank for you in recent bouts that you've done, as far as the excitement that both of those brought?
They were pretty exiting because they had a huge fan bases and a sellout arena at the MGM. Actually they were at the new [T-Mobile] Arena, by way of MGM, and a big fan base, big reaction from both sides, it's the kind of thing that a ring announcer lives for, to be able to juice the crowd and feel that electricity and atmosphere. So, they were definitely big time fighters, no doubt about that.
You mention Madison Square Garden as the Mecca boxing. What are your favorite venues that you've gotten to go to over your career where the crowd is just electric?
Just recently, I've done the last half dozen Anthony Joshua fights. He's a rockstar in the U.K., and he's got all the belts except for one in the heavyweight division. When [Wladair] Klitschko and Joshua fought in front of 90,000 fans at Wembley, that was pretty exciting, and he's done that twice and he's fought twice at Cardiff, where he had 80,000. So, it's a pretty exciting when you're in a venue that just really rocks. Just from the ring walks to fight, it's electric.
You've obviously done tons of fights — championship fights, super fights — what are the moments and fights that really stick out in your mind over the years when you look back and you just think about your career?
You know that, sometimes, you have great fights, and I've been there for over four decades, 38 years and I've seen a lot of absolutely great fights. But, there are times where there are moments that just stand out. The time that George Foreman fought Michael Moorer and basically was losing the fight by a mile, probably lost every round going into round ten, and old George, at age 44, becomes the Heavyweight Champion of the world for the second time with a sensational knockout. That was quite a moment. That makes … I get goosebumps just thinking about it.
And then we have moments that are almost crazy, in the middle of a great fight, the Fan Man thing at Caesars Palace years ago was at with Holyfield-Bowe, in their second fight for the undisputed Heavyweight title. That was pretty good. That's one I would never forget. And, again at Madison Square Garden, Riddick Bowe/Andrew Golota, and, Golota gets disqualified for, like his 400th shot below the belt, and finally stopped the fight and a full riot breaks out. So, there's been some fabulous moments and some crazy moments through the years.

When you're ringside, you're obviously watching the fight, and you're going to have opinions on who won. One of the things that makes boxing so unique as a sport is that it can come down to the judges and that is a subjective decision. Are there any decisions that stick out in your mind that you remember being stunned when you are handed the cards, where you thought one guy fairly, clearly won and the decision went the other way?
Yeah. Probably, [Manny] Pacquiao and [Timothy] Bradley, their first fight. Bradley got the win and I guess if you went back and looked at most boxing writers thought from that day, they would be the same as mine and most fans, that Pacquiao probably really won that fight. There's been some where they get the scorecards, and am tempted to say, hand it back and say, "Are you sure about this?" Don't kill the messenger, so I just have to read the scorecard.
Obviously, "Let's get ready to rumble" is your trademark, your calling card. Before you got to that, was there anything you tried out early in your career before you got to "Let's get ready to rumble" that fell to the cutting room floor?
I do remember trying "Man your battle stations," and, the crickets blew that one away, and the same results for, "Ladies and gentlemen, fasten your seatbelts," that didn't go over too good.
Even "Let's get ready to rumble" when I first started to do it, announcers hadn't done anything like that before, there was never a tagline or a catchphrase used by any announcer. So, it wasn't really expected, and I didn't present it in the same way that it that I do now, which is, you know, it evolved through the years to a whole presentation. But, I remember when I started to stick with it, I got some criticism from different people, like, "What are you doing?" Now, of course, every announcer has to have some kind of a phrase, like, "Let's throw leather," or whatever. I hear a lot if crazy things up there.
Last week was the end of HBO Boxing, and now you are with DAZN. When you found out HBO Boxing was coming to an end, such a legendary institution of the sport, was it a bittersweet moment?
The end of HBO Boxing happened after I had signed my deal with DAZN and Matchroom Boxing, and that just happened, it has nothing to do with me, of course, just one of those things. Larry Merchant appeared on HBO Boxing more than anyone, and I'm the second one. I've been on more HBO Boxing broadcasting than anyone else in the history other the Larry, and that's over 38 year period. So, that was kind of sad. Now I never had a contract with HBO always, I was always an independent contractor. I worked for the promoter, not the network. So, this is the first I've ever had an exclusive contract, that's with DAZN combined with Matchroom Boxing.
You're headed to New York this week and I'm sure find yourself in New York City a lot for MSG fights, and you're in Vegas a lot for Vegas fights. Do you have any go to restaurants that are just must haves when you go to places that you're regularly at?
Yeah, in New York, I like to eat at TAO. Great restaurant, great atmosphere, it's one of my favs. I've got a lot of friends in New York, so there are a lot of restaurants. So, I usually, when I come in town, I'll hook up with some friends and let them pick a spot. But, TAO is my personal favorite in New York.