ORLANDO – Chris Mueller left the pitch and walked into a mob scene. With barriers on both sides of a red carpet, fans piled up, calling his name and straining to make eye contact. Mueller took it all in, receiving the type of adulation that global stars like Wayne Rooney or Alex Morgan received earlier in the day.
MLS brought the Skills Challenge back to its All-Star festivities for the first time in two decades, dividing players into three teams: MLS All-Stars, Atlético Madrid, and Mueller's club, Orlando City Soccer Club. After executing a successful scissor kick in the Touch and Volley challenge, and a down to the buzzer finish for points in the Passing challenge — all three teams went boom or bust for the big point crossbar target — Mueller and his teammates prevailed.
While he was quick to squash any overarching commentary on what it means to win a Skills Challenge against the league's best and one of the top clubs in Spain, Mueller didn't have much of a poker face. He stuck around to sign autographs, soaked up the cheers from Orlando City SC faithful, and did every interview on down the scrum before heading into the locker room. The 22-year-old University of Wisconsin product, who was taken sixth in last year's SuperDraft, represents the present and the future of MLS.
The Skills Challenge, meanwhile, represents an innovative approach MLS can take in order to not only keep pace, but draw in casual stateside viewers familiar with the All-Star experience from other leagues.
"It's great for the exposure of the game, for the country, for the city," Mueller said of the Skills Challenge. "You see the NBA doing stuff like this, and with the turnout for the crowd, I think it's unbelievable. It showcases and shows how much the game is growing here."
It was hard not to consider Orlando's weeklong festivities a success as host city for the MLS All-Star Game at the end of July. The team's signature color purple was splashed all over the city, with events spraying across Central Florida from downtown to Kissimmee. Some of the league's newest franchises have developed the most fervent followings, whether in Orlando, Atlanta, Cincinnati, or in Los Angeles with LAFC.
The league has matched that energy by doubling down on expansion, and Commissioner Don Garber has repeatedly said 30 teams is the goal. Eighteen teams have been added since 2005. It got to 28 with the announcement that St. Louis was awarded a franchise last week, and will be the organization's first ownership group to be majority led by women.
As the game continues to plant its flag in a complex and competitive sports environment where everything from media rights to streaming to eSports to gambling have to be factored in, it's a critical time for MLS. The quality of play, and the development of players at home, will always be the most important benchmarks for success from year to year, but the peripherals can't be ignored either.
"On my way here today I stopped at a Esports Summit where we have all of our teams working together to raise the level of our gaming community and working hard to figure out where sports betting fits in," Garber told Uproxx at the unveiling of two youth pitches during All-Star Week. "Tomorrow I'm giving a speech at an innovation summit, a bunch of different technology providers. Sports are such a great opportunity to take advantage of cutting edge technology to make us perform better on the field, to allow us to dig deeper into fan and data analytics. I think in my 34 years of sport, there's never been something that has been such a unifying focus for our industry than understanding how technology could be embraced in so many different aspects of our business."
Outside of perhaps basketball, no sport has seen a worldwide boom due to technology the way soccer has. With matches happening essentially year-round across the globe, access wasn't always easy. Now it's as simple as subscribing or finding a stream (reliable or otherwise) and supporters can watch pretty much any match they want. It isn't necessary to find a pub that will open early; instead a phone or a Roku will do.
According to the Chicago Tribune, NBC and NBCSN broadcast 204 Premier League matches last year, and averaged 423,000 viewers per match. Bundesliga matches can be found on Fox, La Liga and Ligue 1 on beIN (with rights held until 2024), and upstart DAZN is making a big push into rights (with Premier League, UEFA Champions League, Serie A, and other Euro leagues) as well. And Bleacher Report has put Champions League, Europa League, and Super Cup matches on its streaming service, with NBA MVP Steve Nash as a sometime commentator.
While that's naturally paid dividends for those soccer fans in the U.S. who want to catch FC Barcelona, Manchester City, or Juventus, it also has the potential to expose fans all over the world to MLS if the interest is there. Viewership was up 6 percent and digitally the league had an increase of 75 percent in video views from 2017 to 2018, according to Sports Business Journal.
"The way the world is now, it's very social media and media based," says FC Dallas midfielder Paxton Pomykal, who has already received some interest from clubs overseas and received his first call-up to the national team on Wednesday. "Being able to broadcast games on twitter and post different IG live stories to give fans a great interaction with the guys they watch on the field accelerated the process a little bit. It's good for the game, and I think us players sometimes we forget that the media side of it is not just for [the media], but it's also for the fans, so it's cool to be able to do interviews for guys that live in different states or countries that support your game."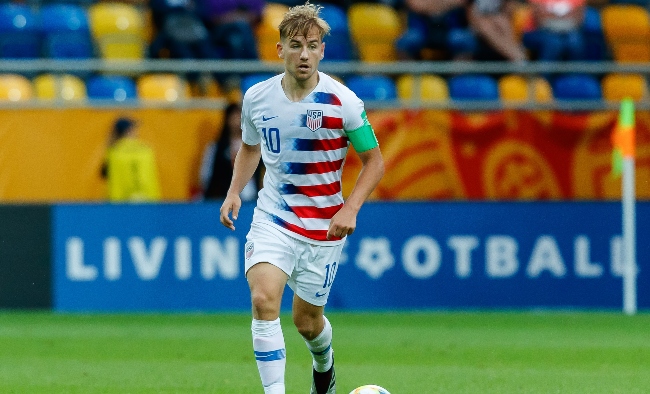 The league has long brought over former international greats for name recognition — and still does, with Rooney and Zlatan Ibrahimovic serving as current examples. But as the quality of play has improved, and American players have rose through the ranks overseas – some, like Schalke's Weston McKennie and Red Bull Leipzig's Tyler Adams, as well as FC Barcelona's Ballou Jean-Yves Tabla and Alphonso Davies of Bayern Munich, have come up in the MLS academy system, through which every team is represented – the league has bolstered its reputation.
It doesn't hurt that the league has survived since 1996, and has devoted the past few years to expansion. It's a far cry from the league that almost folded in 2001.
"I think, for me, the exposure that the game and the league has gotten has come so far from when I came into the league in, shoot 2000, whenever I came in, until now," Real Salt Lake goalkeeper Nick Rimando says. "I remember growing up and catching one game a month, maybe, and that was a European game, or a Mexican game. And now catching a game every week, if not, you can get every game if you really wanted to. And so to see the exposure it's getting, to see that my kids are looking up to MLS players and not European players is fantastic. That's the way I think the league saw it to be back in the day, and it's great to see it there now."
For MLS to keep up and to continue building, it'll come down to finding, fostering, and developing talent at home.
"The early days of the league, we were just trying to figure it out," Garber says. "We needed to put players on the pitch. We needed to get games played. We needed to think about how do you have the right experience for fans. But we're at the point now where the full breadth and scope invested in our rosters is a real priority."
Gianluca Busio has the look of a future star. A bouncy 17-year-old, Busio has a wide smile and an intense stare. He became the second-youngest player in league history when he joined Sporting Kansas City in 2017, and he's drawn plenty of comparisons to Freddy Adu, who still holds the record for youngest player to score an MLS goal.
The teenager moved from North Carolina to Kansas City in 2016, essentially putting him in a domestic study abroad program as he trained and prepared to make his move to MLS. It wasn't always an easy transition, but it was a chance to launch his promising career, and the move clearly paid off for both Busio and Sporting KC.
"We're going up," Busio says. "You can see it from the youth World Cups, you can see it from the American talents that are on the rise, really. Not only in MLS, it's in Europe and everywhere."
Busio is a direct product of the league's academy system, and there's hope that system will help the United States keep pace not just among MLS talent, but when it comes to international play.
MLS announced prior to the All-Star Game that they were joining into a partnership with Audi called "Audi Goals Drive Progress" that would bring up to $1 million to the academies in 2019 through performance centers focused on technology and education, as well as other resources. They are working closely with former MLS standout and current ESPN commentator Taylor Twellman, who played for the US Men's National Team, as well as the U17 and U20 teams.
Twellman notes nothing like this existed when he was coming up through the ranks, and that connectivity is the key to discovering talented players and getting them the resources they need to develop their games.
"The number one barrier in our country is, no secret, it needs to be more inclusive, not exclusive," Twellman says. "So when you look at the resources — whether it's transportation, whether it's housing, whether it's education — those are three things that all MLS academies have basically looked at as needs."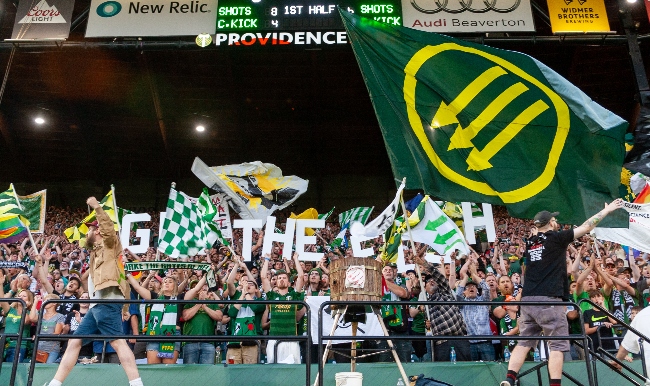 Inclusiveness is a word MLS uses frequently, and it's attempting to be a league for everyone. At its core, that's a noble attempt, but it hasn't come without some friction. By pushing for passionate fans from a variety of cultures and backgrounds, they hoped to create a league that was, as SB Nation's Kim McCauley puts it:
younger, hipper, more urban, more diverse. The fans are rowdier and enabled to express themselves. The game is about more than just the game; it's about community, and everyone is welcome. MLS games get people of all races and ethnicities together to support something. If you find the experience of the NFL or MLB to be too white and suburban, and the NBA not rowdy enough, then MLS might be for you.
The league found itself in a firestorm recently by trying to play both sides of the coin. In an attempt to squash out fans — oftentimes people from diverse backgrounds whose political leanings are more left than right, but on occasion, far-right groups that will appear at games — using their platform to to make political statements, the league went the route of banning political displays all together, trying to put a lid back on a pressure cooker that nationally has already largely boiled over. Politics and soccer intertwining are nothing new, even in the United States over the years, but MLS has found itself under the microscope recently for how it has opted to view all political discourse as worthy of the same exact level of scrutiny.
It's a precarious place to be in, but if an entity hopes to promote "Soccer For All," it's pretty clear hate groups that actively exclude a big portion of that "All" and threaten their way of life are a liability, while those who react passionately against those groups would have something to say about it.
Along with expansion and increased attention, the league has to deal with matters like this — as well as navigating a new, beneficial media rights deal in 2022, and a potential work stoppage in 2020 if a new CBA can't be reached. These are all things that come with sustainability and success; and Garber, in year 20 on the job, seems apt to take it on.
"I think we've got to continue to be more competitive against the Mexican first division," Garber says of the next benchmarks for the league. "We've got to continue to raise the profile of our league in our local markets, and not all of them are operating at a level that pleased at. We've got to grow our audience and the people who tune in and turn up. We've got a new media deal that's coming up in a couple of years. We have a bargaining agreement that's being negotiated. I mean, we are as busy today as we ever were in any year in the history of the league."
Former MLS star Cobi Jones, who recently pulled announcer duty with Review's Andy Daly during the latest LAFC vs. LA Galaxy match (a product of MLS "Rivalry Week"), has worked to bridge the past and present of the league. He was one of the sport's biggest early names, and has lived his whole life in soccer. He's working to help former players stay involved, make their transition easier, and allow the game's current crop of talent to use former players as a resource so that knowledge base can be shared.
He's seen the ups and downs of the league, and has hope the progress of the last few years is only leading to something bigger.
"We have a situation where there's multiple groups vying to get into the league and wanting to be a part of this league," Jones says. "We've seen it where we're talking about "is this a league that could possibly fold?" to now five or six billionaire groups deciding if we're going to build $600 million stadiums. I won't say we've made it, but we are on a path to becoming something extremely special."
Uproxx was invited to the MLS All-Star Game as part of the reporting for this piece. You can find out more about our policy on press trips/hostings here.