Nate Diaz is pretty adamant that he won the rematch between himself and Conor McGregor at UFC 202. That's just right off the bat, based on how everything actually played out over their five rounds in the Octagon. But on top of that, he thinks Conor McGregor should have been docked a point for running so much during their fight. And when you factor in the injuries Nate was suffering from coming into this fight, it's obvious in his eyes who the better fighter on Saturday night was.
"I was injured coming into this fight. And that ain't some excuse, either. I got the whole thing on tape." Diaz explained. "I hurt my knee about a month ago, and I wasn't able to train jiu jitsu for the past month. And then about two weeks after that, I was just sparring boxing and I really hurt my rib. I got hit in the body by my [training partner], Alan Sanchez is a really good boxer, skilled boxer. And that put me out of sparring about two and a half weeks ago. And I got that all on tape, just to set it up, not to make excuses cuz I got all that video'd up."
"But, psshh, he shoulda finished me off. If I would have been fighting me, I'd have took me clean out."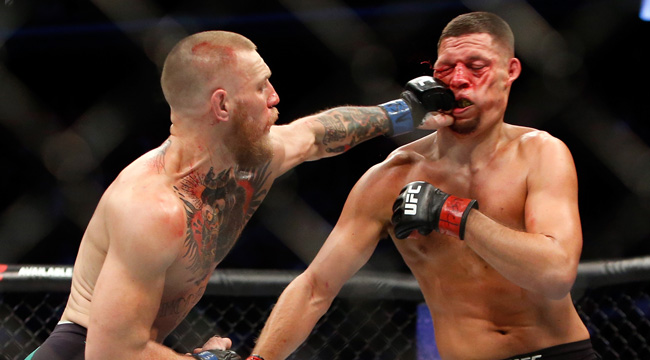 The knee and rib problems removed vital weapons from Diaz's arsenal, and given the razor thin decision that ended up going to McGregor, it's hard not to blame Nate's loss on his injuries.
"They really messed up my strategy going in on some things I wanted to do and get done," Nate said. "So it kinda took from my whole game plan and made it like I was going in like 'All right, let's just get through this fight.' So I think I was worse off on this fight than the first fight. But that's the name of the game."
"You ain't pulling me out of no fight. I'm over here two weeks ago, I can't train, I can't be touched by my friend, I can't do nothing. I can't wrestle around with my girl. No playing around, nothing like that."
I'm starting to see a trend here. Nate Diaz steps off a yacht from Cabo, Mexico and cleans Conor McGregor's clock with 11 days to prepare. Michael Bisping comes from the set of Vin Diesel's XXX sequel and trounces Luke Rockhold on 17 days' notice. Perhaps the worst thing a UFC fighter can do to themselves before a fight is grind their bodies up with long, painful training camps.