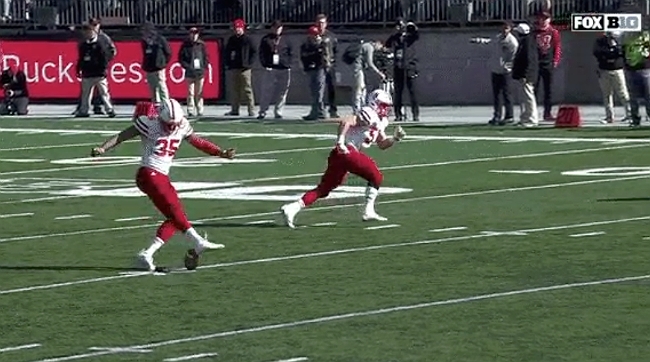 Kicking is hard. If anyone could do it, college football coaches wouldn't use roster spots on kickers and punters and just have a linebacker boot the ball to the other team instead.
It takes years of specialized training to put a ball through the uprights or punt it perfectly so a hands team can down it before the goal line. Kickers should be given more credit for just how hard their jobs are, but often we overlook their skills because they so consistently do their jobs well.
That's not always the case in college football, where the talent pool is wildly dispersed and games are filled with hilarious calamity in special teams at all times. Even powerhouses like Alabama struggle to consistently find good place kicking. It's all a mess, but rarely is it as big a mess as what Nebraska made at the Horseshoe on Saturday against Ohio State.
The Cornhuskers scored the opening touchdown of the game, but the ensuing kickoff was a complete disaster. Caleb Lightbourn, listed as the punter but also handling kickoff duties, somehow missed most of the football. Instead of the kickoff going about 70 yards as intended, it went about seven yards sideways.
The replay of this reveals a bit more of what happened here. Lightbourn topped the ball, either intentionally for an onside kick attempt or just a straight up whiff. His plant foot was fine, and it doesn't look like he slipped. He just… missed.
Because the kickoff didn't go 10 yards, it was actually an illegal onside kick despite Nebraska recovering … whatever this is. So this amounts to the most hilarious penalty of the college football season. Amazingly, this isn't the first kick-related nonsense Nebraska has endured this year, either. Lightbourn slipped on a punt attempt for similarly hilarious results earlier in the year, and I now officially feel like we're piling on here. Aw man.
This is a program that Wendy's clowned on earlier in the year, so there's really only one way to go from here: up. Like, you know, where kickoffs are supposed to go before gravity has its way with them. Maybe next time, buddy.