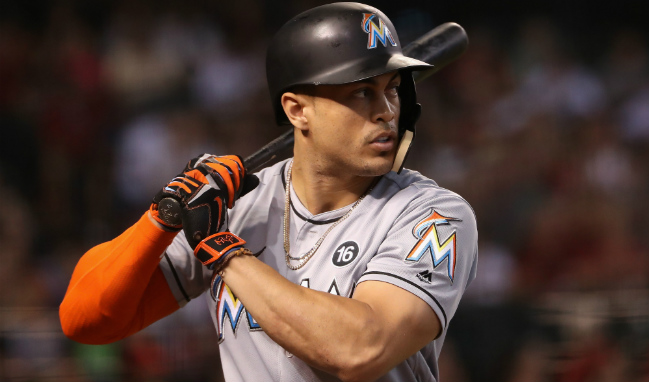 The middle of the New York Yankees' lineup was scary last season, as the 1-2 punch of Aaron Judge and Gary Sanchez was among the best in the league. Early on Saturday morning, the heart of the order somehow became exponentially more terrifying, as the Yankees have reportedly agreed to a deal with the Miami Marlins that will send reigning National League MVP Giancarlo Stanton to the Bronx.
There were plenty of reports on the two sides working on a way to move Stanton and his gaudy contract to New York, and news of the deal being reached was broken by Jon Heyman.
Of course, this doesn't necessarily mean anything yet. As Jon Morosi pointed out, the ball is currently in Stanton's court. The 28-year-old slugger has a full no-trade clause and can veto any deal, which he did earlier this week when the Marlins reportedly made deals with the Giants and Cardinals.
It does bear mentioning, though, that the Yankees were one of the four teams where Stanton would reportedly accept a trade.
In the event that Stanton does sign off on a move, though, it should elevate an already really good Yankee team that made the ALCS last year. Not much is known about who they are giving up to acquire Stanton — starting second baseman Starlin Castro's name has been thrown around — but the middle of the Yankees' order would become the most dangerous in all of baseball. Stanton and Judge are the two best power hitters in the game, while Sanchez is no slouch, either.

As for the Marlins, this move helps them get out from under the 10 years and $295 million left on Stanton's deal, and reports indicate that they're going to get prospects back in addition to Castro.
A more skeptical person would think shenanigans are afoot, as the Marlins' CEO is Yankee legend Derek Jeter, but it's far more likely that the organization felt like they had to move Stanton and New York just offered the best deal among the four teams for whom the MVP wanted to play. Either way, Miami is now in a much better spot financially with Stanton's contract elsewhere.