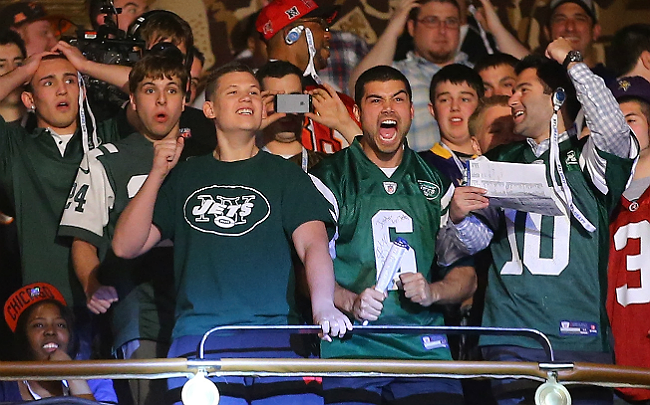 The NFL Draft is almost here, for real this time. It's become one of the most anticipated single days in American sports, partly because of the unbridled optimism it allows fans to have, but mostly because the NFL dominates the national sports consciousness on a level unsurpassed in my lifetime. But let's talk about why people started caring about the draft in the first place.
In most cases, the worse your team was the last season, the more you'll enjoy the draft, because of how teams can "win." True or not, the perception that as you watch, your favorite team is getting better for next year, or years to come, is an intoxicating rush. It's extra special for sad-sack franchises like the New York Jets, whose fans are so used to losing that watching a game is not a hopeful, exciting experience for them. Fans allow themselves hope on Draft Day, whereas on game day they steel themselves against disappointment — ready to be pleasantly surprised, sure, but already two steps down the path of resignation.
For the many Jets fans I know, games are about waiting for the next crushing blow, enduring it, and commiserating about it with other fans. Jets fans bond over the bad times, comparing them to one another in their memories like wartime stories, shaking their heads and taking a drink. (This is probably true of most tortured fanbases like the Browns or Vikings, but I know it to be true about Jets fans, so there you go.)
The draft is different. That's when fans get to look at their team's roster, play amateur GM, and make wish lists. All the shortcomings that die-hards painstakingly compile as their ulcers grow over the course of the season become manageable and fixable. And the best part about it? Sometimes, miraculously, your team does what you want. No one knows this team like you do, and sure, they may not have listened to you, but dammit, you were right. You want things for your team all the time, but this time you got it.
Jets fans know the feeling.
Of course, your team doesn't always do what you want. For whatever reason, they don't listen. The obvious choice was right there, and the idiots in charge screwed it all up. That's worse than a loss, because it feels like your team just lost eight games at once by blowing that pick. The future might be collapsing in front of your very eyes, and it hurts more because you knew better. It was so obvious.
Jets fans know that feeling too.
The NFL Draft will be held in Chicago this year, the first time it will be held outside of New York City since 1965. Perhaps it's because the draft takes place in Jets fans' backyards, but their screams and rending of garments at their team's mistakes have always been the most notorious of all fanbases. In honor of their public misery (and as always, with more hope for the future), we present to you five of the most hated picks the New York Jets ever made, with contributions from some of the fans who hated them.

DeWayne Robertson
My cousin Paul, former season ticket holder:
Not only was he undersized, [he] had a questionable motor. When a guy is drafted fourth overall, he is expected to be a blue-chip prospect and major contributor. This was not the case. The only other player I can think of who was drafted from Kentucky is Tim Couch. Enough said.
The top five picks of the 2003 NFL Draft are a perfect microcosm of the crapshoot nature of the event. Carson Palmer, Charles Rogers, Andre Johnson, Dewayne Robertson and Terence Newman. Two serviceable pros who are still in the league, one all-time great, one of the most high-profile busts of all time, and Robertson. The Jets traded their two first round picks (13 and 22) and a fourth-rounder to move up to get him. He had an up-and-down five seasons in New York, with some injury trouble. But trading up in the draft has burned teams time and time again, and Robertson was graded as a late first-rounder when he came out of Kentucky as a junior. His workouts were great, but still — number four overall? And they traded up? Classic Jets. (By the way, Robertson is the last Kentucky player to be selected in the first round. He and Couch have been the only Wildcats drafted in Round 1 since 1985 — but Randall Cobb went to Kentucky, so there you go!)
Mark Sanchez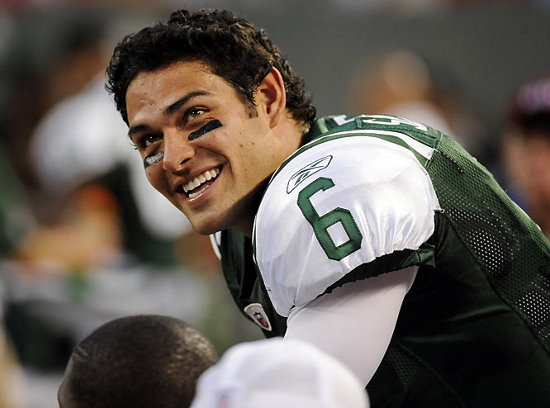 My friend Matt, hopeless Jets optimist:
I remember wanting Kellen Clemens to be the starter, and I just threw a fit when they traded up because it was obvious they were trading up for Sanchez. Being that he was a California kid who had only started 16 college games, along with there being a new head coach [Rex Ryan], I just thought it was a recipe for disaster. Of course, four years later I was one of the few Sanchez supporters left.
First of all, I'd like to congratulate Matt on his honesty in admitting that he wanted Kellen Clemens to start for the Jets. That was brave of him. Yes, the Jets again traded up for a prospect with a lot of questions, this time giving the Browns the 17th pick, their second-round pick that year, and three players(!), including safety Abram Elam. As you can see in the video above, plenty of Jets fans were bullish on Sanchez, and some who weren't preferred Kellen Clemens, but let's chalk most of that positivity up to we-need-a-quarterback fever. Never forget that he's made it to two more conference championships than Matthew Stafford, who was picked first overall that year.
Vernon Gholston
My brother Ethan, Mark Sanchez jersey owner:
I desperately wanted Darren McFadden. He was dominant at Arkansas and the Jets' running back situation was dire. He seemed like a slam dunk, and he didn't have to fall far for the Jets to snag him. I was so laser-focused on DMC and the rest of the draft seemed like a total mystery. I was a big Michigan fan at the time, and Gholston had just annihilated Jake Long, the No. 1 pick in the draft, in his second-to-last game. I didn't mind the pick, but there were red flags everywhere. The biggest red flag was that the Jets drafted him with a high pick, however.
Now this is what a bust looks like. It may have inspired the least vitriol at the time of any of the picks on this list, but indifference isn't what a team wants out of their fan base when they pick at the top of the draft either. Darren McFadden wasn't the franchise-changing star people thought he'd be, but the disappointment was real then, and Jets fans would take McFadden's career over what they got. Gholston has the distinction of being the only defensive end ever drafted in the top 10 to never record a sack in the NFL. Not one. He might be the biggest draft bust in Jets history (and one of the biggest ever), but he's got nothing on the next two.
Mike Nugent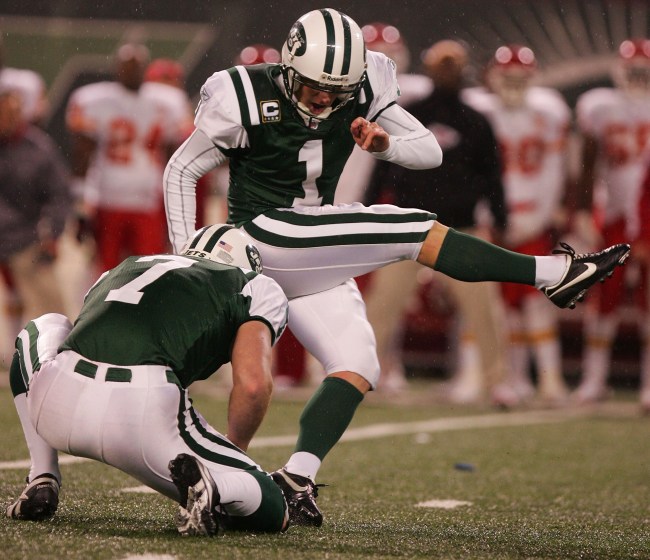 Scott Salmon, Managing Editor at Gang Green Nation:
The pick that made me the most angry would likely be Mike Nugent, the kicker they drafted in the second round of the 2005 NFL Draft. It was perhaps the biggest overreaction in team history. The previous year, the New York Jets lost the AFC Divisional Game against the Pittsburgh Steelers after Doug Brien missed a game-winning field goal (bouncing it off the crossbar) with two minutes left, and then another on the last play of regulation. The team lost in overtime, and GM Terry Bradway decided to draft a kicker in the second round of the following draft.
Scott doesn't even mention the craziest part of this pick: they didn't have a first-rounder that year. Mike Nugent, a freaking kicker, was the first player the Jets drafted! Bradway must have been pretty damn confident (like many Jets fans were, I'm sure) the Jets were Super Bowl-bound if not for Doug F**king Brien, which is his still his official title in the New York metropolitan area. Nugent was a highly-rated kicker coming out of Ohio State, sure, but he wasn't a generational talent, and he only lasted four years on the Jets. He was serviceable, but was only 3-for-9 beyond 50 yards in his Jets career. For a second round pick, he should have been making 60-yarders in his sleep.
Also, I would like to take this opportunity to remind everyone that Sebastian Janikowski was drafted in the first round by the Raiders in 2000 — and is the longest-tenured Raider, having played in every game since he was drafted but three. The only other player drafted in 2000 to play last season was John Abraham, which didn't go so well for him. Sea Bass's career is what the Jets must have been imagining when they drafted Nugent, but there's only one Sea Bass.
Kyle Brady
No first-person account necessary here. It's at the end of the supercut above, but here is the moment of anguish that is the essence of Draft Day misery in all its glory:
That's "We Want Sapp" you hear the Jets fans cheering, as in Warren Sapp, who fell to the 12th pick (the Jets picked Brady ninth), owned by Tampa Bay. One of them was a Hall-of-Famer, the other was a good blocker for the tight end position. Yeah. Both the Jets and the Buccaneers had two first-round picks that year, actually. The Jets picked Hugh Douglas 16th, and he had a very good career as a defensive end. The Buccaneers picked Derrick Brooks 28th, and that's just infuriating.
The Jets have the sixth overall pick in this year's draft. Some are holding out hope that Marcus Mariota will be there, but if the Philip Rivers-to-Tennessee rumors are to be believed, he won't. That will leave the Jets with a tough choice, which is a situation in which the Jets do not have a great history. Let's hope Jets fans will at least be happy with the pick when it happens.