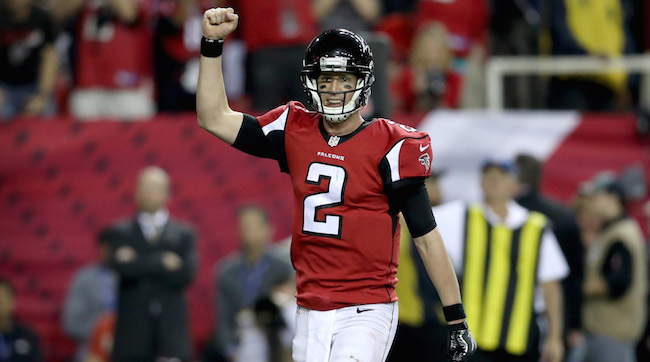 Football handicapping isn't always pretty and that theme was on full display in Week 10. For example, we elected to back the Cincinnati Bengals at home in a game they lost by 37 points. That, of course, was an epic misfire but, with some decent fortune and a couple of correct sides, we managed to scratch and claw our way to a break-even week and, given the performance of the Bengals (and Raiders), that felt like a victory.
As always, we'll be here with Week 11 winners but, before we get to our five picks against the number, here is an update on our season-long progress with 50 picks in the bank.
Week 10: 2-2-1
2018 Season: 28-19-3
Come get these winners.
Atlanta Falcons (-3) over Dallas Cowboys
Is that… a favorite? Yes, yes it is. The stars are aligned for us on this one, as the majority of the tickets are on Dallas and the action is heavy enough to move the line all the way to a field goal. At more than three, I wouldn't love it, but the Falcons are (still) the better team in this spot, especially with talented linebacker Deion Jones returning. Moreover, this line indicates that the Cowboys are back to being overvalued, while Atlanta is undervalued after an awful performance last week in Cleveland. I'll lay the points.
Houston and Washington UNDER 42.5 points
The Texans are rolling on the heels of six straight wins and, honestly, I'm tempted to take Washington in this spot. However, I can't shake the feeling that Alex Smith and company are at least partially fraudulent and that keeps me away. I will, however, fire on the under in this spot, as Houston has held five straight opponents to 23 points or fewer, with four of those five teams scoring 17 points or fewer. Washington is also content to play a low-scoring affair and, provided we can get more than 42 points (as we do here), it's the side I want.

Indianapolis Colts (-1.5) over Tennessee Titans
On the heels of a memorable win over the Patriots, the Titans feel overvalued. Tennessee is definitely frisky but should this really be less than a field goal in Indianapolis? The Colts are improving in their own right, although rather anonymously, and Indianapolis has dominated this series when Andrew Luck is upright. This feels like a game that should be sitting at three and it isn't, in part because two-thirds of the tickets are on Tennessee. Let's go the other way.
Philadelphia Eagles (+9) over New Orleans Saints
I have no idea what's wrong with the Eagles. Philadelphia losing outright to Dallas at home last week was puzzling and, for the body of the season, the Eagles just haven't been right. Still, there is a bit of extra line value here, as the public is officially down on the reigning champs and very much on the side of the Saints. It is easy to see why New Orleans is a public darling right now because, after all, they might be the best team in the league. Getting nearly double-digits with a competent team is too enticing, though, and we want the candy.
Minnesota Vikings (+3) over Chicago Bears
Sometimes, there is an easy handicap and this is one of those times. I firmly believe the Vikings are better than the Bears (even with Chicago's lights-out defense) and this is a spot where Minnesota is undervalued as a result. You probably need to shop around in order to get the full three points but there are shops with three available and we'll take the candy on a prime time underdog to close the weekend.