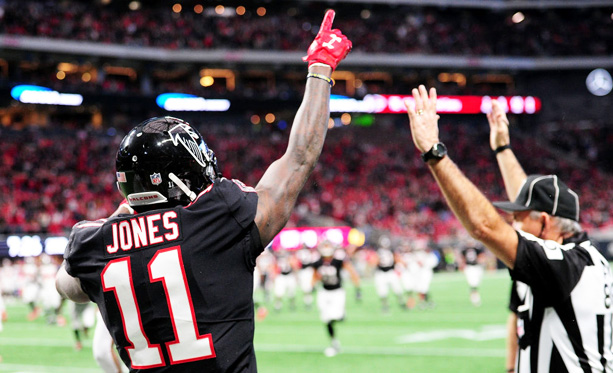 There are just three weeks left in the NFL regular season. Week 15 brings with it the biggest game in the AFC this year as the 11-2 Pittsburgh Steelers host the 10-3 New England Patriots, who are coming off a surprising loss at Miami. It could be a shootout with some MVP candidates involved, so it's a big reason to get excited about Week 15.
In the NFC, the big news is that the Philadelphia Eagles potential MVP quarterback Carson Wentz is out for the year after suffering a torn ACL during their win over the Rams last week. Suddenly, the Eagles went from the favorites in the NFC to a team that will have to rely on backup QB Nick Foles to get them there. It won't be easy against a stacked NFC while there's a lot more optimism among the other NFC playoff contenders.
To my fellow fantasy football players out there, good luck in the playoffs this week and next week. I have four of eight teams still going, so I'm hoping for some great success. I said that in Borat's voice.
Last Week's Results:
8-8 Straight Up (134-74 Season, .644)
6-9-1 Point Spread (105-100-3 Season, .512)
It wasn't a great week after getting double-digit wins for several weeks in a row. It'll still be a great year picking straight up and point spread record isn't too bad.
Note: The point spreads I use come from VegasInsider. All times listed are in the Eastern Time zone.
Denver (4-9) -2.5 @ Indianapolis (3-10) [8:30pm THU]
Two of the worst teams in the league playing on a Thursday night. Good luck hoping for an exciting game. It's going to be ugly. Since the Broncos defense dominated the Jets last week in a 23-0 win, maybe they are still awake and haven't completely given up. I think maybe the Colts have given up, so I'll take the Broncos.
The Pick: Denver 20-13
Chicago (4-9) @ Detroit (7-6) -5.5 [4:30pm SAT]
One of the most bizarre stats of this season is that the Lions are just 2-4 at home. It's so rare to see a team have a winning record, yet they're terrible at home. The good news for the Lions is the Bears are last in the NFL in passing offense (167.2 yards per game), so as long as the Lions focus on shutting down the run, they should be able to win comfortably. Lions QB Matthew Stafford is coming off a 381 passing yard game against the Bucs last week and is third in passing yards. I think Stafford will be successful throwing the ball this week too. Big win for the Lions at home against a Bears team that is sorely lacking in terms of having weapons on offense.
The Pick: Detroit 31-17
LA Chargers (7-6) -1.5 @ Kansas City (7-6) [8:25pm SAT]
Big game in the AFC West featuring two teams tied for first that have gone in different directions this season. The Chiefs started the year at 5-0, lost six of seven after that, got a win last week and perhaps they are on the right track again. The Chargers started 0-4, but have won four straight to reach this point where they are favored on the road against the Chiefs.
A big reason for the Chargers success is QB Phil Rivers, who has 3,611 passing yards with 23 TDs and just 6 INTs. It is one of his best seasons ever and his passer rating has been over 100 in each of the last four. Rivers is finding star WR Keenan Allen a lot (great to see him healthy), but he also spreads the ball around too. I like that Chargers defense a lot too. They have a great secondary and they can rush the passer well. I think they're the better team. That doesn't mean the Chiefs have no chance since they are a good team. It just feels like the Chargers have more positive momentum and talent. The Chargers are a legit threat in the AFC too. I'm a believer, for sure.
The Pick: LA Chargers 26-23
https://twitter.com/ESPNStatsInfo/status/940036199099465730
Philadelphia (11-2) -7.5 @ NY Giants (2-11) [1:00pm SUN]
There's no doubt in my mind that the Eagles will miss QB Carson Wentz, but I think Nick Foles will do alright as the QB. Whether they win a playoff game or two is another question for another time. This week they just have to beat the lowly Giants and I think their defense will do a great job to win this game easily.
The Pick: Philadelphia 27-13
Cincinnati (5-8) @ Minnesota (10-3) -10.5 [1:00pm SUN]
This should be a blowout. The Bengals have a lot of problems. Their best weapon is WR AJ Green, but if we've learned anything about the Vikings this year it's that CB Xavier Rhodes shuts down top WRs like he has done to Antonio Brown (62 yards in week three) and Julio Jones (24 yards in week 13). I think the Vikings will do very well on offense too. That spread is too low. It's my best bet of the week.
The Pick: Minnesota 34-13
Houston (4-9) @ Jacksonville (9-4) -10.5 [1:00pm SUN]
This feels like a carbon copy of the Vikings/Bengals game. Houston relies on WR DeAndre Hopkins to have big games, but the Jaguars have #1 pass defense in the NFL (174.2 YPG) and I don't think the Texans run game will have much success either. The Jags offense is inconsistent at times, but they should have no problem moving the ball and winning this game.
The Pick: Jacksonville 30-10
NY Jets (5-8) @ New Orleans (9-4) -16 [1:00pm SUN]
The Jets are down to this week's starter Bryce Petty and Christian Hackenberg at QB after Josh McCown broke his hand to end his season. I feel bad for McCown because he was crying at his press conference. He's been a journeyman QB for 15 years, but he's been productive along the way. The spread is one of the biggest of the year (16 points for the Saints) because of how bad Petty looked against the Broncos. This should be a massive blowout for a great home team in the Saints.
The Pick: New Orleans 37-6
Miami (6-7) @ Buffalo (7-6) -3.5 [1:00pm SUN]
What Dolphins team will we get this week: The group that dominated the Patriots in a 27-20 win last week or the guys that lost five games in a row with an offense that looked awful? I've been impressed by Miami RB Kenyan Drake. He's got a lot of talent and you can see why they moved Jay Ajayi to make way for him. They've also got some skilled players on defense too. As for the Bills, there's a question of if QB Tyrod Taylor plays and if he doesn't then I really like the Dolphins. I'll go Dolphins anyway, regardless of who is at QB of the Bills just because I think Miami has more momentum and are going to finish the season strong.
The Pick: Miami 23-17
Arizona (6-7) @ Washington (5-8) -5.5 [1:00pm SUN]
Another game that means nothing. I'm not sure what the Redskins have done to be favored by that many points when they have lost four of five with their only win in that stretch coming against the lowly Giants. The Cardinals aren't much better, but recent wins against the Jaguars and Titans show their defense can slow teams down. Give me the Cards in a road upset.
The Pick: Arizona 26-20

Green Bay (7-6) @ Carolina (9-4) -3 [1:00pm SUN]
There is some good injury news for the Green Bay Packers as former league MVP QB Aaron Rodgers (the best QB in the NFL in my opinion) is set to return after missing over two months of action. Huge for the Packers and their playoff hopes. Unfortunately for them, the Panthers have an aggressive defense that has helped them win five of the last six. Plus, Panthers former MVP QB Cam Newton looks as healthy as he's been all season, so I think it's a tough game for the Packers. I hope Rodgers is able to play well and finish the season, but I don't think the Packers will have enough to get in the playoffs. Look for the Panthers to lean on their 5th rank run game with RBs Jonathon Stewart, Christian McCaffrey and Newton to keep Rodgers off the field and control the game.
The Pick: Carolina 31-27
Baltimore (7-6) -7 @ Cleveland (0-13) [1:00pm SUN]
The Ravens are a scary team that nobody in the AFC wants to see in the playoffs, but in order for them to get there, they will need to win out. This should be an easy win for them against the winless Browns. However, road divisional games, especially late in the year, are not easy. I don't think the Browns will be pushovers at all. Look for Ravens RB Alex Collins to continue his hot streak with another big game and I think the Browns offense will struggle for most of the game. The spread seems a bit high, so I'll pick the Browns to cover in defeat.
The Pick: Baltimore 23-20
LA Rams (9-4) @ Seattle (8-5) -2 [4:05pm SUN]
Biggest NFC game of the week as my Rams look to bounce back after a tough loss against the Eagles while the Seahawks are coming off a loss to the Jaguars. What bothered me about the Rams loss last week was they didn't run superstar RB Todd Gurley enough. Gurley had 96 rush yards on 13 carries (7.4 yards per rush), yet the Rams went away from it. I saw coach Sean McVay say they need to get Gurley involved more, which is an encouraging sign even with the Seahawks playing well against the run.
This game has shootout potential because of how well both QBs Jared Goff and Russell Wilson are playing. Wilson is a legit MVP candidate that is carrying the offense on his back since they don't have much of a run game. Since the Rams lost starting CB Trayvon Webster for the year with a torn Achilles and their other starting CB Trumaine Johnson may miss due to a neck issue, the Seahawks should have a lot of success throwing the ball. I think the Rams will too. If they don't then they'll rely on Gurley. If the Seahawks had a better run game I'd pick them, but their lack of consistency with a shaky O-Line against a good Rams D-Line makes me go with my Rams.
The Pick: LA Rams 34-30
Tennessee (8-5) @ San Francisco (3-10) -2 [4:25pm SUN]
Upset alert at least in terms of records, but not the spread. The Niners are bad, but they have won three of their last four and clearly aren't giving up. It's also evident that QB Jimmy Garoppolo is a keeper for them. Meanwhile, Titans QB Marcus Mariota has gotten worse this year with just 10 TD passes and 14 picks. See how the Niners are favored by two? It's because the oddsmakers know how they have been playing and the Titans are pretenders with their record.
The Pick: San Francisco 24-20
New England (10-3) -3 @ Pittsburgh (11-2) [4:25pm SUN]
It's great that this game happened so late in the season with AFC home-field advantage on the line. That's a huge thing for the Steelers because they can't seem to be able to beat the Patriots in New England, so a win here would make it tough on the Patriots come January. The spread is interesting because the Steelers are coming into this game after eight in a row although many of those wins were close wins where they won on late field goals. Perhaps that is why the Patriots are favored after losing last week. I'm sure the Steelers players will use it as motivation to prove people wrong.
The reason I'm leaning towards the Patriots is that they are going to be hungrier after last week's loss. Keep in mind that star TE Rob Gronkowski missed that game due to a suspension while WR Chris Hogan should do better after coming back last week. The Dolphins also shut down speedy Patriots WR Brandin Cooks, which I don't expect the Steelers to do. It just feels like Patriots QB Tom Brady is going to have a monster game. That doesn't mean the Steelers will struggle offensively, though. I'm not sure if the Patriots defense is good enough to slow down RB Le'Veon Bell and WR Antonio Brown. Then again, other teams with worse defenses are playing close games with Pittsburgh, so maybe the Pats can do it. Plus, I think the Steelers defense really misses MLB Ryan Shazier. The Pats are going to exploit that for success. The over/under total is the highest of the week at 53 points. Sounds like a good number. I'll pick the Patriots to win a close game and just go over that point total by a bit.
The Pick: New England 31-24
Dallas -3 (7-6) @ Oakland (6-7) [8:30pm SUN]
Going with the Cowboys because I don't trust the Raiders at all. There's no way of really checking, but I feel like I've been off on the Raiders more than anybody this year. This should be a big game for Cowboys QB Dak Prescott like last week was. Raiders don't have much of a home field advantage either. Cowboys win to keep their playoff hopes alive with RB Ezekiel Elliott back from suspension next week.
The Pick: Dallas 30-20
Atlanta (8-5) -6 @ Tampa Bay (4-9) [8:30pm MON]
The Bucs feel like they have quit as much as any team this year. On paper, they have so much talent, but it's just not working. The Falcons should be really motivated here because they need this win to stay in the playoff race just like they needed it last week and won. Considering the Bucs are last against the pass (276.1 YPG) that makes me lean towards the Falcons heavily. Big game for QB Matt Ryan and WR Julio Jones here.
The Pick: Atlanta 31-23
My Fave Five Bets Of The Week
Last week: 2-2-1 (Season 35-32-3)
Still above .500 on the year. Trying to end strong.
Here are my five favorite bets for this week.
@ Minnesota -10.5 Cincinnati
@ New Orleans -16 NY Jets
LA Chargers @ Kansas City OVER 46
@ Cleveland +7 Baltimore
Miami +3.5 @ Buffalo
That's all for this week. I'll be back for more next week. Enjoy the games.