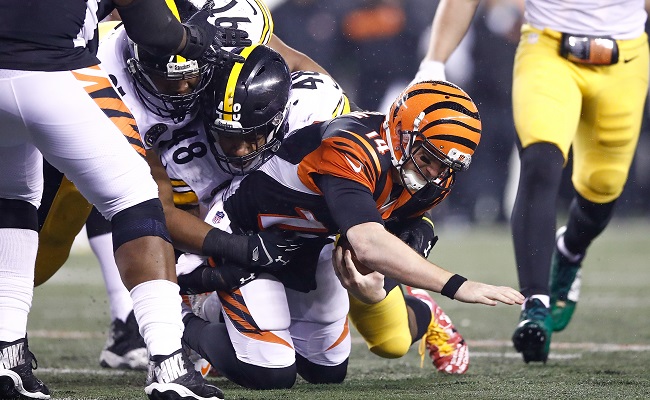 Sometimes, things just don't go your way. Week 5 was one of those times in this space.
While we avoided full-fledged disaster, the "swing" game was an exercise in collapse, as the Dolphins led by 17 points before failing to cover as 6.5-point underdogs. Of course, these things happen over a long NFL season but that doesn't remove the sting and, with the way the Falcons-Steelers contest went (over by a half-point), a potentially fantastic week turned into a disappointing one.
Still, we are here to bring the winners again in Week 6 and, for the full season, things haven't been too bad.
Week 5: 2-3
2018 Season: 14-10-1
Come get these winners.
New York Giants and Philadelphia Eagles UNDER 22.5 points in the first half
Thursday night football! The Giants are the right side in this game, getting three points at home on a short week. However, there is real variance in that particular play and the possibility of a "wake up" game exists for the more talented team in the Eagles. With that in mind, we lean into the first half under. The full game total moved off the key opening number of 45 but, getting more than three touchdowns worth of cushion here is nice and the sloppy play should be out in New Jersey on Thursday.
Pittsburgh Steelers and Cincinnati Bengals UNDER 53 points
Some of the opening value is gone from a number that was sitting at 54.5 points. However, the Steelers and Bengals are division rivals that have no love lost for one another and the odds-makers just made this number too high. It's easy to see why, given that both teams rank in the top 10 offensively this season, but anything north of 51 points is the right side in this spot. Oh, and while ticket count is split, the big dollars are on the under and that's where we'd like to be.

Arizona Cardinals (+10.5) over Minnesota Vikings
We keep riding with the Cardinals and benefiting from their underrated nature. That continues here, as Arizona shouldn't be catching double-figures from a Minnesota team that hasn't proven all that much this season. Obviously, the Vikings are the better and more talented team, but it helps us that Minnesota took care of business a week ago and Arizona continues to be undervalued in the market. You may not enjoy sweating this one but, more often than not, the result will be within single-digits.
Washington (-1) over Carolina Panthers
Jay Gruden and company laid an egg on Monday evening and that leads to this line being a few points off. Carolina is probably better than Washington but this is a great spot for the home team, particularly after the Panthers escaped with a bizarre victory a week ago. For good measure, more than 70 percent of the tickets are on the Panthers on the road and this is a spot where we automatically fire.
Denver Broncos (+7) over Los Angeles Rams
Speaking of spots to automatically fire, this is another one, even if it is easy to hate. The Broncos have lost three in a row and looked bad in doing so. The Rams are the best team in the NFL. With that out of the way, there is value in the number here, as Denver's offense is better than you think (10th in DVOA) and the home-field advantage in Mile High is well documented. I can't blame you if you don't want to take the Broncos in a game they are likely to lose on the field but this is just something we're going to do every time.