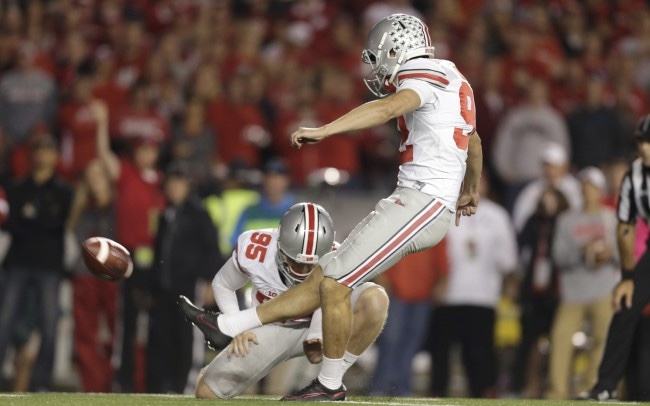 Clemson on Saturday throttled Ohio State in the Fiesta Bowl, 31-0, to earn a spot in the national championship game against Alabama. When your team loses by 31 points and doesn't score, there are some obvious people and units you're going to blame.
For instance, quarterback J.T. Barrett was 19-of-33 for 127 yards, zero touchdowns, and two interceptions. Maybe you want to blame the coach that only gave running back Curtis Samuel six carries when he was averaging 11 yards a tote. Or maybe your ire lies with a defense that allowed 470 yards to Clemson. Really, there are a lot of good choices there.
But that didn't stop one fan from writing a venomous letter to kicker Tyler Durbin and blaming his two missed field goals as the reason for a 31-point massacre.
This absolutely crazy person believes Durbin missing a 47-yard field goal less than four minutes into the game and another from the same distance two minutes later with the score 3-0 was the difference in a THIRTY-ONE POINT LOSS. Do you have any idea what you're asking when you want a college kicker to hit from 47 yards? It's like asking your grandmother to dunk a basketball. Urban Meyer asked twice.
Yes, Durbin shaved points. You've figured it out, Trey. People wagered thousands of dollars on Clemson -26 and those two missed field goals in the first five minutes were all part of a master plan to win those bets. You got him. You cracked the code. And if you really think Durbin's parents are embarrassed by his actions, wait until your parents get wind of this e-mail because it was … no good.