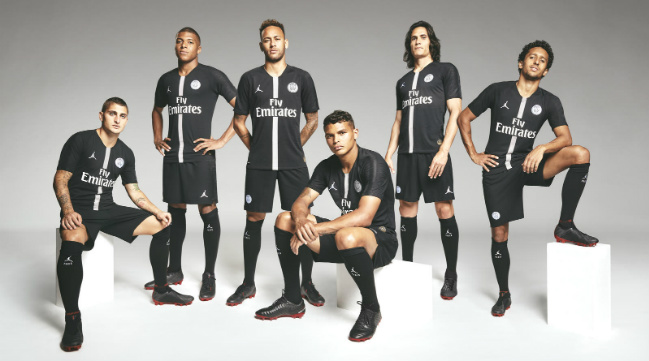 Paris Saint-Germain are giants in the world of club soccer, as the team possesses some of the top talent on earth and have gobbled up domestic trophies in France over the last few years. The club is still looking to win Champions League for the first time ever, and thanks to an announcement on Thursday, we learned that if that ever happens, the Parisians are going to look fly as all hell.
The club announced a partnership with Jordan Brand, making the team the first club to have a partnership with the company. This will manifest itself in a number of ways, most notably that PSG will wear special Jordan Brand kits when it takes the pitch for Champions League action. While PSG are known for their red and blue kits, their Champions League threads are black and white.
They're absolutely gorgeous kits, with their best assets being their simplicity — they almost mirror the blue and red kits that are so well-known for being worn by the club to a tee.
But beyond these special threads, there are a number of additional offerings coming in this collection, most notably special pairs of Jordan Is and Vs with PSG designs. The Is are clean and simple, while the Vs might be the highlight of the entire collection.

The collection includes everything from special Nike Phantom and Nike Mercurial boots to things like track suits and even a special PSG basketball jersey. Noted footy fan, Jordan Brand athlete, and Neymar's friend Jimmy Butler got in on the fun, too.
The kits will make their debut on the pitch on Sept. 18, when PSG travels to Anfield to take on reigning Champions League runners-up Liverpool.