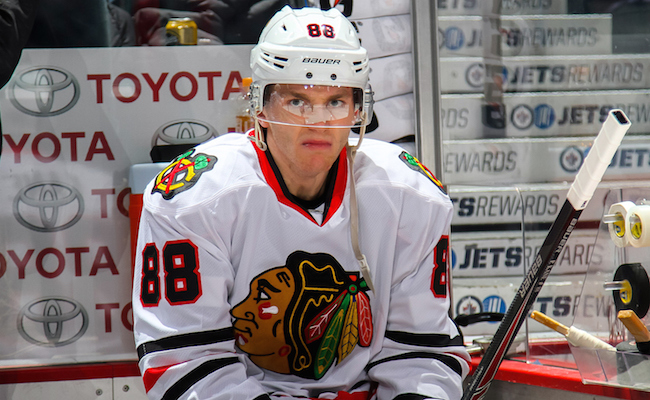 Patrick Kane was alongside his teammates as the reigning Stanley Cup champion Chicago Blackhawks opened their preseason training camp at Notre Dame University on Thursday. His presence was equally surprising and controversial, as the 26-year-old winger has been at the center of rape allegations since early August, when a woman from Kane's hometown of Buffalo accused the star NHLer of forcing himself upon her and sexually assaulting her.
Though no formal criminal charges have been filed, the investigation is ongoing, with recent rumors stating that a settlement is in the works. Despite the case still being active, the Blackhawks opened their doors for Kane to attend camp, and he arrived to a hoard of media looking for answers.
Kane and Blackhawks team president John McDonough both spoke to the media on Thursday afternoon, addressing the situation and attempting to justify why Kane was present. McDonough opened up the presser by giving the following statement:
"The Chicago Blackhawks organization prides itself in trying to make calculated and deliberate decisions based on information we have at the present time. We recognize that Patrick Kane is dealing with a very serious situation. Based on our discussions with his legal representatives, who are very close to this matter, we have decided to have Patrick join us for training camp. Furthermore, we have the utmost respect for the legal process."
Immediately following that, Kane also delivered a pre-written statement of his own:
"This has been an incredibly difficult time for many people. I cannot apologize enough for the distraction this has caused my family, my teammates, this incredible organization and, of course, our fans. While I have too much respect for the legal process to comment on an ongoing matter,I am confident that when once all the facts are brought to light, I will be absolved of having done nothing wrong."
Both McDonough and Kane mentioning their respect of the legal process – which hasn't concluded yet – while Kane is getting ready to resume business as usual seems a bit tone deaf, no?
Asked about the message it sends to people to have Kane at camp amid such a serious allegation of wrongdoing, McDonough defended himself and the organization.

"I can assure you I'm anything but tone deaf," McDonough said.
Oh, well I guess that settles that then!
As awkward and uncomfortable as you would expect the presser to be, somehow it ended up going much worse. After the opening statements, the meeting continued with various other topics being discussed, including the Blackhawks recent string of success in the league. That is probably a conversation that should have been saved for another day.
Also, Kane didn't exactly win anyone over during his statement, coming off a bit robotic and insincere as he carefully read his short written apology verbatim.