PASADENA, Calif. – They were supposed to win six-to-eight games, maybe nine if we were being extremely optimistic. But what Penn State actually did in 2016 was impossible to predict.
Before the season, a group of friends and I made predictions among ourselves about how this team would do. We weren't exactly screaming "CHAMPIONSHIP." Consider that coming into the year, the Nittany Lions were coming off of back-to-back 7-6 seasons, had to replace their quarterback with a guy who was recruited as either a quarterback or a safety, and needed to find three defensive linemen to replace three players who were selected in the NFL Draft.
In total, there were 24 of us. Five said 6-6, eight said 7-5, seven said 8-4, four said 9-3. The most optimistic folks who made predictions thought this would be a nine-win team, which was a common sentiment among Penn State fans.
At best, most thought this team could come in third in a division with two of the six best teams in the country. It was too young to compete, probably, but there was just enough talent to maybe make things interesting in a big game. The year to make a run at the conference title was 2017. The year to take a small step forward was 2016.
And yet, on Jan. 2 there some of us were, in the stands at the fabled Rose Bowl, watching the Nittany Lions play the most exciting and entertaining game of bowl season. This was not supposed to happen. I'm still not completely sure how it did.
* * *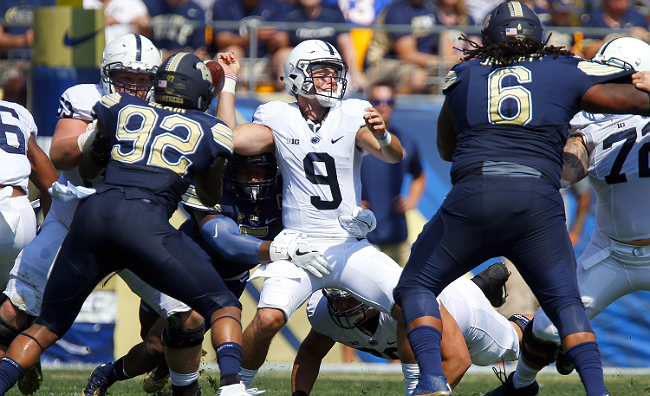 At the halftime of the team's fifth game of the 2016 season, a few of us decided maybe it was time to accept that James Franklin just wasn't the guy for the job. Names like Temple coach Matt Rhule, Western Kentucky coach Jeff Brohm, and god knows who else were kicked around by a few of us in private because it seemed like the program was heading for another coaching search after years of being the model of stability in the sport.
From just a football perspective, the last four years have been odd. While they all got lifted, the program was sanctioned by the NCAA. Considering how everyone involved in the Sandusky scandal was gone when they were implemented, I considered them an overreach by an oftentimes criticized organization that wanted to get some good PR. You may disagree. That's fine, it's not something worth getting riled up over because it's in the past, and both sides have made their arguments plenty of times.
What can't be disputed is that these sanctions caused some serious depth issues – scholarship reductions have a whiplash effect that impact you more in years three and four than years one and two. Those happened to be Franklin's first two years. In retrospect, he did as good of a job as he probably could, but that didn't mean that fans were exactly stoked with back-to-back 7-6 records in 2014 and 2015.
For some, these whispers turned to screams as the Nittany Lions lost 42-39 to Pitt in their second game of the 2016 season. Two weeks later, the team went into Ann Arbor and got obliterated by Michigan, 49-10. The school's athletic director had to release a vote of confidence in Franklin, which most college football fans view as an unofficial sign to start saying someone is on the hot seat. Then, in the first half against Minnesota, Penn State looked horrific and went into the locker room with a 13-3 deficit. There were boos from the crowd at how all this nonsense was happening. Before the game, when Franklin was introduced, he was booed by a number of Penn Staters.
A lot of people had reached their breaking point, because when your coach is on the hot seat, falling under-.500 seems like a death knell.
I'm generally patient with this stuff, but I was one of those fans who was ready to just pull the plug on 2016. Yet, two months later I was walking into a hotel in Indianapolis because the Nittany Lions were on the verge of playing for a Big Ten Championship. Starting with that Minnesota game, the team ripped off eight straight wins – including a victory at home against Ohio State – and got just enough help to represent the Big Ten East in the championship game.
Fast forward another month and I'm walking into the Rose Bowl to watch Penn State play in a New Year's Six game. I still can't believe it.
* * *
College football is a wonderful sport. One reason is because, probably more than any other sport, it makes us throw our hands in the air and go "I have zero idea why this is happening, but it's fun, so who cares?"
Considering how the first two years and four games of the Franklin era went in Happy Valley, this was absolutely the case for Penn State football. At some point, a switch flipped for the Nittany Lions and they suddenly became a team that scored a lot and played pretty good defense and was sound on special teams.
It was still a young team – Franklin said 2016 was "year one" of his tenure since it was the first time he was at the helm with a full roster. There were expected to be bumps in the road. Those bumps, after getting mollywhopped by the Wolverines, just kind of disappeared.
Some of these issues popped up against Wisconsin in the first half – the Badgers were able to manhandle a somewhat undersized Nittany Lion front on offense (which Wisconsin does to every undersized defensive front), and on defense, Wisconsin took advantage of a patchwork Penn State line.
The Nittany Lions did god knows what at halftime, because they came out on fire on both sides of the ball. Suddenly, the defense (which allowed 28 first-half points) allowed three points in the second half. The offense started heaving the ball down the field against one of the best secondaries in the country and it inexplicably worked. Gus Johnson decided to call Nittany Lion QB Trace McSorley "The Wizard" because he's Gus Johnson and he just does stuff like that.
In a season full of things that didn't make any sense, the second half of that game may have been the most inexplicable thing of all. Everything went from "this is bad" to "this is good" in no time. If you've been a fan of a team that does this, you know how surreal this feels. I can't put it into words, but it's this mix of shock and amazement (and pain, if you're like me and have one friend who enjoys responding to big moments by punching you in the arm).
This made the whole "falling behind early and looking like an abomination" thing in the Rose Bowl easier to palate. There were Penn State fans chanting "second half team" during halftime (by S&P+, Penn State in the second half turns into a literal fireball of destruction). The only difference was this time, Penn State was going up against a scary good USC team with a quarterback in Sam Darnold who thought it would be cool to re-write the Rose Bowl's record book.
It was heartbreaking, standing there watching as my favorite team blew a 14-point fourth quarter lead, partly thanks to a backbreaking interception with 27 seconds left that led to USC's game winning field goal.
But then I remembered that this team had no business being here.
As I was leaving the game, I wanted to be mad. Just that kind of Old Testament mad where you scream and break stuff and cuss like wild. I had a cross-country flight a few hours after the game ended, and I wanted to sit on that plane and feel bad for myself, because fans are really good about making losses about themselves instead of the athletes who work hard and feel a disappointment that we'll never understand.
But walking out of the stadium, I saw a dad and his son, both USC fans decked out in cardinal and gold. The dad had on the same grin that I had a few weeks prior in Indianapolis, one that only pops up when you're filled with a euphoria that only sports can provide. The son had the same grin and his face was covered with tears. His arm had "FIGHT ON" tattooed on it. These two were not fans that only care when the Trojans are good, they're the kind of people who spend six days a week from September to November waiting for Saturday and stop everything when USC is on the television.
Sports are capable of bringing these emotions out of anyone who loves them enough. Watching a human being literally cry tears of joy with their loved ones reminded me why we put up with the heartbreak we feel when, say, your favorite team loses the Rose Bowl in this fashion – sometimes, losses don't happen. Instead, your team wins. When that happens, it's amazing. It's the best feeling in the world. Why? I don't know. I don't think anyone can put a feeling so raw and spontaneous into words. But it's the best.
Maybe Penn State makes it back to the Rose Bowl next year, when the game will decide who will play for a national championship. Hopefully it plays USC again. If the rematch is half as good as the 2016 game, it'll be amazing. If that doesn't happen, oh well. This was supposed to be the last year of sanctions, but I got to cheer on my team in the Rose Bowl instead. My only request is if we get a rematch, I'm the one crying tears of joy.