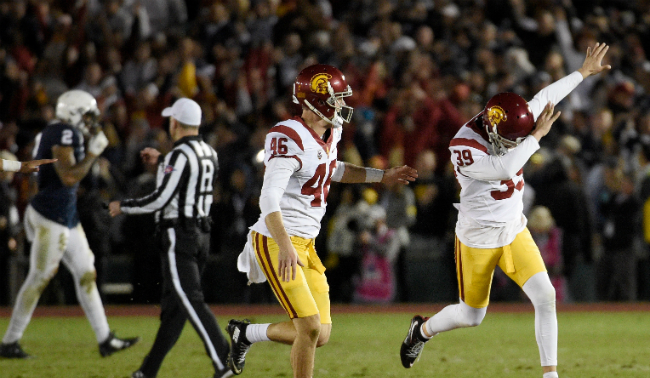 Saquon Barkley and Penn State came back in a big way this college football season. On Monday, they emptied the tank against USC in the highest-scoring Rose Bowl in the game's 103-year history.
It still wasn't enough.
The Trojans overcame a wild Nittany Lions third quarter offensive explosion with its own forth quarter comeback to win, 52-49, in what may go down as the bowl game of the season. USC needed 17 straight 4th quarter points and a last-second field goal to topple the Nittany Lions in spectacular fashion.
Penn State started poorly, something Nittany Lions fans have grown used to. But they kept it close in the first half despite quarterback Trace McSorley throwing two interceptions to start the game. USC led by 13 points three separate times in the first half. But a McSorley touchdown pass to Mike Gesicki made it a 27-21 USC game at the half.
Penn State has been a second half team all season, and they hung around in the Rose Bowl long enough for Barkley to run all over the Trojans in the third quarter. He had a Penn State bowl game record 194 yards, including this highlight-reel beauty.
Barkley avoided Trojans tacklers and brilliantly cut to daylight at midfield to finish the 79-yard score. On the next possession, Chris Godwin made a crazy juggling catch for a 72-yard touchdown.
The Penn State defense did some juggling as well, with Brandon Bell snagging an interception on the next USC drive to keep the Penn State momentum flowing. Trace McSorley ran for a 3-yard touchdown, capping a string of three straight snaps on offense in the third quarter resulting in touchdowns. The Nittany Lions had six straight touchdown-scoring possessions.
Suffice to say, the Trojans were shocked by the outburst.
Never good when a player actually surrender cobras in the middle of a game.
James Franklin, meanwhile, was out there throwing body blows on his own coaching staff.
USC came back with a TD of its own, but Barkley added a receiving touchdown to make it a two-score game to end the third quarter. He also gave a ref some love after his his third score of the game.
USC fought back with some craziness of its own, including a ridiculous catch along the sideline by JuJu Smith-Schuster in the fourth quarter.
It set up a Ronald Jones II TD that made it 49-42 Penn State with 8:15 to play. This is where the Trojans took over, getting the score they needed to tie it up with under two minutes to play.
Trojans QB Sam Darnold led USC down the field with the help of two defensive penalties to throw a 27-yard dart to Deontay Burnett in the end zone to tie the game at 49 with 70 seconds left to play.
"TOO MUCH TIME!" some might say. They would be right. They left themselves too much time to win it in regulation.
McSorley threw his third interception of the game to Leon McQuay III, who just missed an interception on the previous play. McQuay Trey snagged the ball on the right sideline and returned it to the Penn State 33 wth 27 seconds left.

USC fans hoping for overtime were now hoping their kicker could make a long field goal to improbably win the Rose Bowl. USC College Kicker had missed two 40+ yard kicks earlier in the game. This time, however, junior Matt Boermeester crushed the 46-yarder to give the Trojans the win.
Money.
A lot of people say this time of year that there are too many bowl games. They're wrong. There are not enough bowl games.
Especially bowl games like this.