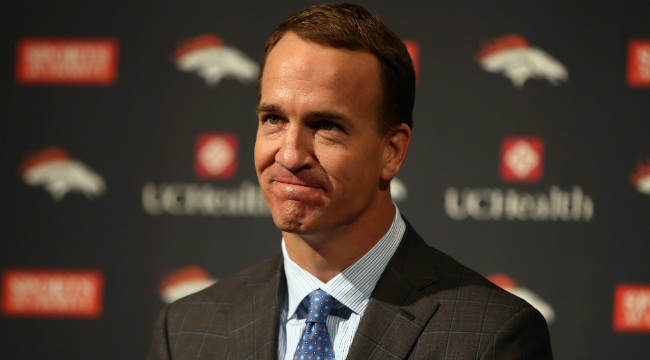 Peyton Manning's retired from pro football as a member of the Denver Broncos a couple of weeks ago. But, according to Dave Furst of the local Indianapolis ABC affiliate, the Super Bowl-winning quarterback considered formally retiring with his old team, the Colts:
Retiring as a member of a former team is common if a player spent the totality of their career at multiple stops. Obviously, Manning will be known mostly for his time with the Colts, so it would make sense if he wanted to formally retire as a member of that team. But as Will Brinson of CBS Sports opines, "It's not like Manning spit on someone's grave in Indy or just can't stand the way the Colts ran him off and is refusing to go back. He had a retirement ceremony in Indy and got his jersey number retired."
The rest is in the details. There's no revisionist history in saying Manning had 13 great season in Indianapolis and helped the franchise win a Super Bowl. He recognized that when he went back to celebrate his retirement with the Colts. The organization knows this. The city and fans know this. Whether Manning officially retired as a member of the Colts or not is secondary. There might be some who wished he had for sentimental purposes, but Manning's era in blue and white was the same regardless.