The eyes of the football-watching world will be on England on Sunday. The Premier League will wrap up its season this weekend, and if we're lucky, we'll get a final matchday full of drama and excitement that will live up to what has been, quite possibly, the most thrilling title race in the history of the league.
The two teams gunning to win the league, Manchester City and Liverpool, are not the only sides in action on Sunday. Every club in the Prem will play at the exact same time — for those of us in the U.S., the proceedings will air on the NBC family of networks, with every match kicking off at 10 a.m. ET. To get you ready, we laid out every match that will take place this weekend, including where you can go to find them. While all the attention will be focused on matches occurring in Anfield and Falmer, we highly recommend scanning the entire landscape, because Sunday is going to be a blast.
Relegation Battle
Nothing particularly eye-catching here. The bottom three teams are locked into the order they'll finish on their way down to the EFL Championship: Cardiff City sit in 18th with 31 points, Fulham are in 19th with 26 points, and in last place are Huddersfield, bringing up the rear with 15 points. They won three matches this year. They won't set the record for the fewest points in a season, but they're one of the worst sides in the history of the Premier League, so hey, maybe you'll enjoy checking them out if you're into that sort of thing.
Two of them will be in totally meaningless matches. Huddersfield will travel to play Southampton (NBCSports.com), while Fulham play host to Newcastle (Olympic Channel). As for Cardiff, they play Manchester United (USA), who just happen to be led by former Cardiff City manager Ole Gunnar Solskjaer. And on that note, let's get to the more fun stuff.

3-6
The race for the title, which has been perhaps the best one in league history, is down to two teams. We'll get to that momentarily. First, we have to discuss the four teams jostling for position just behind them.
If you cannot win the Premier League, you still make it a point to finish in the top-4 and earn a spot in the following year's Champions League. Finish in fifth and you're headed to Europa League, sixth and you have to go through Europa League qualification, which is the summer school of club football. Currently, it shakes out like this:
3. Chelsea, 71 points
4. Tottenham Hotspur, 70 points
5. Arsenal, 67 points
6. Manchester United, 66 points
(A quick note: By chance, Chelsea and Arsenal play in the Europa League final, while Spurs play Liverpool in the Champions League final, which can throw a lot of this into chaos. The fine folks at the BBC have your back on how all of this can get really weird regarding next year's European competitions, potentially to the benefit of the team guaranteed to finish in seventh, Wolverhampton Wanderers.)
Chelsea is playing Champions League football next year. They might not be in it for very long — star forward Eden Hazard very well might be gone, plus a two-window transfer ban begins this summer (American winger Christian Pulisic will still join Chelsea once Borussia Dortmund's season ends) — but they can't go lower than fourth. Manchester United will play in Europa League. The morally correct response to that statement is laughter. Imagine Duke in the NIT. That's funny, right?
Some silliness could happen with the squads in fourth and fifth. While that BBC link lays out how it might not matter due to European tournaments, it'd just be way easier for Tottenham if it just took care of business. If Spurs lose — which is possible, because they have drawn one time this year — it opens a door for Arsenal, which would need a bit of a miracle. The first tiebreaker in the Prem is goal difference: Spurs are +28, Arsenal is +20. Making this up would be something else. It almost definitely won't happen, but you never know.
To end the season, Chelsea travel to play a dangerous Leicester City side (CNBC), Spurs host a pesky bunch from Everton (SyFy), Arsenal visit Burnley (MSNBC), and as we mentioned, United host Cardiff City.

The Rest, Save For The Title Race
Watford and West Ham will play in a matchup of two respectable mid-table sides (NBC Golf). They're in 10th and 11th! Symmetry is fun. You'll see Watford again in the FA Cup final against Manchester City on May 18. Also, Crystal Palace and Bournemouth are 12th and 13th (NBC Sports Regional Networks). I'm not gonna waste any more time talking about this — outside of mentioning that Crystal's Aaron Wan-Bissaka is a delight — because we have a title race to talk about.
The Title Race
The quest to determine a champion this year has been perhaps the best in Premier League history. At the very least, it's firmly in the conversation, and the side that comes in second will exceed the previous record for the most points in a year without winning the Prem. That was previously held by Manchester United in 2011-12. Here is how that year ended.
The guy who scored that goal, Sergio Aguero, will take the pitch as Manchester City looks to secure a title on Sunday. Liverpool, however, is in striking distance. Here's how the table looks at the very top:

1. Manchester City, 95 points, +69 GD
2. Liverpool, 94 points, +65 GD
The goal difference will not come into play unless City loses and Liverpool draws. The weirdest scenario would be if City falls 4-0 to Brighton & Hove Albion (NBC Sports) and Liverpool draws Wolverhampton Wanderers (NBC), 4-4. We would then get a playoff. If City loses by a score of 5-0 or greater, and Liverpool and Wolves both score five or more goals, England would be red. I promise you, barring some historic match fixing, none of this is not going to happen.
Otherwise, the way it plays out is pretty straightforward. Here's a table straight from an Excel sheet I made: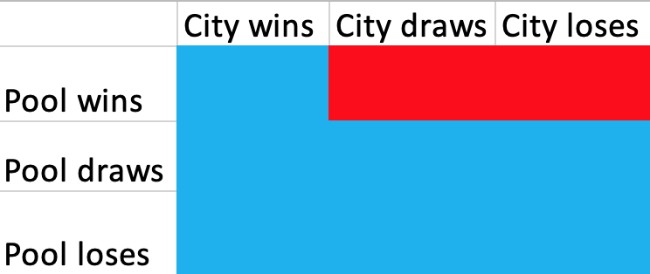 How we got here was completely insane. Liverpool had a seven-point lead heading into a Jan. 3 match against City in Manchester — the Reds were flying high, while the Sky Blues had suffered shocking, back-to-back losses to Crystal Palace and Leicester City in December. Heading into the match, FiveThirtyEight's Premier League predictor gave Liverpool a 78 percent chance to win the league, and thanks to a testy scoreless draw that occurred at Anfield in October, no one really had any idea what to expect.
The two sides then played the best match that happened in the Premier League this year. Manchester City won, 2-1. I highly recommend watching all of this video. Then, if you have two hours to kill, go find and watch the entire match.

The biggest moment, a goal line clearance by City defender John Stones in the 18th minute, summed up the margins in which this race has occurred better than any words possibly could.
City have chipped away at Liverpool's lead since then. They won their next two matches, then suffered a shocking loss to Newcastle at the end of January, and have not lost in the league since, ripping off 13 consecutive wins to move into first. Liverpool, to their credit, have not lost since that match — City is their only league defeat this year — but have drawn several times.
Now, we head into the final match day of the year. Liverpool (NBC) play a much better side, as Wolves have managed to draw or beat top-6 clubs a number of times this year (including, controversially, Manchester City), but no one has beaten the Reds at Anfield in the Premier League this year. It also helps that Mohamed Salah is fit to play after missing this past week's frenetic Champions League victory over Barcelona due to a concussion. City (NBCSN), meanwhile, play the worst club that avoided relegation. But while Brighton are in 17th, having to go to another venue and win is difficult. Plus, City and Brighton played in the FA Cup a month ago, and while the Mancunians won at the Ethiad, the Seagull defense was not beaten again after a fourth minute goal by Gabriel Jesus.
Do not expect anything other than both of the sides putting out the best XI they can, turning the dial all the way up, and trying to pile on the goals. These attacks are lethal, the defenses are stout, and Pep Guardiola and Jurgen Klopp very well might be the two best managers in the world. It very well might take an act of God for anything other than a pair of wins and, for that reason, City winning the title.
Then again, this has been a special year for Liverpool, one in which they always seem to find a way to get the job done in the most magical of circumstances possible. Their luck just has not run out, and seemingly every time the opportunity to do something unforgettable pops up, they grab it by the throat. Klopp has them playing with a spirit and a belief that is awfully rare, and with a collection of players few can match — guys like Salah, Sadio Mane, Alisson, and PFA Player of the Year Virgil Van Dijk among numerous others — and a high-powered system that they've mastered, they're capable of doing the unforgettable.
Their issue is City has been narrowly better. Their collection of world class talent and unreal depth is not matched by any club on the planet — for example, Leroy Sane might be the most unique attacking talent in England, Gabriel Jesus was Brazil's starting striker at the World Cup, and Riyad Mahrez is the club's most expensive transfer ever, and yet they are mostly substitutes when the trio of Raheem Sterling, Aguero, and Bernardo Silva are healthy. They're a ruthless, relentless bunch that knows what it takes to be champions. That was evident on Monday, when longtime captain and center back Vincent Kompany broke a tense, scoreless draw against Leicester City with this unreal strike.
The entire title race has been back and forth all year, with twists and turns happening at seemingly every possible juncture. One thing is for sure: Neither squad, no matter what, will lose the league as much as the other one won it, and while one group of supporters will be a lot happier than the other on Sunday, City supporters, including the one who wrote this post, will sing "Blue Moon" with the same pride and knowledge that they just witnessed a special year as the Liverpool faithful will as they belt out "You'll Never Walk Alone." Either way, set some time aside to watch. You will not regret it.