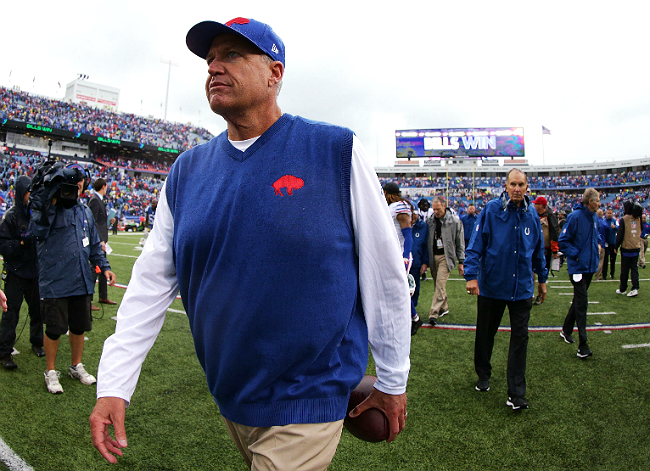 There's a parallel universe — or maybe just a long-lost, unreleased episode of Sliders — wherein the Buffalo Bills actually won one of those four-straight Super Bowls they ascended to in the early '90s. Just a single victory in any of them would've changed so many lives for the better. It could've even just been one of the last two losses against Dallas. Flip one of 'em, the Cowboys would still get a ring, and the very idea of Buffalo as a professional football town goes in a drastically different direction than what we know today, because the Buffalo of today is not exactly a city known for its enduring football excellence.
The offseason hiring of Rex Ryan as the Bills' head coach, which might be the most inspired casting since Scott Wolf played an actual wolf in BoJack Horseman, posits that this fantasy land could really, truly exist, that Buffalo could break free of its decades-driven rep and go the entire NFL playoff distance one day. They could do it with defense and they could do it with attitude, but they'd have to do it with a team more cultivated than merely assembled. Bad records often mean high draft picks, and those certainly help — hello Sammy Watkins! — but an average high of 36 degrees in December can be a mighty tough sell to choice free agents. The Bills often must get by with homegrown talent, talented castoffs, and role players inspired to play beyond their true talent.
The opening day drubbing the Bills put on Andrew Luck and the Indianapolis Colts might be the first inkling that the winters in far upstate New York are about to feel a smidge warmer than they have in a while. With a quarterback boasting just 199 career passing yards across parts of four seasons, and a fashion sense that translates to "Frank Miller doodling tree branches," the Bills doled out a consistent offensive attack against a Colts defense that seemed uninspired. Tyrod Taylor was 14-of-19 (73 percent) on the day, and his perfect TD pass to Percy Harvin opened up the scoring as the first quarter clock ran out.
Buffalo led 17-0 at the half, and the final score of 27-14 was nowhere near as close as it seemed. The Bills dominated the Colts from the get-go and, in turn, served notice to the AFC that the already-tight competition for the six playoff spots will get a little dicier by season's end.
That it happened this way and in Rex Ryan's debut as Bills head coach says everything about the short-term future of this franchise. Ryan's escape from New York landed him in two radically different locales: Nashville, where he now makes his home, and Buffalo, where he now plies his trade as a likeable, boisterous, incredibly effective coach with a gift for designing defenses.
Ryan found his offensive coordinator in poaching the 49ers' Greg Roman, who helped turn Colin Kaepernick from a no-name backup into a multi-threat star. Roman's tight, but efficient offense — 342 net yards and no turnovers — moved Buffalo in front during the first half and kept the lead at a comfortable margin through to the final whistle. LeSean McCoy, exiled north by Eagles coach Chip Kelly, was not a star presence this day (41 yards on 17 rushes), but McCoy is both durable (played all 32 games the last two seasons) and skilled (averaged 91.4 rushing yards over that time). He made it through his much-anticipated debut just fine. So far, so good.
The Bills' defense was the day's star, making Andrew Luck look (gasp!) ordinary, holding him to just 243 yards, but you could've told me it was half that number and I would've believed you. His two picks — one came in the first quarter and set up the Bills' first touchdown, while the other effectively ended the game late in the fourth — were inopportune and out of character. (Luck averages only 0.9 picks per game.)
And this Indy offense was not just a stagnant holdover from the one that got decimated 45-7 by New England in the AFC Championship. This was a reloaded unit that added both Frank Gore (11,073 career rushing yards) from San Francisco and wide receiver Andre Johnson (13,597 career receiving yards) from Houston. They boast a combined 139 career touchdowns, and they're now in the hands of Luck, who threw more TDs (40) than anyone else last season. The Colts were supposed to be launching little football-shaped Hellfire missiles all across the field, but Buffalo grounded them long enough to build out a lead that Indy could never overcome. The new Colts were non-factors. Gore had eight rushes for 31 yards, Johnson a measly four grabs for 24 yards. Buffalo's defensive scheme was methodical and inexorable and kind of beautiful.
My working theory is that an NFL wherein Rex Ryan and the Buffalo Bills are not only relevant, but legitimately good is a better, more interesting NFL for just about everyone in the league. Maybe you can excuse the three other AFC East opponents from that quorum, and perhaps any other fringy AFC Wild Card teams, but it's safe to say that precious few thought the Bills would do what they did to the Colts on Sunday, and now that means we have no idea what to really suspect from Ryan's crew. It's most likely that they'll struggle in the near-term, sure, but this also feels like a team with few reasons why it can't succeed reasonably soon.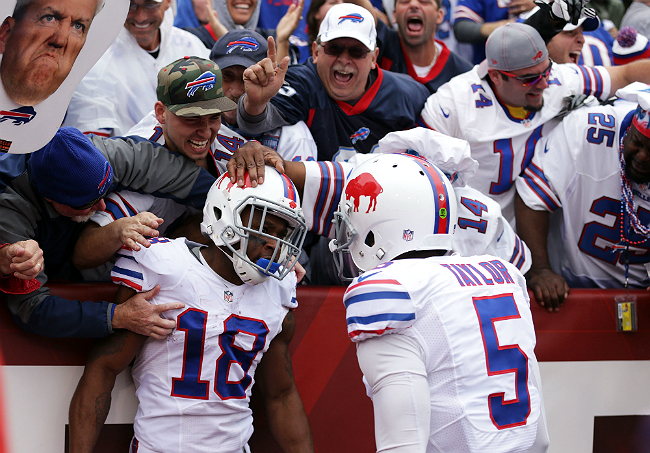 Coming into this season, Buffalo's strength of schedule ranked 19th (.486) based on last year's win totals. Even if next week's game against New England goes in favor of Bill Belichick's squad, the Bills, if they are for real, still have a very reasonable chance of being 7-1 going into their Week 8 bye. The AFC is, once again, the far more competitive and talented of the two conferences, so 10-6 may not even be enough for a Wild Card spot. Every win will be critical, but the Bills will have an easier time than most to rack them up at will. If all goes right, a playoff berth will be there for the taking come December's bone-numbing wind-chill.
The Bills, by all rights, will only get better next week. Their newly minted $100 million defensive tackle Marcell Dareus will be back from a one-game suspension, because what Rex Ryan needs is a top-flight defensive player in his stable. Buffalo is one of those young teams that is still learning how to win, but once they figure it out, they'll have the coaching of Rex Ryan to then lead them to rare heights, the kinds of games not played since Jim Kelly and Thurman Thomas ran the offense and Bruce Smith lined up on the D-line.
Those Bills are long gone. In time, some version of these current Bills could end up special like them. It might even take another year of seasoning beyond this one, but when it all starts clicking in the ways things do for championship teams, they'll have a coach in Ryan who's at least been there and knows what it takes to finish the job.
This win was a first step to something. Win next week against New England, and we'll know whether this upcoming Buffalo winter won't seem quite as cold as all the others.