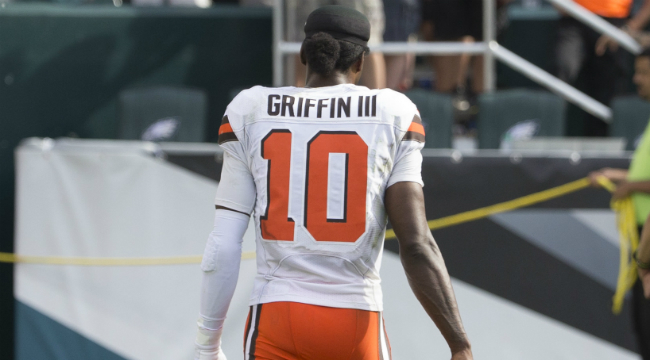 For those wondering if Robert Griffin III's second life as the starting quarterback of the Cleveland Browns would reintroduce some of the excitement he produced in his rookie season in Washington, wonder no more. Those dreams might have already been dashed in the first game of the season.
Griffin has been diagnosed with a fractured coracoid bone in his left shoulder and placed on injured reserve. He may yet be the designated player to return, which would only have him missing half the season rather than the full season, but he's not set to even be re-evaluated until another three or four weeks, so him missing the minimum eight games would seem to be a stretch.
From Browns coach Hue Jackson:
"It's very unfortunate, Robert came in and has worked extremely hard to learn our offense and earn the respect of his teammates," Browns coach Hue Jackson said. "This is a tough loss because everyone has seen how invested he has been in this team and his dedication to the work needed to improve his craft. We all know these are the realities of the NFL, injuries occur and you have to find ways to overcome them so they don't impede your progress. Robert will do everything in his power to rehab and get healthy but Josh McCown is on this roster for a reason and we have great confidence in him. He is more than capable. His veteran presence has been an asset to our team throughout our process of preparing for the season. We look forward to him assuming the role of the starter and leading our offensive unit."
The Browns don't seem to be in the market to add any more insurance under center, and to be honest, that might be the right call. Eve if they're trying to win games this year (debatable), Josh McCown has had stretches of competence in the NFL in the past few years, and he's probably a safer bet having been through training camp than any guy off the street. Mostly, it just sucks that Griffin's brittle body once again betrayed him, just as he could have been turning the page on his career.
(Via ClevelandBrowns.com)