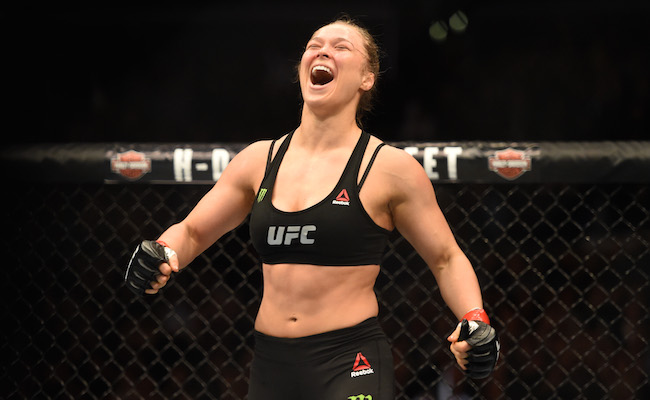 Despite all the gloating over the fall of Ronda Rousey, you'd hard-pressed to find a fight fan that doesn't think she contributed massively to the sport or MMA's bottom line. According to the sportsbook director of the Mandalay Bay, Rousey deserves her due in a sometimes unspoken part of the business too. The betting side of things.
Sportsbook big shot Mike Piranio credited the UFC's first women's champion for her integral part in launching a betting boom for mixed martial arts. Chatting about the subject on MMAJunkie Radio, Piranio cites Rousey's ability to draw non-hardcore fans into the sport and (by extension) generate an interest in gambling on the fights.
"I would say the Rousey run was a lot of (betting) tickets, and a lot of different interest in that," he said. "That was really good for MMA and the UFC, obviously. She made a huge impact in the number of people (betting on MMA) – and they still come now. It's not like they quit. If she fights again, I'm sure they'll come back and bet it.

"She upped the interest in MMA for the regular sports book fan – guys who don't follow it religiously, they know about it now."
It's a pretty solid line of logic and a development Piranio feels helped establish the sport as being the same league as boxing as a betting destination these days.
"It's climbed every year, and it's on par with boxing now," he explained. "There'll be a boxing match every once in a while, like (Floyd) Mayweather's last fight, (which) was probably bigger than anything. But on a week to week basis … if it's a good card in MMA, we're getting just as much interest in those."
Seeing as we're in an age where sites like DraftKings are including UFC cards in their "fantasy" betting, we can't disagree with Piranio's assertion that MMA has etched its place in the gambling world. For a sport that is still treated skeptically by the old guard of the mainstream sports landscape, the rise of legal fight gambling serves as an unlikely mini-credibility boost. Of course, we recommend gambling responsibly no matter what your favorite flavor of betting is.
(Via MMAJunkie & Bloody Elbow)