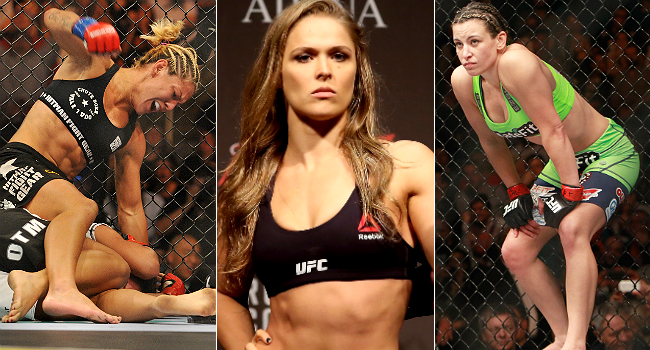 Now that Ronda Rousey has destroyed Bethe Correia in 34 seconds at UFC 190 and gorged herself on celebratory hot wings, it's time to look towards the future. What's next for the undefeated UFC Women's Bantamweight Champion?
Miesha Tate
With Miesha Tate defeating Jessica Eye at UFC on Fox 16 in a title eliminator bout, she punched her ticket for a third bout with the "Rowdy" one. As Rousey puts it:
"I need these other girls. It's not like I can do this by myself. I need a dancing partner. The analogy that I use a lot is that these girls are like plants. Sometimes you can grow a crop and you can harvest it year after year like Miesha. Sometimes you harvest it once, it'll never grow back."

"There's fan interest, so then there's my interest. I'm interested in just defending my title as many times as I need to before I feel like I'm done. If she's the best competitor and she's who the fans want to see, then I'm extremely interested in doing it."

"I'm an entertainer. I'm not just here for myself. If that's what people want to see and she's the No. 1 contender, then yeah. I'm totally down. She's the one that has piqued my interest after I'm done beating Bethe. I don't think Bethe will ever come back after this. But I think this might be the final season I can harvest the Tate crop."
As with any Rousey fight, the question isn't if her opponent can win, but simply how long they'll survive. Tate did show a bit of power in her hands against Eye, dropping Jessica with punches, but Rousey knocked Correia out, so a stand-up battle isn't advised for Tate. Also, Rousey has already defeated Tate twice.
Cris Cyborg
Cris "Cyborg" Justino has long been clamoring for a fight with Rousey, but the main hurdle has been a matter of weight. Cyborg fights at featherweight, while the largest women's division the UFC offers is Ronda's bantamweight, with an upper limit of 135 pounds. Cyborg's next bout is scheduled for a catch-weight of 140 pounds, and should Cyborg manage to survive the cut down, a MEGA-ULTRA fight with Rousey should be next for both women.
If Cyborg fails to make weight, or test positive for steroids again, or just lose to Rousey, there are a few challengers looming in the background. Instead of looking at previous opponents Rousey has beaten who could make their way back into title contention, like Cat Zingano, here are some fresh faces to consider…
Holly Holm
One potential contender is Holly "The Preacher's Daughter" Holm. She's currently 9-0, with six wins coming by knockout. She's got good boxing and solid head kicks, and definitely possess more KO power than what Bethe Correia was said to have. Holm struggled in her UFC debut against Raquel Pennington, taking a split decision, but her sophomore outing against Marion Reneau was better. Perhaps by the time Rousey has made her way to Holm, she will have sharpened her skills enough to be a viable threat to Rousey.
Tonya Evinger
Evinger is the current Invicta FC Bantamweight Champ, currently on a seven-fight win streak. She's got a chip on her shoulder, being that UFC matchmaker Sean Shelby told her that the UFC won't sign her because she doesn't finish fights and is unimpressive. Evinger has since said she wants to play spoiler and upset the chances of prospects that UFC wants to sign from Invicta, and she now has three-straight stoppage wins. The only major downside to a fight with Rousey is that Evinger is already 34 and has been fighting since 2006. If that match is getting made, it needs to happen sooner rather than later.
There are other prospects down the line who need more fights to improve on certain areas, but it will be tough because, in Ronda's own words:
"There's no way that they could possibly ever keep up, especially when, every day, they fall farther and farther behind."