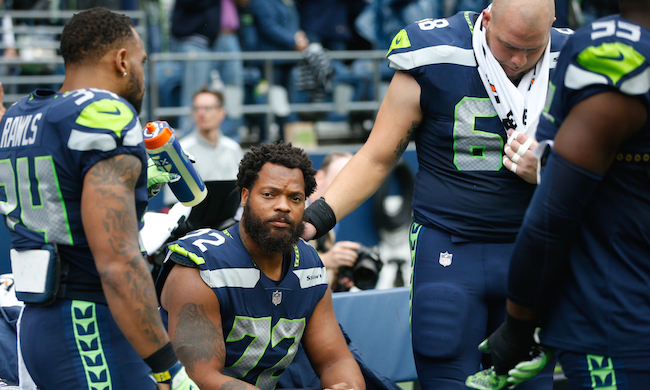 Sunday was a tense day in the NFL following the comments made by Donald Trump against players that kneeled or sat during the national anthem. Trump called for owners to fire those players, referring to them as "sons of bitches," and everyone around the league took exception to his rant, including those that supported his bid for president.
Nearly every team had some form of protest, beginning with the Jaguars and Ravens in London on Sunday morning, and rolling through the afternoon we saw a variety of protests during the national anthem as players locked arms, kneeled, or sat. In Tennessee, where the Seahawks were playing the Titans, both teams stayed in the locker room rather than coming onto the field for the anthem.
The Steelers did the same earlier in the day, but that was in an effort to prevent protests and avoid any players feeling pressured to do or not do anything and cause a divide. For the Seahawks, at least, the move to stay inside was a protest in itself. The scene on the field was bizarre, with neither team present for the anthem.

Seattle's players released a statement explaining their protest and decision to stay in the locker room in the strongest statement of the day.
The Titans statement on remaining in the locker room was less emphatic, more like the Steelers.
"As a team, we wanted to be unified in our actions today. The players jointly decided this was the best course of action. Our commitment to the military and our community is resolute and the absence of our team for the national anthem shouldn't be misconstrued as unpatriotic."
It should come as no surprise that the Seahawks, led by Michael Bennett who was among those that wrote a letter recently to the commissioner about the protests and calling for public support, were the team that made the strongest statement of the day. Seattle's players made sure to remind everyone that the protests weren't simply about Trump, but a matter of calling out the issues of racial inequality in the country.