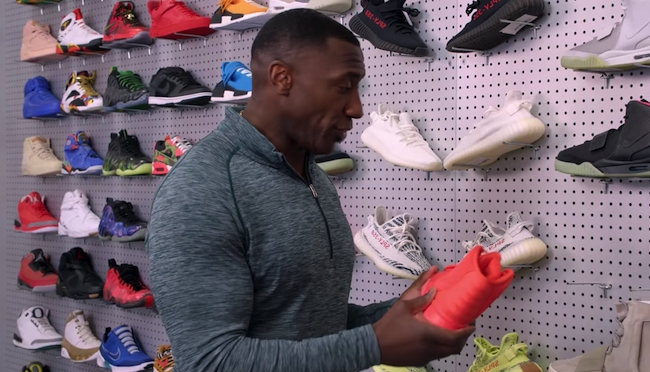 Shannon Sharpe prides himself on having the best sneaker collection on the sports morning talk show circuit. He does this not by working plugs at various shoe companies, but by going out and buying his sneakers on the primary or secondary market.
The co-host of FS1's Undisputed went on Complex's "Sneaker Shopping" this week to talk about how he got into sneakers, some of his favorites and how he goes about finding rare sneakers on Twitter. Sharpe explained that while he thinks bots have ruined sneaker drops, as they sell out immediately and hit the secondary market at a crazy markup, he tries to work with those that have his size (13) through social media to get those he's had trouble adding to his collection.
Among those Sharpe has acquired via social media are the Nike Yeezy 2 "Red October," which Sharpe explained he picked up off of a Patriots fan this past year by giving the guy tickets to the Super Bowl (2:55 mark of the below video).

"I've wanted these," Sharpe says. "I heard about 'em, but didn't know anybody who had 'em. And this guy started following me from Boston called Richie Nuzzo and he had 'em. He happened to be a 13 and I was like, 'bruh let me get those.' And he was like, 'I kinda want to keep them for myself.' Big Patriots fan, so I was like, 'I'll tell you what I'll do, you give me those shoes, I'll give you tickets to the Super Bowl.'"
Sharpe also explained that's how he got the Off White Vapormax and Air Max by getting a guy in Philly tickets to the NFC Championship Game. That game went better for the Eagles fan than the Super Bowl did for the Pats fan, but for football fans that also happen to own some rare sneakers in a size 13, Shannon Sharpe is willing to make a deal to send you to big games.
Have you listened to our bonus podcast with DIME cover star Austin Rivers?