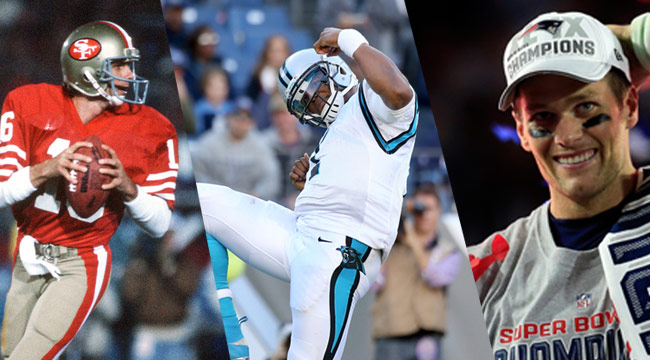 While the votes aren't in yet, it's a given that Cam Newton will win the MVP award next week after an incredible season that saw him account for 4,400 total yards and 45 touchdowns. He'll have a chance to put the final touch on a fantastic year by leading his Panthers to a victory over the Broncos in Super Bowl 50. If all of this comes to fruition, Newton will have had one of the best seasons by a Super Bowl-winning quarterback in NFL history. But who would his immediate competition in this category be?
Let's look at the all-time best seasons by quarterbacks that culminated in a Super Bowl victory. (Click on the player names to see highlights.)
Roger Staubach, Cowboys – 1971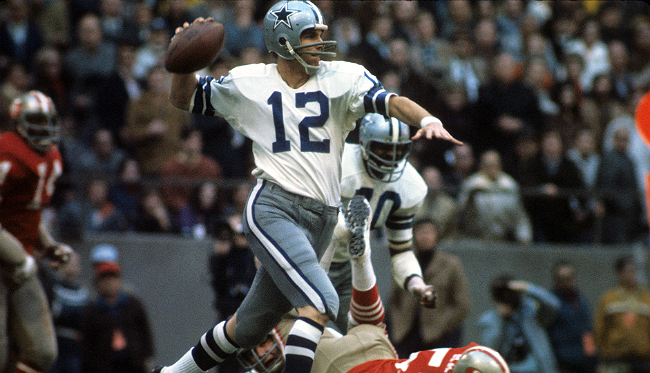 Forty-five years ago, the passing game wasn't as advanced as it is today, which is why what Staubach accomplished this season was particularly impressive. While this Cowboys team went just 1-3 with Craig Morton as the starting quarterback, they never lost a game with Staubach at the helm. He threw for 15 touchdowns to just four interceptions, along with an impressive 14.9 yards per completion, and led the league in QB rating at 104.8, all in just 10 starts. Staubach also had an impressive season in 1977, when he led the Cowboys to the Super Bowl, but this year was truly his crowning achievement.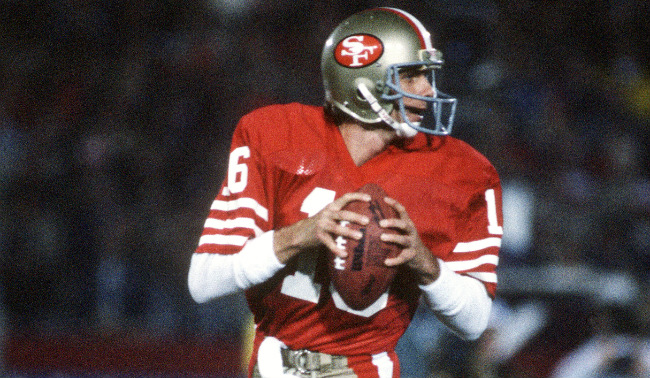 The last of Montana's four Super Bowls came in his most dominant season. In 1989, he completed 70.2 percent of his passes (a stunning feat at the time), en route to a career high passer rating of 112.4. After all his regular season dominance, it was no surprise that what followed would be one of the most one-sided Super Bowls ever, as the Niners decimated John Elway's Broncos by an eye-popping final of 56-10. This game made Montana the second QB to win four Super Bowls, joining Terry Bradshaw (Tom Brady joined this elite club last season), and it solidified the argument that he just might be the best QB of all time.
This was Young's third year as the Niners QB, and it was also the moment where he made it perfectly clear they were his team now, no matter how much the fans still loved Montana. Actually, this season was remarkably similar to what Montana had done five years earlier. Young led the NFL in passer rating at 112.8 and in touchdowns, throwing 35 (he also rushed for three more). The 1994 Niners were a juggernaut, and that was never more apparent than in Super Bowl XXIX, when they put 49 points on the board against a Chargers defense that had no chance.
Favre won three straight MVP awards from 1995 to 1997, but this is the only one that coincided with a Super Bowl victory, as Favre's Packers defeated the Patriots for the lone title of his career. Favre threw for 39 touchdowns this season, as his connection with Antonio Freeman became one of the surest bets in the league. You could argue the Favre had individual seasons that were stronger than this one, including his memorable 2009 campaign with the Vikings, but it was the lone time he was able to a lead a team to a title, so it can't help but stick out when considering his accomplishments.
As hard as this may be to believe, to find the last time a QB won the MVP and the Super Bowl in the same year, you have to go all the way back to Warner in 1999. As the years go on, everything about this season just seems more and more incredible. The Rams were coming off a 4-12 season, and starter Trent Green had gone down for the year in a preseason game. Their last hope was a former Arena League player. This was supposed to get really ugly. Instead, Warner threw for 41 touchdowns, and led his team to a 13-3 record, jump starting a Hall of Fame career. Warner's 1999 season might have been the most unlikely event in NFL history, and it remains one of the best seasons by a Super Bowl-winning quarterback.
There's a bit of a revenge aspect here. Peyton Manning beat out Drew Brees for the MVP this season, despite throwing one fewer touchdown and five more interceptions. It wouldn't matter much, however, because Brees got even where it counted, taking down Manning's Colts in a Super Bowl perhaps best known for Sean Payton's gutsy decision to begin the second half with an onside kick. Throughout the 2009 season, the Saints' passing game was near-unstoppable, as New Orleans decimated everything in its path, while Brees made Marques Colston and Devery Henderson look like superstars.
Admittedly, it was Rodgers' mind-blowing 2011 season that sticks out most in his illustrious career, but don't sleep on what he accomplished the year before. In 2010, Rodgers put up a 101.2 passer rating, leading an efficient Packers passing attack, and allowing the team to make up for a weak running game. Rodgers was equally strong in the playoffs, winning Super Bowl MVP honors after a game in which he threw three touchdowns without a single interception. With this performance, Rodgers solidified himself as one of the best quarterbacks in the league, and allowed Packers fans to move on from Brett Favre once and for all.
He would come in fifth in MVP voting, but of his four Super Bowl-winning campaigns, this was his most impressive. Brady threw for more than 4,000 yards with 33 touchdowns to just nine picks. But he saved his best work for the playoffs, where in just three games, he racked up just under 1,000 passing yards and found the end zone 10 more times, including four in the Patriots 28-24 Super Bowl victory over the Seahawks.