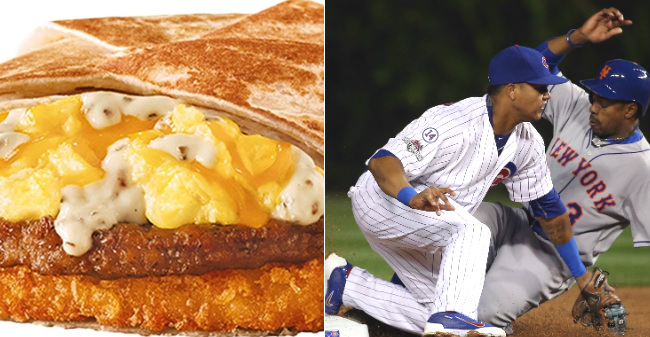 With fast food restaurants becoming ever more desperate for relevance, it was only a matter of time before one of them attempted to make a splash with a tie-in to the World Series. Well, look no further than Taco Bell, which has unveiled its "Steal a Base, Steal a Breakfast" campaign for the Series.
To be clear, Taco Bell is NOT advocating mass looting if a player steals a base during the World Series. Rather, they're offering a free AM Crunchwrap if you wait in line politely and behave yourself, young man or woman. If a base is stolen during Games 1 or 2 of the World Series (which starts on October 27), then on November 5 between 7 and 11 a.m., head on down to your local Taco Bell for that free Crunchwrap. If it takes until Game 3 or later, then November 10 becomes Free Crunchwrap Day (still between 7 and 11 a.m.).
In previous years (most recently 2012), Taco Bell had run the "Steal a Base, Steal a Taco" campaign, but in the years since, the Bell has tried to strongarm its way into the fast food breakfast game. So, the new promotion is a decent way to try to make us all Breakfast Defectors.